A letter of intent or LOI is simply a document that formally declares one party's intention to do any act that will require action or acknowledgment from another party. This document can be used for business, education, employment, government requirements, and other scenarios. It usually precedes a binding document such as a contract. 
In this article, you can learn more about writing a letter of intent or choose from one of our free LOI templates so you won't have to write from scratch.
Table of Contents
At a Glance: Free Downloadable/Editable Letter of Intent (LOI) Sample Templates
In a rush to make a letter of intent? Check out one of our free letter of intent templates below. Select one that suits your needs, download it for free, and customize it to your liking.
What Is the Purpose of a Letter of Intent?
A letter of intent is used in many different scenarios, including: 
What Does a Letter of Intent Look Like?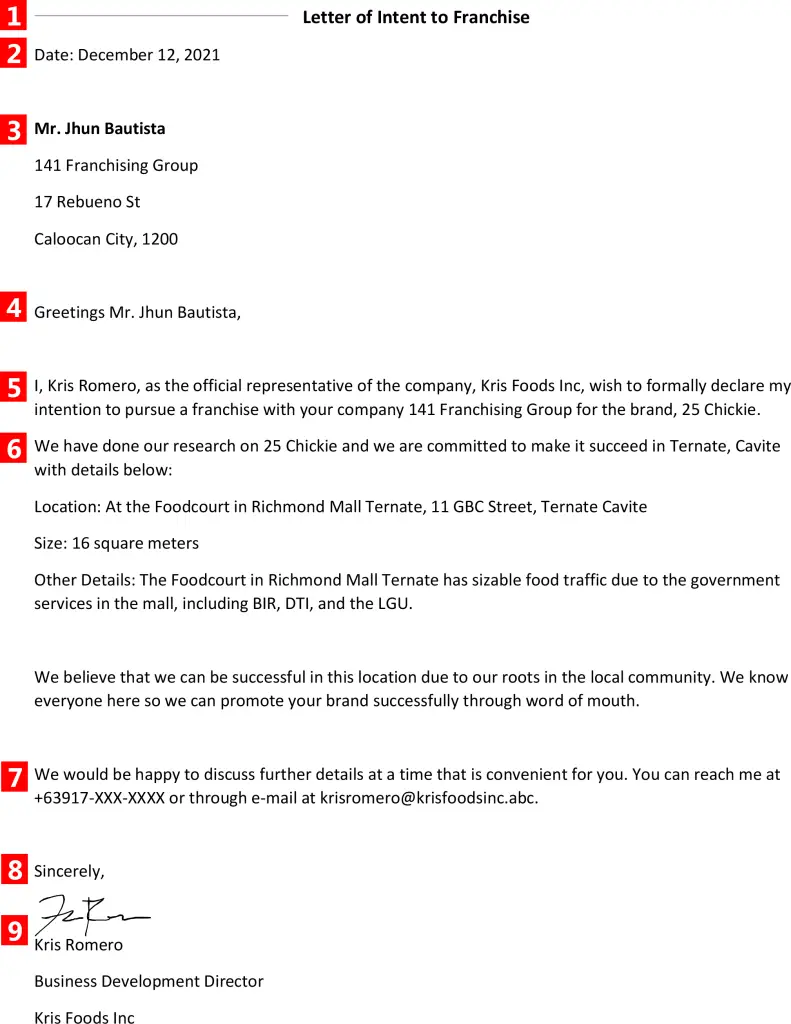 Title – Indicate what type of letter of intent you are writing. 
Date – Add the date when the letter of intent will be sent. 
Recipient's Information – Make sure to include the full name of the person and their complete address. If you are addressing it to a company or organization, use their business name (the one registered under the government) and not a brand or trademark. 
Salutation/Greeting – Keep your greeting formal and professional. Find out who is in charge of your concern, then make sure to include their full name and position. Otherwise, a generic "To Whom It May Concern" should suffice. 
Introduction – This is where you clearly mention your intent or goal with this LOI. 
Body – This is where you need to outline all the details that your addressee will need. The details will be different according to the type of letter of intent you sent. 
Call to Action – This is where you'll ask the addressee to do an action for you based on the type of letter of intent. It can be a simple acknowledgement, or it can be to ask for another document in return. 
Closing – End your letter with a simple formal closing statement such as Best Regards or Sincerely. 
Signature – Sign the LOI with your signature over printed name. You can also add the date and your contact details below the signature. 
How To Write a Letter of Intent From Scratch: 6 Steps
1. Set an Objective and Compile All the Details
Before even beginning to write a letter of intent, you must have clearly defined the objective for it.
Is it for business, education, or a government requirement?
If you already have a communication line to the other party who needs the LOI from you, then it is best to ask them about the details they require and if they already have a template of their own. 
After you are clear on the details, compile all the information that you will need before writing. Do your research to ensure that your LOI has no issues and will be accepted by the other party. 
2. Start Writing Your LOI With a Salutation to the Correct Addressee
Once all your details are complete, it is actually pretty easy to write an LOI. The title, date, and recipient's information are all details you just need to plug in based on what you researched. 
If you did your research properly, writing the salutation to the correct addressee will not be tricky. Make sure to include the addressee's correct name, title, and position as well.
3. Clearly Communicate Your Intent With the First Sentence of the Letter Body
Start the body of your LOI by clearly communicating your intent. For example: 
If you want to purchase a piece of property you can say "This is to signify my intention to purchase the property with the following details…"  
If you are applying for a business permit, you can say "I am writing this letter to inform you of my intention of opening a business and requesting a business permit." 
If you are applying for a franchise, you can say "My name is [YOUR NAME] and wish to formalize my interest in applying for a franchise with your company." 
You can customize this, and the necessary details that will follow, according to the type of LOI you are making.
4. Add All the Necessary Details as Part of Your LOI's Body
After starting your LOI with a concise statement signifying your intent, you can now add the details to the body of your letter.  
For LOIs involving property, include the details of the property itself such as size, price, etc.  
If the LOI is about applying for a scholarship or a job, you can highlight the reasons why they should accept you. 
For a LOI about franchising, you include the brand name, the location where you wish to open, and the other pertinent details they'll need to consider your application. 
Simply put, the body is where you try to convince the other party why they should take your letter of intent seriously. 
5. Add a Clear Call to Action for Your Addressee
Once you have written a persuasive body, you can finally write a call to action. It is the part of the LOI where you tell the addressee what to do next. Depending on the type of LOI, the call-to-action can be a simple acknowledgment, or it can lead to the creation of another document such as a contract or a business permit. You can even outline the different options they have. For example: 
You can request them to contact you by writing "If you have any questions about my application, you can contact me at [YOUR CONTACT INFO]." 
You can request for a meeting "Please contact me so we can set a meeting to discuss the details." 
If it might take time to review your application or request, you can say "Looking forward to a favorable response from you." 
6. End With a Formal Closing
Before ending your letter, add a simple thank you statement: 
"Thank you for your kind consideration." 
"Thank you for taking the time to read this letter." 
"Thank you." 
Then close the letter with a formal closing statement such as: 
Sincerely, 
Best Regards, 
With gratitude, 
Then below your closing statement, add your signature, name, and contact details. 
11 Free Editable/Downloadable Letter of Intent (LOI) Templates: A More Detailed Discussion
While not common in the Philippines, a letter of intent to apply for a job might be useful for job applications in other countries. It's quite similar to a cover letter where you need to highlight your qualifications and skills so that the hiring party will consider you for the job. 
While not mandatory1, some Philippine government agencies may still require suppliers to send a letter of intent to bid to formalize their participation in bidding for a government project. It typically includes information on your company name, contact person, project name, and your company's qualifications. 
Educational institutions may also a letter of intent to change courses from students who wish to transfer to a new course or program. This LOI should include the student's information, the course details, and an acceptable reason to change courses. 
This letter of intent is a non-binding document that declares the hopeful franchisee's serious intent to franchise a business. It should include the franchisee's contact details and the exact location of their proposed franchise site. 
Some companies or organizations may require their employees to provide a letter of intent when requesting a job promotion. You need to put your best foot forward in this document so make sure to highlight your qualifications, as well as achievements that should put your job promotion application in the best light. 
A letter of intent to transfer to another location may be required by companies to formalize your request. It should include your details, your current location, the new location, and the reason for the job transfer. 
A letter of intent to open a business is a preliminary requirement in getting your business or mayor's permit from your city or municipal hall. It should include details about your business, such as the business type and location, as well as your contact information. 
A general letter of intent to purchase is a document that communicates your intention to purchase goods or services from another party. It should include your contact information, the details of the purchase, and other pertinent information. 
A letter of intent to purchase real estate property is a non-binding document that shows the buyer's serious intent to buy property. It should list down property details such as lot size and additions, as well as transaction details like price, deposit, and mode of payment. 
A letter of intent to lease is usually used for renting out a commercial property such as an office or mall space. It should include the details of the property you want to lease such as size and location as well as the lease terms. 
Universities, colleges, and schools usually require a letter of intent as part of their scholarship application requirements. It serves as a cover letter for the scholarship applicant to highlight their qualifications so that they can stand out from the other applicants. 
Tips and Warnings
Some organizations or companies may already have a letter of intent template that they will require you to use. So, make sure to ask them for a copy of their template first. 
Make sure that the letter of intent is addressed to the correct person. In cases where a letter of intent is addressed incorrectly, it may be rejected and your application could be delayed. 
Do your research on the requirements of the specific letter of intent that you are making before you start writing. A letter of intent serves as an outline of all the necessary details before proceeding to the next step. There may be a delay in your application if there are missing details in your LOI. 
Keep your LOI concise. A letter of intent should only contain the necessary details and anything in excess may just confuse the reader. Make it simple and easy to read. 
Frequently Asked Questions
1. Is a letter of intent the same as a contract?
No. According to the Civil Code of the Philippines, a contract is "a meeting of minds between two persons whereby one binds himself, with respect to the other, to give something or to render some service." To be valid, a contract must have consent, subject, and cause2. An LOI does not have all of these requirements. 
2. Is a letter of intent a legal binding document?
In the Philippines, a letter of intent is merely a declaration of an "intention" to do something. An "intention" is different from an "obligation" which is what is outlined in a contract. Thus, a letter of intent is not a contract between parties, meaning it does not legally bind3 both parties to render an obligation. 
3. Do I need to get a letter of intent notarized?
No, a letter of intent does not need to be notarized. A legal document needs to be notarized if it needs to be in a certain form to become valid. These include: 
Acts and contracts that create, transmit, modify or extinguish real rights over immovable property; sales of real property or interest therein (such as a deed of sale or real estate mortgage). 
The cession, repudiation or renunciation of hereditary rights or those of conjugal partnership of gains (such as a donation or waiver of rights). 
The power to administer property or any other power which has for its object an act that would prejudice a third person (such as a power of attorney). 
References
NPM No. 056-2015. (2015). Retrieved 14 December 2021, from https://www.gppb.gov.ph/GPPBTSO_Non-Policy/1292
Ten Things About Notarization in the Philippines. (2018). Retrieved 14 December 2021, from https://attymommy.com/2018/11/ten-things-about-notarization/
UNITED MUSLIM v. VS. BRYC-V DEVELOPMENT CORPORATION, G.R. No. 179653 (Supreme Court of the Philippines 2009).