With limited slots and hundreds of aspiring applicants, grabbing a scholarship opportunity feels far from someone's reach. 
Through a scholarship application letter, you can increase your odds of getting the grant by standing out from other applicants.  
Let this article guide you on how to write an impressive scholarship application letter.  
Table of Contents
At a Glance: Scholarship Application Letter Templates (Free Download)
Do you need to make a Scholarship Application Letter in haste? We've got you covered! 
Select from the list of free downloadable and editable scholarship application letter templates below. Just click the corresponding link of your preferred template to automatically download the Microsoft Word file.
1. University-Based Scholarship Application Letter (for College Students)
2. School-Based Scholarship Application Letter (for High School Students)
3. Government Scholarship Application Letter
4. Private Scholarship Application Letter
5. Scholarship Application Letter Addressed to a Public Official (i.e., Mayor, Governor, Congressman, etc.)
6. Post-Graduate Scholarship Application Letter
What Is a Scholarship Application Letter?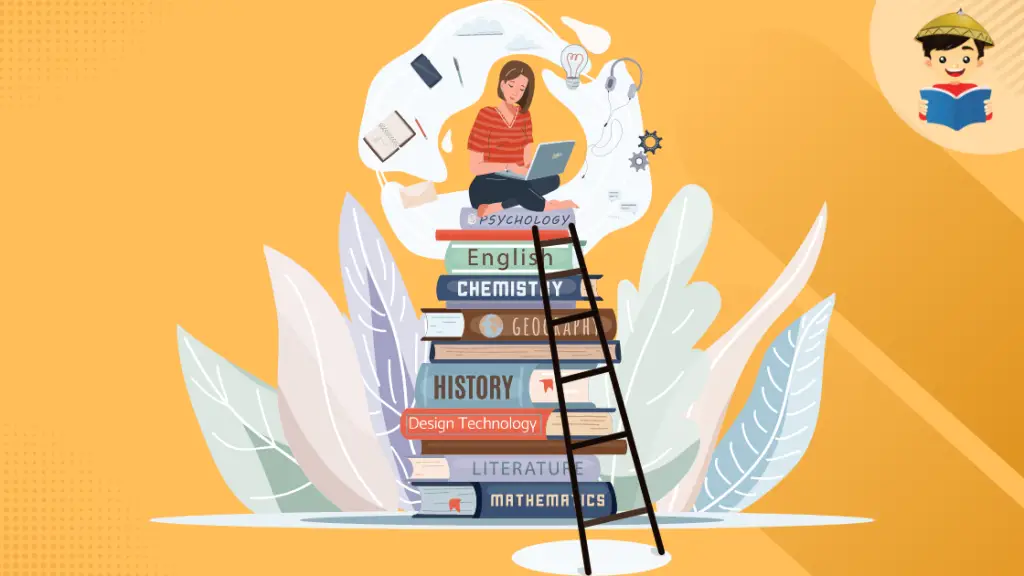 A scholarship application letter is a formal document that convinces the recipient that the sender is the best pick for the scholarship. It highlights the applicant's qualifications, achievements, and experiences to ace the grant. 
The application letter also states your reasons for applying for the scholarship, as well as an explanation of how the grant will help in your studies.
To add a "personal touch" to this letter, you may use personal anecdotes and testimonials. However, the letter's tone should be formal rather than casual because it is an academic/professional document.
What Is the Difference Between a Scholarship Application Letter and a Letter of Intent (LOI) for a Scholarship?
Although both documents increase your chances of getting the grant, they convey different messages.
A scholarship application letter convinces the reader that you're an exceptional candidate for the scholarship grant. Specifically, it highlights the most compelling reasons why you deserve the scholarship.  You can focus on your academic achievements, socioeconomic condition, or personal attributes. 
This letter may include personal anecdotes, testimonials, and other supporting information that will help with your application. You may even state who your role model is and how they influence your passion to achieve your dreams.
Meanwhile, the main focus of an LOI is to express your interest in applying for a scholarship. Your qualifications, experiences, and socioeconomic conditions are stated briefly as supporting details. For this reason, an LOI is usually shorter, more straightforward, and has less room for personal anecdotes.  
There are also some differences between their structure. The upper part of a scholarship application letter indicates your details (name, address, contact details). In an LOI, this part is usually located at the bottom.
What Is the Difference Between a Scholarship Application Letter and a Scholarship Essay?
A scholarship essay usually asks a particular question like, "Why do you deserve the scholarship?", "How can our scholarship help you?" or "Who is your biggest inspiration?" It's important in a scholarship essay that your answer is well-thought-out, clear, and creative.
Meanwhile, a scholarship application letter is more of an extension of your documentary requirements. It expounds the details indicated to highlight your best attributes so that the scholarship committee will pick you. The topic of the letter is "you," and there's no question you're supposed to answer.
What Does a Scholarship Application Letter Look Like?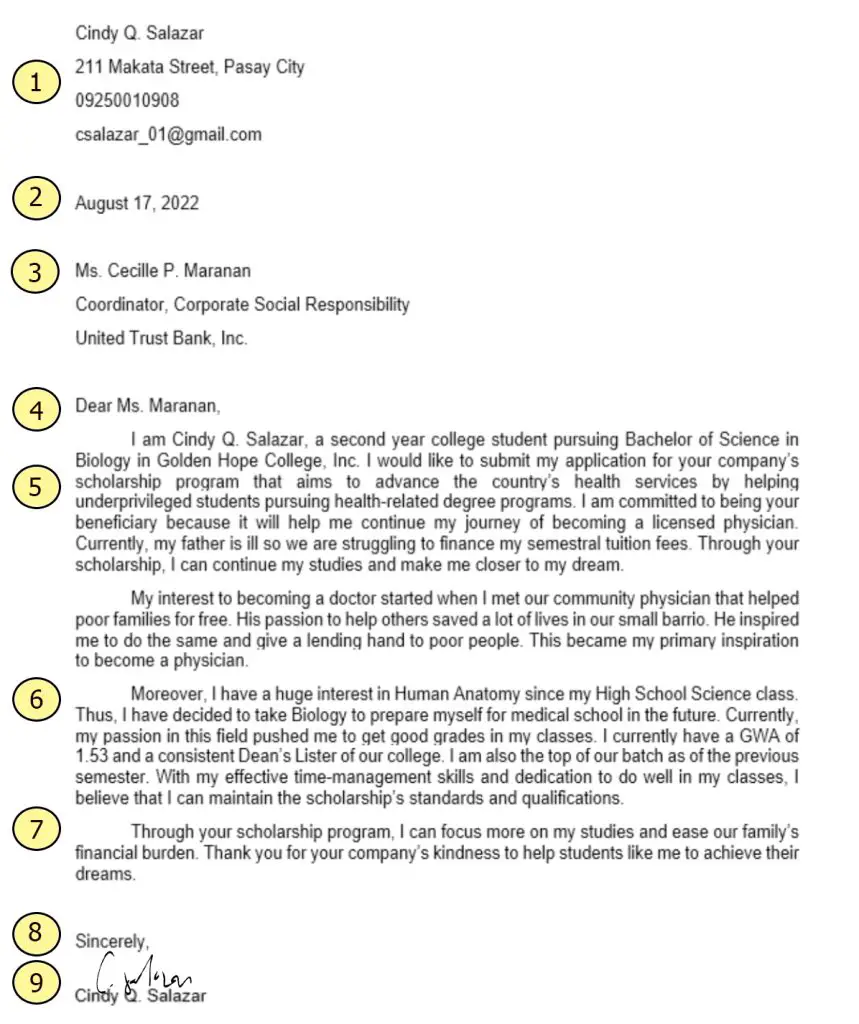 1. Personal Information: Located at the top of the letter, this section is where you indicate your full name, address, and contact details.
2. Date: The date when the letter is submitted
3. Recipient: This is where you indicate the name, position, and institution/company of the letter's recipient
4. Salutation: If the recipient's name is unspecified, you may use the line "To whom it may concern"
5. Introduction: This part includes your name and current educational attainment, as well as a brief statement of your desire to apply for a scholarship and the reason/s behind it
6. Body of the letter: This part highlights everything that makes you deserving of a scholarship (e.g., personal attributes, academic achievements, extra-curricular activities, etc.). It may also include personal anecdotes and testimonials.
7. Conclusion: This section is where you express your gratitude to the recipient and emphasize how the grant will help you in your studies. 
8. Closing Remark: A short formal closing statement (e.g., Regards, Sincerely, etc.)
9. Signature
How To Write a Scholarship Application Letter
1. Get To Know the Scholarship You're Applying For
There are two reasons why you need to do this before drafting your letter. 
First, to avoid stating wrong information in the letter. 
Second, to help you decide what your "focus" is so that the letter will suit the scholarship requirements. Suppose the grant requires the applicant to have exceptional leadership skills. To meet this qualification, you need to brush up on your memory for any leadership roles you had in the school and include them in your letter.
2. Complete the Letterhead and Provide a Short Salutation
Your letterhead should contain three sections: your details (name, address, and contact info), the date when the letter is submitted, and your recipient's details.
Afterward, provide a short salutation like "Dear <insert name>" and "Greetings <insert name>.
3. Introduce Yourself and Mention Your Desire and Reason for Applying
Performing this step completes your letter's introduction. In case you've recently graduated, mention your alma mater.
Don't forget to mention in this portion your understanding of the scholarship's goal and how it is aligned with your aspirations and current circumstance. 
In the example above, the sender wrote that the scholarship aims to help underprivileged students pursuing health-related courses. Thus, she wrote that her dream of becoming a physician led her to major in Biology.
Finally, state your reason for applying for a scholarship.
4. Convince the Scholarship Committee You Deserve To Get the Scholarship Using Your Academic Achievements, Extra-Curricular Activities, Soft Skills, etc.
Your goal in this step is to complete your letter's body. State here your best attributes that make you stand out from other applicants. It depends on you how many paragraphs you'll write for this section.
Here is some information you can include in your letter's body:
Academic achievements (e.g., consistent Dean's lister, class valedictorian/salutatorian, academic honors like Best in Math or Best Research Paper, or high GWA, etc.)
Extra-curricular experiences (e.g., leadership roles in the Student Council, student organizations, and NGOs, as well as awards received from competitions, etc.)
Certifications (e.g., TESDA National Certificate)
Work and internship experiences
Personal attributes (e.g., interpersonal skills, time-management skills, perseverance, etc.)
Other information that may suit the scholarship requirements. For example, if you're applying for sports-related grants, you can mention the competitions you've won, your experiences as a student-athlete from another school, etc.
Only select attributes that are related to the scholarship's requirements. For example, if they are looking for good academic standing, you must focus on featuring your grades and academic achievements. If the grant is looking for leadership skills, then highlight your leadership roles in student clubs or even in non-academic organizations.
You may also add personal anecdotes in this portion. For instance, the sender of the sample letter above shares her experience meeting a doctor who inspired him to pursue the same profession.
5. Highlight the Significance of Scholarship to Your Success and Express Your Gratitude to the Reader
Briefly mention that the scholarship will help you accomplish your studies and ease your family's financial burden. Afterward, thank the recipient for taking the time to read your letter.
6. Conclude Your Letter
Close your letter by adding a closing remark (e.g., Regards, Sincerely, etc.) and affixing your signature. 
Tips and Warnings
Strictly follow the required word count, if there's any. To save time reading tons of letters that scholarship committees receive, they set word count limits that applicants should follow. Hence, no need to make your application letter wordy; as long as it contains the most essential details, that would be enough. As the saying goes, "brevity is the soul of wit."
Be truthful. Do not include misleading information to stand out from the competition. Some scholarship committees conduct cross-checking to verify the information indicated in application letters. Get caught and lose your chance to enjoy the grant. 
Don't be "too emotional." It's true that your letter becomes more convincing if you state your challenges and economic hardships. However, over-relying on "emotional appeal" might repulse your reader. Thus, avoid oversharing private matters in your letter.  Moreover, refrain from adding "rant" statements (e.g., education is for the privileged only, tuition hikes are anti-poor, etc.) in your letter. There's a different avenue to express those frustrations.