Learning how to check Pag IBIG contributions is a proactive way of safeguarding your hard-earned money from technical glitches or delinquent employers. As a Pag-IBIG member, you must ensure your payments are made and reflected in your account on time; otherwise, your chances of availing of future benefits will be in peril.
Do you want to verify or check your Pag-IBIG contributions? This guide shows you different ways to do it so you can ensure your hard-earned money is being remitted to HDMF.
Table of Contents
Why Should You Learn How to Check Pag IBIG Contribution?
As a Pag-IBIG member, it's crucial to pay your contributions and check if they're remitted to the HDMF.
For employees, this ensures that their employer is indeed remitting the contribution deducted from their salary and the employer's share.
For self-employed members, contribution verification allows them to check if the third-party service has forwarded their payments to the Pag-IBIG Fund.
For OFWs whose loved ones pay locally on their behalf, checking their posted contributions assures them that their hard-earned money goes where it should.
How To Check Pag IBIG Contributions: 6 Ways
Wondering how you can check your Pag-IBIG contribution online?
Regardless of the method you choose, prepare the following details that will be asked to confirm your identity:
Surname, first name, and middle name

Birthdate

Mother's maiden name

Email address

Current and previous employers
Once the information is ready, you can verify your Pag-IBIG contributions through the following means.
1. How To Check Pag-IBIG Contribution Through Virtual Pag-IBIG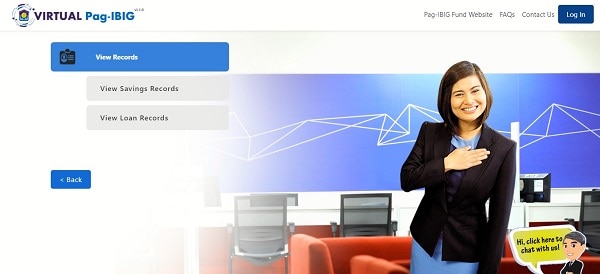 You can now check your Pag-IBIG Regular or MP2 contributions online through the newly launched Virtual Pag-IBIG. In this online portal, members can complete transactions–including paying and checking contributions–without leaving the comforts of their own homes.
Create a Virtual Pag-IBIG account and follow the instructions here to get and view your updated member records/contributions.
In summary, here's how you can check your Pag-IBIG contributions using your Virtual Pag-IBIG account:
Go to the Virtual Pag-IBIG website
Read the Data Privacy and click Proceed.
Select Log In to access your account. Otherwise, click Create Account to set up your Virtual Pag-IBIG account for the first time (click here for more info).
Log in with your email address and password.
Select Regular Savings (Mandatory Contributions) from the main menu on the left side of the page. If you have an MP2 account with Pag-IBIG, click MP2 Savings (Voluntary Savings) from the same menu.
A summary of your total Pag-IBIG contributions will be displayed. If you want to check your contributions for a specific year, enter the year in the box at the bottom of the page and click VIEW CONTRIBUTIONS.
2. How To Check Pag-IBIG Contribution Through Pag-IBIG Fund Hotline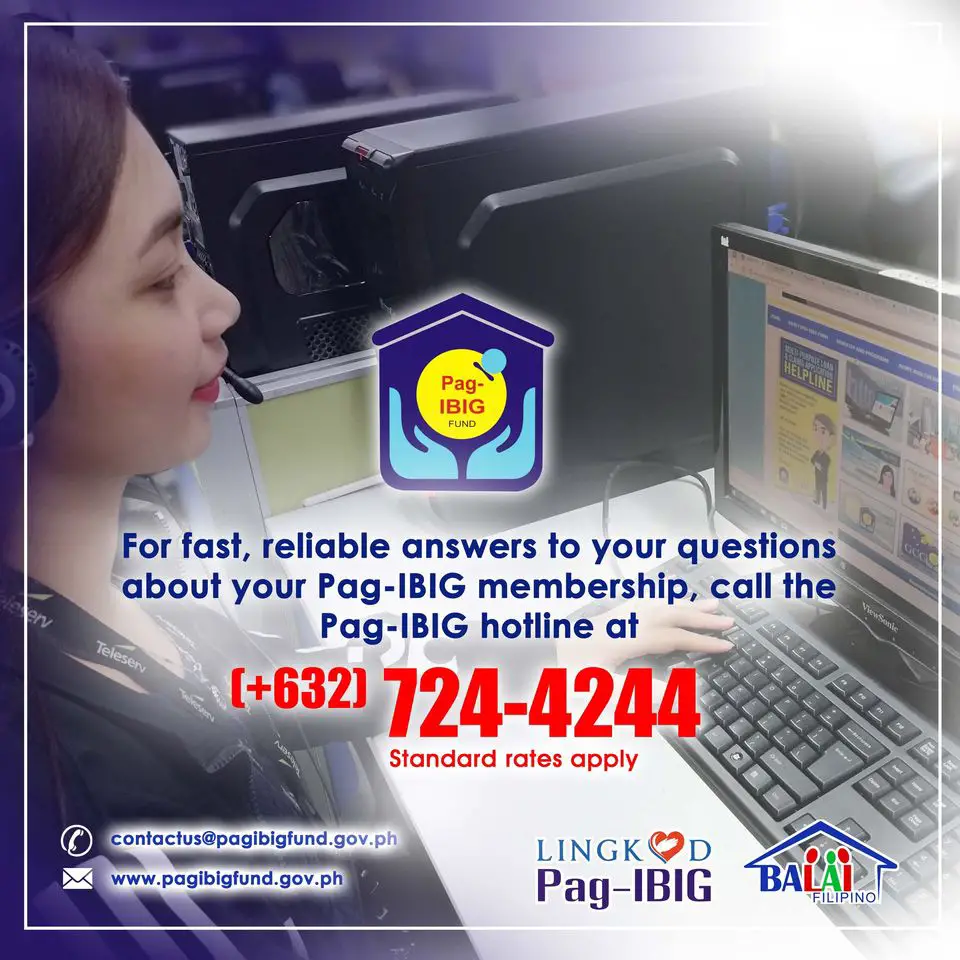 You can reach the Pag-IBIG Fund anytime through its call center hotline at (02) 8724-4244 for your contribution-related questions. The hotline is available every Monday through Saturday, from 8 A.M. to 5 P.M.
Calling the Pag-IBIG hotline is one of the best ways to check your contributions. You won't have to leave your home or office, and you'll receive feedback immediately. 
3. How To Check Pag-IBIG Contribution Through Email Inquiry
Send your contribution-related questions, personal information, and a clear image of your valid ID to [email protected]. Expect a reply after at least three working days.
To help you save time, here's a sample template you can use for your email inquiry:
Good day!
I want to check my Pag-IBIG contributions and verify if my latest payment has been processed.
Here are my details:
Name:
Pag-IBIG MID No.:
Membership Category:
I have also attached a scanned copy of my passport for verification purposes. 
Thank you!
Regards,
Your name
4. How To Check Pag-IBIG Contribution Through Pag-IBIG Fund Facebook Page or Website
Send a personal message via the Pag-IBIG Fund Facebook page.
Posting a comment is unsafe, as this will expose your confidential information to other Facebook users.
Facebook admins of the HDMF usually take around three working days to respond to a PM.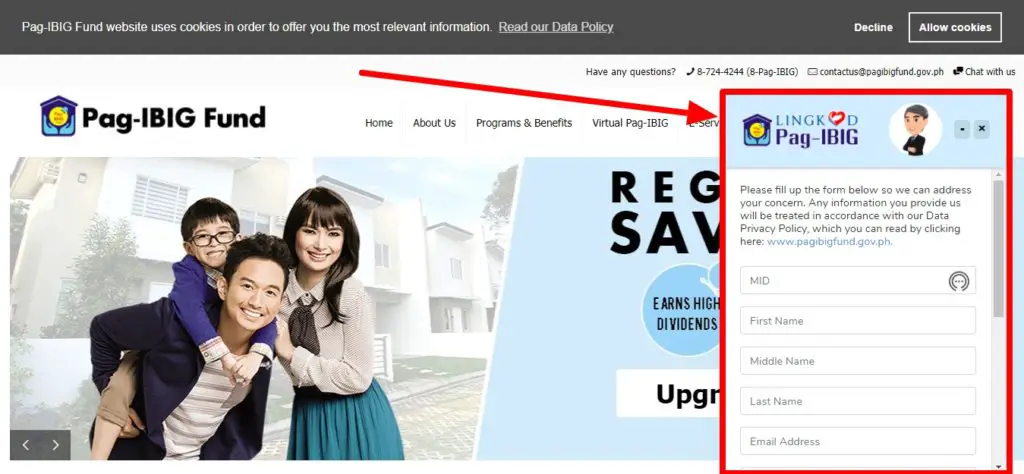 Alternatively, you can inquire about your contributions through Pag-IBIG Fund's official website. At the bottom right corner of the page, the chat support option says, "Hi, click here to chat with us!" Click it and fill up the form with the following information:
Pag IBIG MID
Complete name
Email address
Contact number
Location
For the last question, click the drop-down list provided and select "Member Savings." Finally, click the Submit button and allow the live chat agent to process your request.
5. How To Check Pag-IBIG Contribution Through Personal Inquiry at a Pag-IBIG Branch
If you need to perform other over-the-counter transactions (like correcting your membership records or applying for a loan), it's best to visit the nearest Pag-IBIG branch for your contribution verification.
Related: How to Apply for Pag-IBIG Calamity Loan: An Ultimate Guide
Request a copy of all your contributions, called the Employee's Statement of Accumulated Value (ESAV) or Pag-IBIG Contribution Printout. This document shows your membership information, number of contributions, employee contribution, employer contribution, dividends earned, and Total Accumulated Value (TAV).
6. How To Check Pag-IBIG Contribution Through OFW Member's Contribution Verification
This online service is exclusive to OFWs, enabling them to view their contributions without traveling to a Pag-IBIG overseas branch. 
Here's how to use the online contribution verification system for OFWs:
Access the

OFW Member's Contribution Verification system

.

Provide your information.

Click View Membership Savings. The total contributions paid (from the first to the last) will be displayed. 

Print the page or save it as a PDF for future reference.
If the online service is unavailable, email [email protected] for OFW contribution-related inquiries.
Go back to the main article: How to Compute Your Pag-IBIG Contribution: A Complete Guide to Contribution Table and Payment