Last Updated on
The Modified Pag-IBIG II or MP2 is an optional savings scheme for members who want to save more and earn higher dividends on top of their regular Pag-IBIG savings.
The HMDF invests the funds collected from the Pag-IBIG MP2 mostly in its housing loan program, as well as its short-term loan programs. Funds grow through interest payments from borrowers. The rest is invested in corporate bonds, time deposits, and government securities.
READ: Pag-IBIG Contribution Table (with Detailed Computations and Explanations)
Why should you open a Pag IBIG MP2 account?
MP2 enrollment is not required for Pag-IBIG members, but doing so will be beneficial for you in the long run.
Here are five good reasons to start saving under the Pag-IBIG MP2:
1. Above-market dividend rates.
The most compelling reason to save under MP2 is its above-market annual dividend rates.
In the past few years, MP2 dividend rates have grown steadily, averaging at 7.65% from 2016 to 2018.
For 2019, the Pag-IBIG Fund declared the MP2 dividend rate at 7.41%.
Simply put, the MP2 is more profitable than the regular Pag-IBIG savings program. MP2 dividend rates even surpass the average interest rates of investment products from commercial banks in the Philippines.
With the HDMF's record-breaking financial performance year after year, it's expected to maintain the MP2 program's remarkable dividend rates.
Check out the tables below for the Pag-IBIG Fund's computation (based on a 7.5% dividend rate) on how members can grow their money through the MP2 program.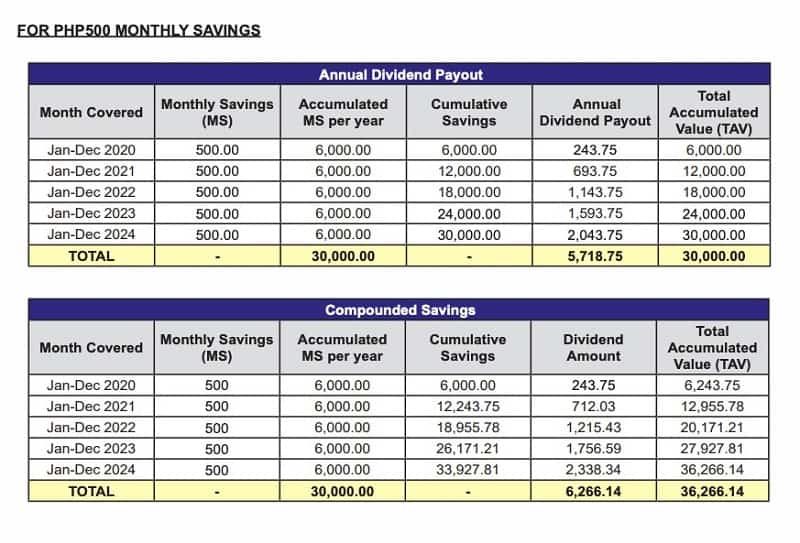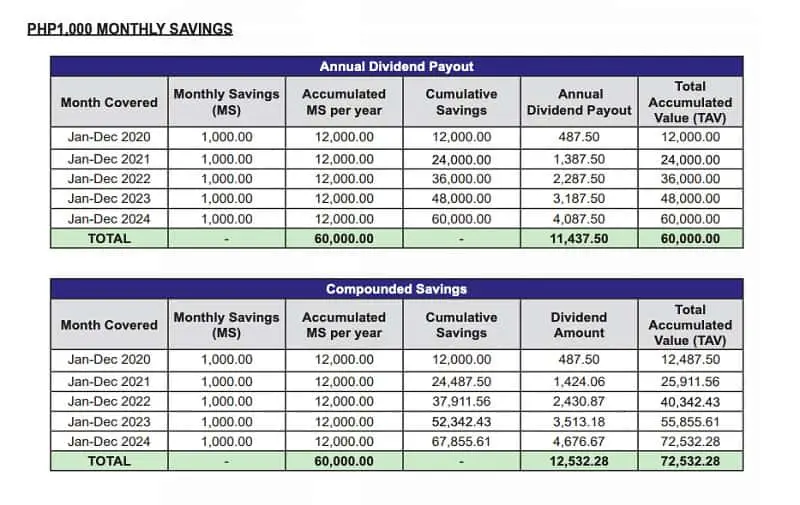 2. Easy, affordable, and flexible way to save.
Under the MP2, you need to save only at least Php 500 monthly. It makes saving money easy on the budget, especially for low-income earners.
The MP2 also offers flexibility on how often you want to save.
You can choose to save every month if your budget is tight. Alternatively, you can deposit a higher amount in a lump sum into your MP2 account, so you don't have to remit monthly. For example, you can pay Php 30,000 as a one-time remittance instead of paying Php 500 every month for five years.
You also have the option to receive your dividend earnings through either annual payout or compounded savings.
If you choose to receive your dividend via annual payout, it will be credited every year to your enrolled bank account with Pag-IBIG. But with compounded earnings, you'll have to wait until the five-year maturity period before you can receive all your dividend earnings.
3. Government-guaranteed and tax-free earnings.
Unlike other investment vehicles, there's no risk of losing your savings under MP2 because they're fully guaranteed by the government.
However, dividend rates change per year, depending on the HDMF's financial performance. The worst-case scenario would be getting back only your principal (the actual amount saved) without a profit, according to Pag-IBIG Fund President and CEO Acmad Rizaldy Moti.
4. Short-term to medium-term investment.
The MP2 program allows you to access your funds more quickly (with a five-year maturity period) than the regular Pag-IBIG savings program and other long-term investment vehicles (with maturity periods ranging from 10 to 20 years).
This means the Pag-IBIG Fund will hold your MP2 savings for five years. After that period, you can withdraw all your savings or let it keep earning dividends for another two years.
5. Save as much as you want.
There's no limit on the amount you can save under MP2.
Just remember that the minimum amount you can save is Php 500 per remittance. You may increase this during the next few months (e.g., Month 1: Php 500; Month 2: Php 5,000; Month 3: Php 10,000; and so forth) but you should never remit anything less than Php 500 each month.
You may even deposit a million pesos! You'll have to issue a personal check or manager's check, though, if you'll save an amount higher than Php 500,000.
You can also enroll and maintain as many MP2 savings accounts as you want. This feature is great for meeting various financial goals. For example, you can have an MP2 account for starting a small business, another account for funding your child's college education, and so on.
Who can save under MP2?
You can open a Pag-IBIG MP2 account if you belong to any of these groups:
All active Pag-IBIG members, regardless of monthly income.

Former members or pensioners, regardless of age, who have paid at least 24 monthly contributions before retirement.
If you're not a Pag-IBIG member yet, you must register first and pay your monthly contributions to be considered an official member.
If you're a former member who's qualified for the MP2 program, you can simply proceed with your MP2 enrollment.
How to enroll in the MP2 program.
There are two ways to open an MP2 savings account: applying directly at any Pag-IBIG office or using the online MP2 Enrollment System.
Option 1: Walk-in MP2 registration at a Pag-IBIG branch.
Submit a completed

Modified Pag-IBIG II Enrollment Form

at the nearest Pag-IBIG branch.

After encoding your information, the officer will issue an account number for each of your MP2 accounts. You'll use the MP2 account number/s to remit your savings.

If you want to pay your first monthly MP2 savings right away, inform the Pag-IBIG officer. You'll be given a queue number for the payment.

When your number is called, proceed to the cashier and pay the amount you indicated on your MP2 enrollment form. Receive your official receipt.
Option 2: Online MP2 enrollment.
Online registration for MP2 is quicker than enrolling manually, as you won't have to fill out the form at the Pag-IBIG office. However, you'll still need to go to the nearest branch to complete your MP2 enrollment.
Here's how to enroll in the MP2 program online:
Go to the

Modified Pag-IBIG 2 Enrollment System

.

Type your Pag-IBIG MID number, surname, first name, and birthdate in MM/DD/YYYY format. Then enter the code as it appears on your screen. Click the Submit button.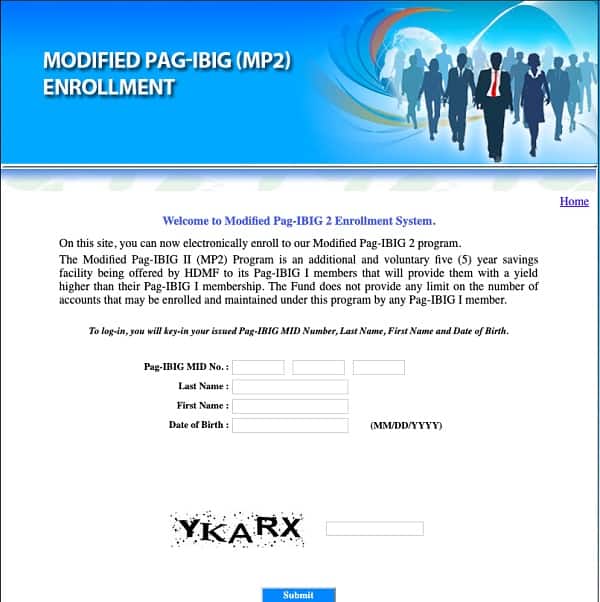 Fill out the online form. The fields for Pag-IBIG MID no., Name, Date of Birth, Present Home Address, and E-mail Address are already pre-filled, so no need to fill them out (On the screenshot below, the personal details are concealed for privacy purposes).

Make sure to enter your Monthly Income and Desired Monthly Contribution—these are required fields.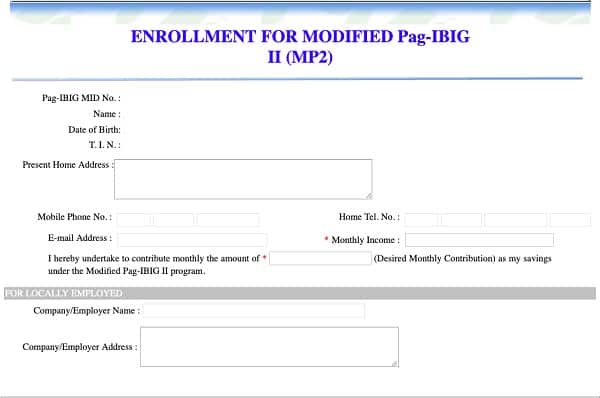 Read the terms and conditions below the online enrollment form. Then enter the code you see. Finally, click the Submit My Application button.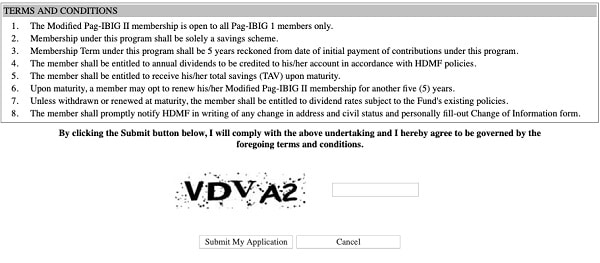 A page confirming your successful MP2 enrollment will appear.

Take note of your MP2 account number on the upper right corner.

The page also contains your accomplished enrollment form (Again, personal details are concealed on the screenshot below).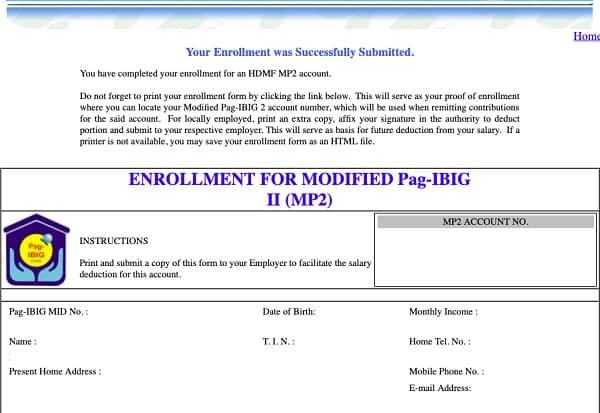 Read the terms and conditions. Write your name and sign at the bottom of the page. Write down the date as well.

Click the link at the bottommost part of the page to print your MP2 enrollment form. You may save it first as a PDF file for printing later. If you're an employee, print an additional copy and submit it to your HR staff or employer, so you can remit your MP2 savings via salary deduction.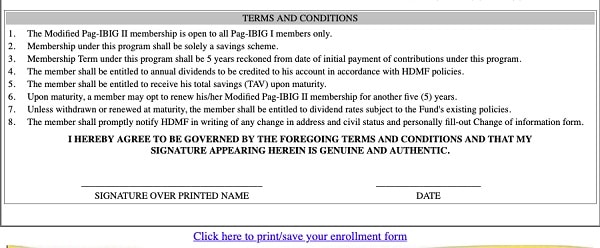 Optional: If you want to open another MP2 account, repeat steps 1 to 6.

Visit the nearest Pag-IBIG office and submit the printed copy of your MP2 enrollment form/s.

If you want to pay your first monthly MP2 savings right away, inform the Pag-IBIG officer. You'll be given a queue number for the payment.

When your number is called, proceed to the cashier and pay the amount you indicated on your MP2 enrollment form. Receive your official receipt.
Go back to the main article: How to Compute Your Pag-IBIG Contribution: A Complete Guide to Contribution Table and Payment
Tips and Warnings.
If you choose to save monthly, the minimum amount you can remit each month is Php 500. Since there's no limit to how much you can save, you can remit anything higher than Php 500 initially and during the succeeding months. For example, you can save Php 500 during the first month, remit Php 20,000 during the next, Php 10,000 in the third month, and so forth.
The 5-year lock-in period starts from the time you make your first deposit, not when you generated your Pag-IBIG MP2 number from the website.
Upon application, you can choose to receive either annual dividends or leave your savings untouched for the next 5 years so you can earn more though compounded savings. The annual dividends are paid out to members through the Pag-IBIG Loyalty Card Plus.
Pag-IBIG MP2 contributions aren't posted in real-time. Whether you're paying directly to Pag-IBIG or through a third-party payment service, the payment won't reflect in your account until the second week of the following month.
If you're paying through a third-party payment channel, always keep a proof of your transaction like the actual receipt or screenshot showing your payment has been received (if you're using a mobile wallet like GCash).
Frequently Asked Questions.
About the Author.
Venus Zoleta is an experienced writer and editor for nearly 15 years, covering topics on personal finance, travel, government services, and digital marketing. Her background is in journalism and public relations. In her early 20s, she started investing and purchased a home. Now, she advocates financial literacy for Filipinos and shares her knowledge online. When she's not working, Venus bonds with her pet cats and plans her next travel adventure.