To qualify for the best medical schools in the Philippines, it's not enough that you have Latin honors or stellar GPA.
Your NMAT ranking or score is equally important.
The NMAT or National Medical Admission Test is a prerequisite for entering a Doctor of Medicine program in the Philippines. While other lesser known schools don't put much weight on your NMAT performance, top schools like UP, UST, and UERM have cutoff scores of 90+, 85, and 75, respectively.
NMAT, therefore, should never be taken for granted because how you perform in the exam can literally define your future as a medical student.
In this guide, we've carefully curated all the best NMAT tips and tricks to ensure you can ace the exam even without enrolling in a review center.
Reviewing for NMAT? Check out our Ultimate NMAT Reviewer (with Free Practice Tests and Answer Keys)
Stick to Your Own Learning Style.
At this point, you must have a clear idea already of what makes you tick as a student. In other words, you already know what reviewing or studying techniques work best for you.
Every one is different. Some learn more by reviewing alone while others absorb more information by joining group studies. Others extract more from audio-visual learning materials while others thrive by reading books.
As the saying goes, if it ain't broke don't fix it. Stick to your own style and make every minute of your review count.
Also Read: How to Become a Doctor in the Philippines – An Ultimate Guide
Strengthen Your Weaknesses.
Reviewing for NMAT is like preparing for UPCAT or civil service exam: You don't have all the time in the world so might as well review strategically.
In the case of NMAT, you only have 2 months at best (if you're taking the March/April schedule) to dedicate for the review. So how can you make the most out of it? By focusing on your weakest areas.
Take a diagnostic exam. Either use the practice test provided to you by CEM or find free/paid NMAT reviewer online. The result of this initial practice exam will give you an idea about the nature of NMAT and which subject areas you need to spend more time on.
When I took the NMAT years ago, I knew right off the bat that I suck at Math and Physics. The diagnostic exam I took only confirmed it.
By knowing your weaknesses from the get-go, you will be able to dedicate more time brushing up on the concepts you've (intentionally) forgotten and in so doing improve your final NMAT score/rank.
Also, don't forget that NMAT scoring is based on percentile ranking which means your grade isn't equivalent to the number of questions you got right but on the number of examinees who scored lower than you.
Since most students hate subjects that have anything to do with numbers, you can outperform them and possibly get a 90+ ranking by doing well in these areas (more on this in the next section).
Know the Coverage of the Exam.
Assuming that you already know your weaknesses based on the results of the diagnostic test, it's time to dust off your old high school or college notes and start reviewing.
However, you can't start the review unless you know what to review in the first place. Know the coverage of the NMAT and use it as a guide on what topics to prioritize.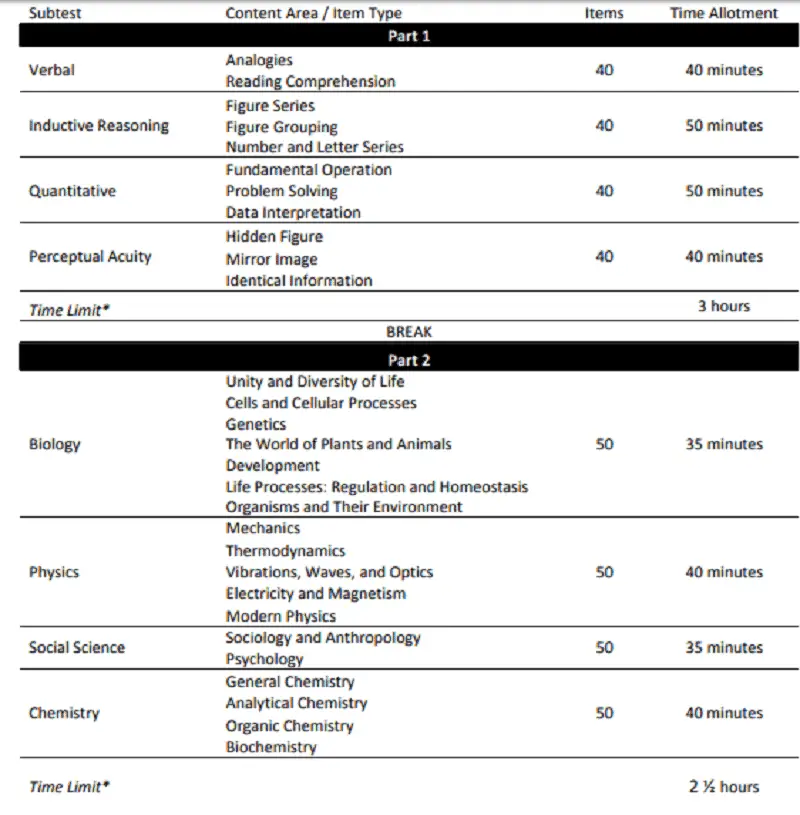 NMAT is composed of two parts.
The first part is the Aptitude Test which measures the examinee's mental ability in answering questions from four different categories: Verbal, Inductive Reasoning, Quantitative, and Perceptual Acuity.
Part I is the trickiest of the two. It relies on your aptitude more than your stocked knowledge. Most examinees fail to prepare well for this part since they didn't study most of it in high school or college unlike the subjects included in Part II.
The only way to get a high score in Part I is to practice answering as many questions as you can. Since most examinees focus on Part II, it will give you a great advantage if you outscore them in Part I.
NMAT, after all, is based on percentile ranking, not on your raw scores.
The second part, on the other hand, is the Special Areas test which includes questions from four subject areas believed to be the most critical in preparing students for medical education: Biology, Physics, Chemistry, and Social Science.
When reviewing for Part II, prioritize breadth over depth. Instead of delving into advanced concepts in each subject, review the basics usually included in your high school or college syllabus.
Remember, you should make each second of your limited time to review count by covering as many subjects as possible. You won't be able to do that if you waste time gaining "in-depth" knowledge about a single topic.
Take Simulated, Time-Pressured Practice Tests.
Studies show that you retain more information through repeated testing than from repeated studying. This phenomenon is known as the testing effect and is hinged upon the universal truth that people learn more through application and trial-and-error.
To get your best NMAT score, practice taking exams similar to the content and length of the actual NMAT. You may use the free practice test sent to your e-mail upon registration or buy NMAT reviewers available online.
The key here is to answer as many questions as possible to benefit from the testing effect.
Each mistake is an opportunity to improve your weaknesses and brush up on concepts you might have forgotten. For example, if you got a wrong answer to a Physics question, you can compare your answer to other choices to see why you made a mistake. This is also a great reminder of why you should keep a note of the common Math and science formulas.
NMAT is a time-pressured exam so aside from understanding the test content, you also have to mimic the actual test conditions. To do this, try answering the practice tests under time pressure: 3 hours for Part I and 2 1/2 hours for Part II.
If you answer 75% of the questions correctly, you're in good standing. A score lower than 75% means you need more preparation to improve your base knowledge as well as analytical and application skills.
Practice tests should only be used as a guide in improving your test-taking skills. The questions will not likely appear in the actual NMAT so don't waste your time memorizing them.
In addition to improving your stored knowledge, the use of practice tests in your review also builds up your test-taking "muscles," enabling you to make intelligent guesses even in items you don't know anything about.
Manage Your Time Wisely.
As a whole, NMAT is relatively easier compared to UPCAT.
However, time is every examinee's greatest enemy. The first part alone consists of confusing and complex questions that can easily consume a huge chunk of your time if you're not careful.
If the proctor allows it, wear an analog wristwatch (digital watches aren't allowed) so you'll be aware how much time is left and whether you're already falling behind.
Never waste more than 3 minutes in a single item.
Depending on which strategy you're most comfortable with, you can tackle either the easiest or the hardest questions first.
READ: How to Answer Multiple Choice Questions Like a Pro
Alternatively, you can classify each question based on its level of difficulty:
Easy – items that you already know the answers to at one glance. Answer them right away.
Medium – questions that require calculations and a little more thinking. Mark these questions and only go back to them once you're done with the easier questions.
Hard – test items that are too difficult to waste your time on. Make educated guesses and move on.
Additional NMAT Tips.
Sleep well before the day of the exam. Lack of sleep severely derails one's concentration.
If possible, visit the testing location a few days before the exam to familiarize yourself with the area, its traffic condition, and the specific room where you're assigned. If the room is air-conditioned, for example, it won't harm if you bring a jacket just in case.
Don't forget to bring the required documents on the test date: NMAT Identification Form, Examination Permit, Valid School ID/Government-issued ID/Valid Passport, and photocopy of Transcript of Records (for college graduates only).
Bring enough pencils (No. 2 or HB) and erasers. Examinees are also advised to bring a long transparent plastic envelope where they can put their personal valuables and other allowed items.
Arrive at the test site early, preferably a few minutes before 7:00 AM. All examinees must be inside their testing rooms as early as 7:15 AM.
Eat a healthy breakfast. The first part of the exam is 3 hours long so you should never go there with a grumbling stomach unless you want to ruin your concentration.
Bring a packed lunch because the 1-hour lunch break is not enough to eat at nearby restaurants wherein the lines are expectedly long. You can also bring candies so you'll have an extra supply of glucose for your brain while taking the exam. Avoid foods that are crunchy or have strong odors.