In the Philippines, NMAT is a mandatory exam and an essential prerequisite for admission to medical schools.
While a lot of information is available online, first-timers can still find it a bit confusing.
So to prevent you from wasting hours surfing the internet, we've compiled everything you need to know about the NMAT in one concise guide.
READ: How to Get High NMAT Score Without Review Center: A Definitive Guide
Table of Contents
What Exactly Is NMAT?
NMAT or National Medical Admission Test is a nationwide standardized test for aspiring medical students given twice a year in the Philippines and abroad.
Its goal is to measure the mental preparedness of students in handling the academic demands of medical schools. It screens applicants with the hopes of upgrading medical education and ultimately the medical profession in the country.
READ: How to Become a Doctor in the Philippines: An Ultimate Guide
Since 1985, the Center for Educational Measurement, Inc. (CEM) has been appointed to administer the NMAT exam. CEM ensures both the reliability of the test and the confidentiality of its results.
NMAT is like your normal IQ test although the subjects included are mostly sciences. It's the Philippine counterpart of the United States MCAT. The latter is considered more difficult, so if you ace it then you will more likely get a high NMAT score as well.
Update: In August 20201, NMAT shifted to an online test setup to respond to the threat of the COVID-19 pandemic. From thereon, several examination schedules have been administered. Usually, the first examination schedule is in September or October (middle of the school year) while the last examination schedule is in March or April (end of the school year).
NMAT scores are only valid for two years. If it expires and you've finally decided to become a doctor, you're free to take the NMAT again.
Who Can Take the NMAT?
Applicants must either be graduates or graduating students of any college (Bachelor's) degree program at the time of testing.
Foreigners are also welcome to apply. Your GPA will be converted to the Philippine equivalent as you get admitted to any medical school in the Philippines. If you're in the US, there are also NMAT testing centers assigned either in Las Vegas or Los Angeles.
Students who are currently enrolled in the UP College of Medicine Integrated Liberal Arts and Medicine (INTARMED) or UST Faculty of Medicine and Surgery Bachelor of Science in Basic Human Studies (LEAPMed – Learning Enhanced Accelerated Program for Medicine) may also take the NMAT in their sophomore year.
The Intarmed is a special program by UP that handpicks some of the best UPCAT passers to complete a 7-year medical program straight from high school. 
If you have taken NMAT but failed to reach the minimum cut-off score, you are still eligible to retake the exam2.
What Is the Coverage of the NMAT Exam?
NMAT has two parts.
Part I of NMAT consists of 120 questions you should answer within 2 hours and 15 minutes. It will test your mental ability and is composed of four subtests or aptitudes believed to have a correlation with a student's performance in medical school.
These subtests are as follows:
Verbal – consists of word analogies and reading comprehension. This subtest will test your ability to analyze and do verbal or inferential reasoning. For reading comprehension, written passages may come from a variety of sources like medical journals, books on philosophy, and literary works.
Inductive reasoning – measures induction or your ability to draw conclusions or perceive relationships despite the absence of complete information. Items may feature numbers, letters, figural grouping, and figural series.
Quantitative – tests your ability to apply basic math concepts to solve word problems. The questions in this subtest are of three types: data interpretation, problem-solving, or fundamental operation/direct computation.
Perceptual Acuity – a subtest consisting of a visual type of questions in the form of a mirror image, hidden figure, and identical information. Your task is to find solutions by eliminating distractions, analyzing relationships, and focusing on relevant details.
Part II of the exam, on the other hand, is conducted after a 10-minute test break. It consists of 120 items answerable within 1 hour and 30 minutes. 
While the first part tests your mental ability, the second part gauges your proficiency in subjects deemed essential in preparing for a medical course.
The four subtests in Part II of the exam are as follows:
Questions come from the basic concepts in the curriculum taught in various pre-med courses. Social Science, for example, includes items about sociology, anthropology, and psychology.
The second part of the NMAT tests the student's complex mental abilities like understanding, applying, analyzing, evaluating, and synthesizing.
Overall, there are 240 multiple-choice type questions in the online NMAT.  Each subtest consists of 30 items. 
Reviewing for NMAT? Check out our Ultimate NMAT Reviewer (with Free Practice Tests)
Sections
Allotted Time
Reminders and Certifying Statement
12 minutes
Part I 
Verbal
Inductive Reasoning
Quantitative 
Perceptual Ability
2 hours and 15 minutes
Break
10 minutes
Part II
Physics
Chemistry 
Biology 
Social Science (Psychology, Anthropology, Sociology)
1 hour and 30 minutes
End Test
1 minute
How Does the NMAT Scoring System Work?
Each NMAT subtest will generate a score. The scores for all subtests will then be combined to produce your General Performance Score (GPS).
Now, this is when NMAT differentiates itself from other exams.
Unlike traditional exams where the results are more straightforward (e.g., 85% means you got 85% of the questions right), NMAT reports the score as a percentile rank ranging from 1 to 99+.
Therefore,  if you get an NMAT score of 85, it doesn't mean you got 85% of the questions right. Rather, it indicates how you're ranked compared to the rest of the examinees.
So if you got 85, you scored higher than 85% of the examinees while 15% scored higher than you.
The use of percentile ranking in scoring NMAT may or may not work in your favor, depending on how brilliant your batch is. For example, if you got 95% of the questions right but all the other examinees got perfect scores, your NMAT score/rank will be 1.
Also, there's no NMAT "passing score." It depends on the medical school you'll be applying for. Top schools like UP, UST, and UERM, for instance, each have their own NMAT cutoff score.
The cutoff score is the minimum NMAT score required to qualify for medical school. So if the medical school has a cutoff score of 95, those who scored lower than that will not be allowed to apply.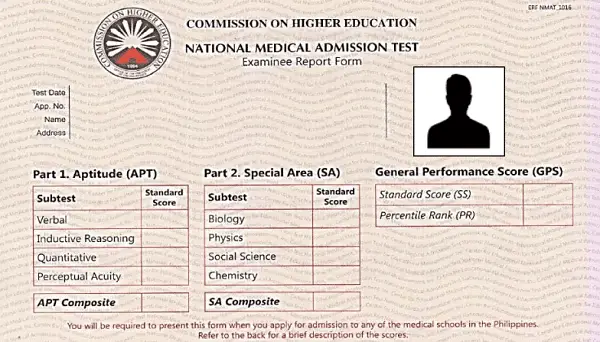 An electronic copy of your online NMAT results will be released in 20 business days3 after the last date of test administration. To access or download the e-copy of the results, click the link for Test Results located in the online options of the CEM website.  However, note that the electronic copy cannot be used for admission purposes but serves only as a guide for you to decide which Philippine medical schools to apply to. 
Note that you cannot request your online NMAT result via email or phone.
Meanwhile, the original copy of your Examinee Report Form (ERF) will be mailed to the mailing address indicated in your NMAT registration form. You will receive it 6 weeks from the last date of the test administration.
Furthermore, your NMAT results will appear on the master list of test scores received by CHED, Philippine Medical Schools, Higher Education Regional Offices (HERO), and Association of Philippine Medical College Foundations, inc. (APMC).
When Is the Exam Administered?
Online NMAT exams are usually scheduled in the middle of the school year (September or October) or at the end of the school year (March or April). 
Available test dates for those who registered last October 25 to November 19, 2021, are the following:
On the other hand, the next batch for registration will be opened from February 21 – March 18, 2022. Available test dates for those who will register on those dates are the following:
April 23 – 24, 2022
April 26 – 27, 2022
April 29 – 30, 2022
May 2 – 4, 2022
May 6 – 8, 2022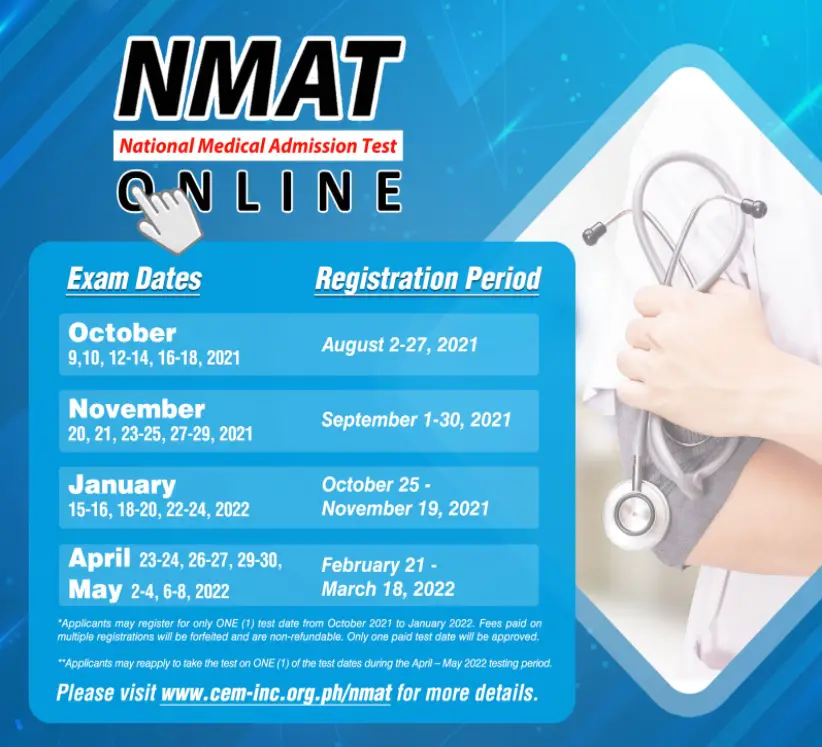 For more information on test schedules, refer to the CEM website or join the NMAT Viber community.
How To Register for the NMAT: 5 Steps
1. Prepare the requirements
a. A stable internet for your online registration. For faster transactions, use Google Chrome as your web browser. If you encounter technical issues, please contact CEM via e-mail ([email protected]) or phone: (02) 813-3686, 813-3691, 813-3694, locals 106, 101, 108.
b. A valid email account that you'll use for the online application.
c. Valid school or government-issued ID for local applicants or valid passports for foreign applicants or those taking the NMAT in foreign test centers.
d. Philippine mailing address with your house number, street, barangay, town, and city. Indicate also your ZIP code. You can also use your Philippine Post Office box number. Your online NMAT results will be sent to this mailing address.
e. Transcript of Records (PDF copy) for graduate applicants or Certificate to Graduate (PDF copy) for graduating applicants.
f. Unretouched digital photo (Selfies and improper poses are not allowed).
The digital photo must meet the following specifications4:
2" x 2" colored picture with a white background
Must be in JPG file format with a file size less than or equal to 2 MB
Image pixel dimensions must be square aspect ratio (the height and width must be equal). The minimum pixel dimensions accepted are 600 x 600 pixels
Must be taken within the last six months
Just like a passport photo, it should only include your shoulder and face
Must not be a scanned photo of any existing valid ID
Must be clear and match your appearance on the exam date. (e.g., if you have a beard at the time of your registration, you must have it on the test date)
2. Create an account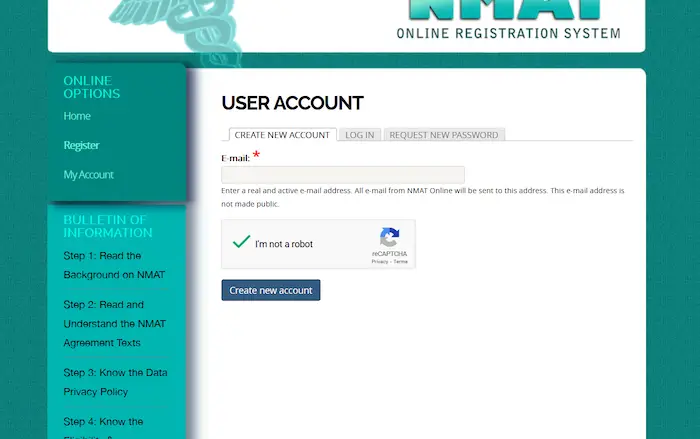 To create an account for the Online NMAT exam, click this link.  Enter your email address, complete the captcha and press the Create New Account button.
3. Verify your email address
Upon verification of your email address, you may log in to the website again and proceed with the registration.
4. Complete your registration
Fill out the online NMAT registration form and upload an ID photo.
5. Choose your preferred payment channel in the online portal
The total amount you must pay for the online NMAT is PHP 1,9005. This already includes the registration and test fees; the processing of the application form and test administration; as well as the printing and delivery of test results.
If you are based outside the Philippines, you have to pay USD 60.00 which already includes the registration and test fees. 
All payments will be channeled through the Dragonpay facility. For the list of Dragonpay Processors available, refer to this guide. Dragonpay offers payment options via online banking, over-the-counter cash deposits, and over-the-counter non-bank, mobile, and credit card payments.
Note that you will be on pending status until you pay the corresponding fees. Your slot will be reserved while you're on payment pending status.
6. Pay the corresponding fees
If you have selected to pay the fees over-the-counter (bank or non-bank) Dragonpay will send you the payment instructions via email. You have to follow the instructions and pay the corresponding amount by the indicated deadline. Failure to do so will void your application. 
On the other hand, if you prefer to pay through online banking channels, e-wallet, or credit card, you have to pay the fees immediately. Failure to do so will void your application. 
In case you have already paid but are still unable to receive the Dragonpay Payment Confirmation, call the following Dragonpay contact numbers: +63-915246-5045, +63-961325-6153, +63(2)8655-6820. Dragonpay's working hours are from 8:00 AM to 6:00 PM. Prepare the following once you've decided to call Dragonpay: 
Proof of payment
Copy of Dragonpay Instruction
7. Receive your NMAT registration form
Once payment is done, you will receive your NMAT registration form. Note that your Dragonpay payment confirmation will be issued first before the NMAT registration form. 
What Are the Technical Requirements for the Online NMAT Exam?
Aside from the requirements listed above, you must have the following device specification for you to be able to take the online NMAT test.
1. Windows Desktop or Laptop
As of this writing, Windows 7 and above are the only operating systems supported by the online NMAT test. Mac desktops or laptops, as well as Android and iOS devices, are not supported. 
Mobile phones, table/digital pads, and e-readers are also not supported. 
2. Internet connection with a speed of not less than 5 Mbps
Note that CEM will not be responsible in case your exam answers have been compromised due to a poor internet connection.
3. Web camera
The use of mobile phones as web cameras is not allowed. Webcam can either be detachable or built-in to your device.
4. Working computer mouse and microphone
Your microphone must be adjusted to maximum volume during the test.
5. Updated Internet browser
The only browsers supported by the online NMAT are Google Chrome (Version 63 and above) and Mozilla Firefox (version 52 and above).
6. Secure Exam browser (Mettl Secure Browser or MSB)
You have to download and install this browser for you to be able to take the test securely. Without this application, it's impossible for you to access the test. 
To download this browser, you have to undergo a Computer Compatibility test here. Download the Secure Exam browser by clicking the Download MSB button. 
Once you have installed the Secure Exam Browser on your desktop, changing or installing new apps on your device is highly discouraged. 
7. Others
In addition to the technical requirements listed above, you also need to prepare the following:
a. Small whiteboard and marker for scratch work (pen and paper are not allowed) OR any of the following:
Plain chalkboard with chalk and eraser
Plastic/paper magic slate
Clear acetate/plastic sheet with a whiteboard marker and eraser
Note that you can only use your whiteboard and marker for scratch work during the following subtests:
Inductive reasoning
Quantitative 
Biology
Physics
Chemistry
b. A quiet testing room with good lighting and ventilation.
Aside from this, make sure that there will be no other person in the room once you take the exam. Talking with other people is a ground for test termination.
How Is the Online NMAT Administered?
The online NMAT will be administered through the Secure Exam Browser or MSB6. To access the test in this browser, you have to open the test link sent via email. This email has a subject heading of CEM helpdesk from CEM Ph invites you to take NMAT Online Test_Test Date_Time7. You will receive this email 3 to 4 days before your test date.
Click the Start button at the bottom of the email sent. Upon clicking this, MSB will automatically launch.
After that, all examiners will undergo the authorization stage. In this stage, you're going to log in to the exam by providing your details. Afterward, you must provide a snapshot of your face and a valid ID. You also have to present the materials you will use for scratch work by holding them up under your chin during the photo capture. 
Once the authorization stage is done, read all the instructions and candidate rules carefully under the Important Reminders page. 
After reading the Important Reminders page, you will be asked to read the Certifying Statement and tick the checkbox.
You are only allowed to start the exam once you are told so. Your webcam and microphone must remain on throughout the exam session. 
To go to the next item of the test, just click the Next item question. Note that all 120 items of Part I are included in Section 2 of the test website while all the 120 items of Part II are included in Section 4. Once you have left a section of the website, you cannot go back to it.  
There's also the Finish Test button which you can see on the upper-right portion of the screen. This button appears on every page of the test. If you click this button in the middle of the test, your test session ends. Also, refrain from pressing the F5 button as it submits the test while you are answering it. 
For more information on how to use the online testing website where the online NMAT is administered, watch the videos here.
What Should I Wear During the Online NMAT?
Although NMAT will be administered fully online, you are still required to observe proper attire just like in a traditional exam setup. 
Females are not allowed to wear provocative or sleeveless outfits, sleepwear, or long-sleeved tops. On the other hand, males are not allowed to wear a sando or long-sleeved shirts. In case you have to wear a long-sleeve shirt, you have to tell the proctor beforehand. 
Frequently Asked Questions
1. What are the valid IDs accepted for the NMAT online exam?
Here's the list of accepted IDs:
SSS/GSIS ID
School ID
Voter's ID or Voter's Certification
Barangay ID
Solo Parent ID
OWWA or iDOLE card
Seaman's book (SIRB)
PNP License
Airman License
Company ID 
HDMF transaction card
Alien Certificate of Registration Identity card 
2. What should I do in case a power interruption occurred during the Online NMAT?
You are allowed to re-login within 20 minutes. However, beyond that period, you have to contact the CEM Help Desk through the following channels:
Mobile: 09992212609 / 09992212538 / 09992212621
WhatsApp/Viber: 09992212545
Viber: 09992212542
Important note: The CEM Help Desk Contact above is strictly for technical concerns only.
3. When is the release of the result of the Online NMAT?
After 20 CEM business days, you will receive an e-copy of your Online NMAT result. 
4. Will there be a face-to-face or traditional NMAT examination in the future?
As of this writing, CEM has no announcement yet regarding any possibility of the conduct of a traditional NMAT in the near future. For any changes in the exam setup, refer to the CEM website.
5. Is the online NMAT proctored at home?
Yes, online NMAT is a synchronous test where you have to open your webcam so that a human proctor can see you. 
6. What is not allowed during the conduct of the Online NMAT?
According to the NMAT Candidate Online Assessment Guide, here are things that are NOT allowed during the exam:
Any food or beverages while taking the exam. If you have to eat, drink, or take medication for health reasons, you must inform your proctor
Any test-related information written on your clothes, shoes, tables, chairs, walls, ID, or on any parts of your body
Pencil, pen/pencil eraser, rulers, protractors, markers 
Mobile phones, tablets, and e-readers
Watches and any other wearable technology
Calculators
Pagers or beepers
Any kind of mirrors
Any reading materials such as books, dictionaries, pamphlets, etc.
Furthermore, you are not allowed to do any of the following:
Covering the web camera during the exam
Navigating away from the test browser
Leaving the testing area
Any hand signals such as pointing to the screen or monitor
7. I will not be available during my Online NMAT test date due to unforeseen reason/s. What will happen?
If you're unable to take the test on your scheduled date, your NMAT registration and test fees will be forfeited. Your name will also not appear in the Masterlist of Test Results (MSR). 
8. How to know if my laptop/desktop is compatible with the Secure Exam Browser (Mettl Secure Browser or MSB)?

Here are the steps to check your device's compatibility with the Secure Exam Browser: 
Visit the  System Compatibility check link here.
Download the Secure Exam Browser or MSB by clicking the Download MSB button.
Install the Secure Exam Browser.
Follow the instructions indicated to perform the computer compatibility check. MSB will check whether your browser, microphone, and webcam are in good condition. Once the compatibility check is done, MSB will show this message "Looks Great, the test will run just fine on this computer." 
In case, there's an issue while conducting the compatibility check, contact the CEM Help Desk to guide you with troubleshooting technical issues.
References