To qualify for the best medical schools in the Philippines, it's not enough that you have Latin honors or a stellar GWA/GPA; your NMAT ranking or score is equally important.
The NMAT or National Medical Admission Test is a prerequisite for entering a Doctor of Medicine program in the Philippines. While other lesser-known schools don't put much weight on your NMAT performance, top schools like UP, UST, and UERM have cutoff scores of 90+, 85, and 75, respectively.
NMAT, therefore, should never be taken for granted because how you perform in the exam can literally define your future as a medical student.
In this guide, we've carefully curated all the best NMAT tips and tricks to ensure you can ace the exam even without enrolling in a review center.
Update: Given the current pandemic situation,  NMAT will be administered online. Continue reading this article to gain helpful tips and suggestions on how to ace the online NMAT.
Reviewing for NMAT? Check out our Ultimate NMAT Reviewer (with Free Practice Tests and Answer Keys)
Stick to Your Own Learning Style
At this point, you must have a clear idea already of what makes you tick as a student. In other words, you already know what reviewing or studying techniques work best for you.
Everyone is different. Some learn more effectively by reviewing alone while others absorb more information by joining group studies. However, since you'll be unable to join group studies due to strict health protocols, you have to either improve your self-review strategies or look for online forums or Facebook groups that aim to foster a community of those who are preparing for NMAT.
You can also encourage your former classmates or friends who will also take the NMAT to conduct review sessions via online platforms such as Zoom, Google Meet, Facebook Messenger, or Discord. Others extract more from audio-visual learning materials while others thrive by reading books.
As the saying goes, if it ain't broke don't fix it. Stick to your own style and make every minute of your review count.
Also Read: How to Become a Doctor in the Philippines – An Ultimate Guide
Strengthen Your Weaknesses
Reviewing for NMAT is like preparing for UPCAT or civil service exam: You don't have all the time in the world so might as well review strategically.
In the case of NMAT, you only have 2 months at best (if you're taking the March/April schedule) to dedicate for the review. So how can you make the most out of it? By focusing on your weakest areas.
Take a diagnostic exam. Either use the practice test provided to you by CEM or find a free/paid NMAT reviewer online. The result of this initial practice exam will give you an idea about the nature of NMAT and which subject areas you need to spend more time on.
Record the scores you'll get in each subtest of the diagnostic exam. These scores will give you an idea of what subjects to prioritize in your review. Let's say the diagnostic exam reveals that you scored highest in Chemistry, followed by Physics, Social Science, and Biology. Based on this result, the order of the subjects that you'll review should be as follows: Biology first, followed by Social Science, Physics, then Chemistry.
By knowing your weaknesses from the get-go, you will be able to dedicate more time brushing up on the concepts you've (intentionally) forgotten and in so doing improve your final NMAT score/rank.
Also, don't forget that NMAT scoring is based on percentile ranking which means your grade isn't equivalent to the number of questions you got right but on the number of examinees who scored lower than you.
Since most students hate subjects that have anything to do with numbers, you can outperform them and possibly get a 90+ ranking by doing well in these areas (more on this in the next section).
Know the Coverage of the Exam
Assuming that you already know your weaknesses based on the results of the diagnostic test, it's time to dust off your old high school or college notes and start reviewing.
However, you can't start the review unless you know what to review in the first place. Know the coverage of the NMAT and use it as a guide on what topics to prioritize.
NMAT is composed of two parts.
The first part is the Aptitude Test which measures the examinee's mental ability in answering questions from four different categories: Verbal, Inductive Reasoning, Quantitative, and Perceptual Acuity.
Part I is the trickiest of the two. It relies on your aptitude more than your stocked knowledge. Most examinees fail to prepare well for this part since they didn't study most of it in high school or college unlike the subjects included in Part II.
The only way to get a high score in Part I is to practice answering as many questions as you can. Since most examinees focus on Part II, it will give you a great advantage if you outscore them in Part I.
NMAT, after all, is based on percentile ranking, not on your raw scores.
The second part, on the other hand, is the Special Areas test which includes questions from four subject areas believed to be the most critical in preparing students for medical education: Biology, Physics, Chemistry, and Social Science.
When reviewing for Part II, prioritize breadth over depth. Instead of delving into advanced concepts in each subject, review the basics usually included in your high school or college syllabus.
Remember, you should make each second of your limited time to review count by covering as many subjects as possible. You won't be able to do that if you waste time gaining "in-depth" knowledge about a single topic.
Take Simulated, Time-Pressured Practice Tests
Studies show that you retain more information through repeated testing than from repeated studying1. This phenomenon is known as the testing effect and is hinged upon the universal truth that people learn more through application and trial-and-error.
To get your best NMAT score, practice taking exams similar to the content and length of the actual NMAT. You may use the free practice test sent to your e-mail upon registration or buy NMAT reviewers available online.
The key here is to answer as many questions as possible to benefit from the testing effect.
Each mistake is an opportunity to improve your weaknesses and brush up on concepts you might have forgotten. For example, if you got a wrong answer to a Physics question, you can compare your answer to other choices to see why you made a mistake. This is also a great reminder of why you should keep a note of the common Math and science formulas.
NMAT is a time-pressured exam so aside from understanding the test content, you also have to mimic the actual test conditions. To do this, try answering the practice tests under time pressure: 2 hours and 15 minutes for Part I and 1 hour and 30 minutes for Part II.
NMAT is a time-pressured exam so aside from understanding the test content, you also have to mimic the actual test conditions. To do this, try answering the practice tests under time pressure: 3 hours for Part I and 2 1/2 hours for Part II.
If you answer 75% of the questions correctly, you're in good standing. A score lower than 75% means you need more preparation to improve your base knowledge as well as analytical and application skills.
Practice tests should only be used as a guide in improving your test-taking skills. The questions will not likely appear in the actual NMAT so don't waste your time memorizing them.
In addition to improving your stored knowledge, the use of practice tests in your review also builds up your test-taking "muscles," enabling you to make intelligent guesses even in items you don't know anything about.
Since NMAT is now administered fully online, you have to adapt to the additional pressure and difficulties imposed by the online test setup.
Try to answer mock exams while simulating the actual online exam environment. Set up your webcam and microphone and answer questions that are directly flashed on the screen of your laptop or computer. Think of this simulated exam as the actual test scenario – no music while answering, no interruption from anyone in your house, and no distracting things on your desk. 
CEM will provide you with a link for a demo or mock test which you can use to be familiar with the Secure Exam Browser (the browser used for the online NMAT). After your registration and payment, you will receive the link via your registered account. 
Afterward, identify the difficulties you have experienced while conducting the simulated exam such as intermittent internet connection, slow browser, or things that might have distracted you while answering. By doing this, you will gradually cope with the online setup and lower the chances of technical difficulties on the actual exam date. 
Simulated online tests will also train your eyes and prepare them for the actual NMAT. Since the prolonged time of looking at the screen causes eye strain (which might hinder you from answering the questions accurately), your eyes must be prepared for the test. While answering a simulated test with your computer, don't forget to blink since it helps to lubricate your eyes and prevents eye strain. Adjusting your electronic device's lighting depending on your vision might also help to lessen eye discomfort.
 Take advantage of free and accessible reviewers and learning resources.
Your determination, effort, and luck are not enough to ace the NMAT. You also have to be wise when it comes to which reviewers and learning resources you will use. 
There are lots of reviewers and resources that are free and available online which have helped a lot of aspirants pass the test. For instance, you can use our free NMAT reviewer and practice tests. You can also incorporate the digital resources offered by Lumen Learning and Khan Academy into your arsenal of reviewers.  Furthermore, note that CEM will also send some practice tests to your registered email address.
If you love to learn by watching educational videos, Youtube channels such as The Organic Chemistry tutor, Professor Dave Explains, or Leah4Sci provide comprehensive and helpful content that will help you refresh your knowledge especially with Chemistry and Physics.
Manage Your Time Wisely
As a whole, NMAT is relatively easier compared to UPCAT.
However, time is every examinee's greatest enemy. The first part alone consists of confusing and complex questions that can easily consume a huge chunk of your time if you're not careful.
Never waste more than 1 minute on a single item.
Depending on which strategy you're most comfortable with, you can tackle either the easiest or the hardest questions first.
READ: How to Answer Multiple Choice Questions Like a Pro
Alternatively, you can classify each question based on its level of difficulty:
Additional NMAT Tips
Additional NMAT Tips (Online NMAT):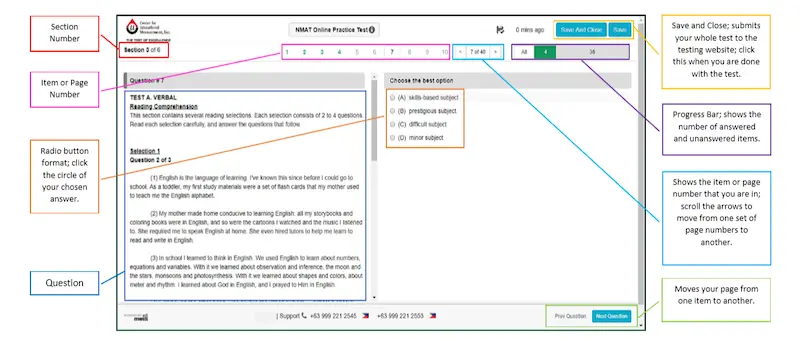 Frequently Asked Questions
1. Is it helpful to attend a review center to prepare me for NMAT?
Although review centers will help you create a solid study schedule, they will cost you a lot of money. A lot of passers suggest that self-review, proper review materials, and effective test-taking strategies are enough to ace the NMAT. 
2. I'm from a non-premed course (e.g., engineering, accountancy, psychology, etc.). How can I prepare for the NMAT?
Start by learning the basics of each subtest (i.e., Physics, Biology, Chemistry, Social Science). Note that most of the questions are already covered in your high school years so reviewing the basic concepts might help you remember them. Furthermore, the best way to maximize the amount of knowledge you will acquire from these subjects is by starting to review as early as possible. Those who passed NMAT that are from non-premed courses suggest starting 3-4 months prior to the exam. 
References
Butler, A. (2010). Repeated testing produces superior transfer of learning relative to repeated studying. National Library of Medicine. Repeated testing produces superior transfer of learning relative to repeated studying – PubMed (nih.gov)