There are several reasons why you keep getting the same error message shown below.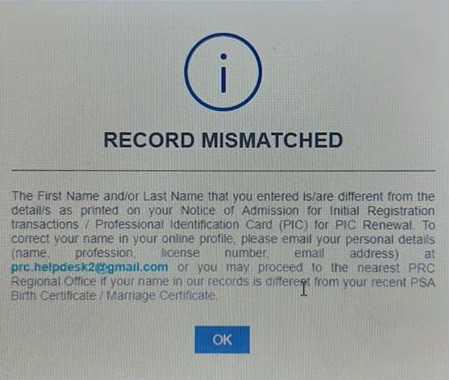 First is the most obvious one: The records are indeed mismatched. In other words, the name or any other personal details you entered is/are different from what is printed on your Notice of Admission (NOA).
For example, you mistyped your birth date or you recently got married and the name on your marriage certificate and other IDs no longer match what's in the PRC records. If this is the case, simply enter the correct information.
Or, you may reach out to PRC Help Desk by sending your personal details (name, profession, license number, and email address) to [email protected] You can also go directly to the nearest PRC Regional Office, especially if your name in PRC records don't match the name in your recent PSA birth certificate or marriage certificate.
Another common reason behind this "record mismatched" error is that applicants try to register too early when the system isn't fully updated yet.
They're too excited to register online upon learning that they have passed the exam, not knowing that the PRC released an official announcement about when they can start the initial registration.
If you've missed this announcement, check out the PRC's official Facebook page. Chances are, you just need to wait a few more days to a week before you can start the registration.
Alternatively, you can always email your concern to [email protected] or proceed to the nearest PRC Regional Office.
Go back to the main article: How to Register and Get PRC ID After Passing the Licensure Exam