Last Updated on
Traveling alone may be nice, but exploring the world (and creating memories) with your kids is an opportunity you shouldn't miss.
Even the most expensive toys can never compare to the lessons and experiences that traveling can bring.
After all, your life as parents should never end with childbirth.
But before you plan your itineraries, don't forget that Filipinos, regardless of age, must first secure a Philippine passport.
We've already discussed the nitty-gritty of applying for a Philippine passport as adults. This time, we're going to focus on how to get Philippine passport for minors, ranging from babies to teens below 18 years old.
Who is a minor?
According to R.A. No. 7610, a minor is someone who is below eighteen (18) years old.
Also included in this category are those over 18 "but are unable to fully take care of themselves or protect themselves from abuse, neglect, cruelty, exploitation, or discrimination because of a physical or mental disability or condition."
Due to their young age or condition, minors are prime targets of abuse, neglect, and exploitation. Hence, DFA has provided a separate guideline on how to get Philippine passport for minors, taking into consideration their age and vulnerability.
In terms of age, Philippine passport applicants who are minors are divided into two categories:
0 to 7 years old: Babies and kids aged seven years and below apparently don't have the capacity yet to think on their own. Therefore, minors in this age range don't need to secure an appointment online. According to DFA, babies and children seven years old and below are entitled to avail of the courtesy lane together with their parents and minor siblings.
8 to 17 years old: Minors who belong in this age group must secure an appointment online like everybody else. As previously mentioned, the only time they get access to courtesy lane is if they have another sibling aged 7 years or below who is also applying for the Philippine passport. Requirements may differ depending on whether the minor is traveling alone, with a parent/legal guardian, or somebody else (more on this later).
Once granted, Philippine passports for minors are only valid for 5 years, which is half of the 10-year validity period given to regular passports.
How to Get a Philippine Passport for Babies and Minors: 4 Steps.
1. Complete the passport requirements.
The following is a complete and updated list of passport requirements for minors:
a. Confirmed online appointment (if applicable).
As discussed in the previous section, minors who are seven years old and below don't need an online appointment with DFA when applying. Accompanied by their parents/legal guardians, they can proceed to the courtesy lanes provided for them at the DFA office.
Minors aged 8 to 17 years old, on the other hand, must secure an appointment online, unless they're applying with another minor sibling aged 7 years old or below, in which case they're also entitled to use the courtesy/priority lane.
b. Duly accomplished passport application form.
The parent or legal guardian may accomplish and sign the application form on the minor's behalf. You can download the passport application form for minors here.
For minors whose both parents live abroad, follow these guidelines when applying for a passport and traveling alone.
d. Birth Certificate.
The minor applicant's birth certificate must be issued by the Philippine Statistics Authority or PSA (formerly NSO).
Related Article: How to Get PSA Birth Certificate in the Philippines
In the guide we've written for regular adult applicants, we mentioned that the DFA still accepts NSO birth certificates.
This may also apply to minors, but we can't guarantee. Please call DFA hotline to be sure.
On the other hand, if the PSA birth certificate of the minor isn't clear or legible, please provide the Local Civil Registrar Copy instead.
In case the baby or minor doesn't have a PSA Birth Certificate or Report of Birth yet, you can present the following documents instead:
For applicants born in the Philippines: PSA-authenticated Certified True Copy of Local Civil Registrar (LCR) Birth Certificate.
For applicants born abroad: Original copy of Report of Birth or first endorsement from Consular Records Division.
e. Marriage Certificate (if only one parent is accompanying the child).
For minors with unmarried parents, an Affidavit of Support and/or Consent must be executed by the mother if she's not accompanying the child.
If executed abroad, this affidavit must be authenticated by the Philippine Embassy or Consulate.
Please refer to this guide for a complete list of acceptable IDs for passport application.
g. School ID of the minor (if applicable).
2. Submit all passport requirements to DFA.
For minors 8 – 17 years old.
Unless they're accompanying another minor sibling aged 7 years old or below, minors in this age bracket don't have access to courtesy lanes at DFA offices.
For this reason, they're required to secure an appointment online just like regular adult applicants. Click here to learn how to get a passport appointment online.
For minors 0 – 7 years old.
Babies and minors aged 7 years old and below are entitled to use the courtesy lanes at different DFA branches. This means they don't have to secure an appointment online and can go straight to the DFA office for their passport application or renewal.
Along with the minor, the parents as well as minor siblings 17 years old and below will also be given access to the passport courtesy lane. So if you're applying as a family, you can simultaneously apply for a Philippine passport without the hassles of online appointment.
3. Pay the Philippine passport fee.
The image below shows the updated list of Philippine passport fees: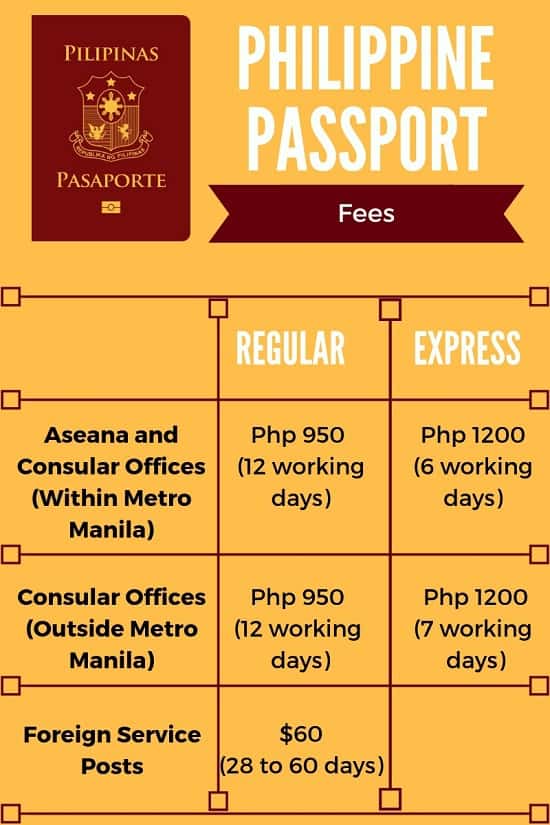 Here are a few reminders when paying passport fees for minors:
According to DFA, babies and minors 7 years old and below, along with their parents and minor siblings, can use the courtesy lane but they are considered expedited applications so they must all pay the express/expedited fee of Php 1,200.
To the frustration of a lot of parents, some DFA branches don't even comply with the rule of allowing minors 7 years old and below to use the courtesy lanes. Instead, some satellite offices (e.g., DFA Robinsons Novaliches) only accept 5 years old and below in the courtesy lane. It's best to call the DFA branch where you're planning to apply for the passport so you'll be aware of their restrictions before heading there.
If you'll not be available to personally receive the passport/s on the claim date, you can opt to have them delivered to your doorstep by paying an additional Php 150 for the courier service.
4. Claim the passport/s.
Return to the DFA office on the date indicated on your receipt to claim the passport/s. If you opted to have it delivered to your mailing address (see the previous step), simply wait for the passport/s to arrive at your home or office.
Frequently Asked Questions.