Filipinos hired directly by a foreign employer without passing through a recruitment agency must complete the POEA direct hire requirements to secure an overseas employment certificate (OEC) before they leave the Philippines.
The OEC application process for direct-hire OFWs differs from that of agency-hired workers. First-time direct hires can't use BM Online or POPS-BaM because it's only for returning OFWs.
The process for direct hires is also longer and more complicated because the government has to ensure that their employment rights will be protected. 
Table of Contents
What To Do Before Applying for an OEC
Update: From January 2022 onwards1, POEA now requires direct-hire applicants to go through a new online system called POEA Online Processing Systems for Direct-Hire or "POPS-Direct." This can be accessed through the POEA online services portal.
However, you can't apply online without being fully prepared. You'll only be wasting your time that way. 
Here's what you should do before you start filing your OEC application as a direct-hire OFW:
1. Check if You Fall Under the Exempted or Non-Exempted Category
Philippine labor laws and regulations prohibit overseas employers from directly hiring Filipino workers. This means if you work abroad, usually, your employer should have hired you through a POEA-accredited recruitment agency. Such a rule protects OFWs against abuse, exploitation, or violation of their worker rights.
But there's an exception to the rule.
Certain types of employers are exempted from the ban on the direct hiring of OFWs. These are:
Foreign diplomats
International organizations (e.g., United Nations, ASEAN)
Heads of state and high-ranking government officials (deputy minister or higher position)
Officials listed in the first three items with a lower rank who are endorsed by the Philippine Overseas Labor Office (POLO)
Employers of professional and skilled workers with verified or authenticated employment contracts compliant with the POEA standards
Permanent residents of the host country who are hiring their family or relatives, except for domestic workers, household service workers, or lived-in caregivers
Check the POEA Memorandum Circular No. 08, Series of 20182 for more details on the criteria for exemption and non-exemption of foreign employers from the direct hiring ban.
If you work for an exempted employer, you'll have an easier time getting a POEA Clearance From the Direct Hiring Ban. This document is a requirement for the OEC application of directly hired OFWs.
However, if your employer is in the non-exempted category, then approving authorities must review your application before you get a POEA clearance. According to the memorandum for the new system, this can take up to a week or more once you've completely submitted your documents.
2. Get All the Requirements Ready
Once you get hired by a foreign employer through direct hire, start preparing the requirements immediately to avoid delays in your application.
There are two phases in the application process for direct hires. Focus on getting your Phase 1 requirements ready as soon as you can. You have a bit more time to prepare your Phase 2 requirements, but you still need to prepare them sooner rather than later.
Please proceed to the next section to see the requirements list.
POEA Direct Hire Requirements for OEC Processing
You must gather two batches of documents3 that you'll submit to the POEA for the two phases of your direct-hire registration. Note that there may be additional requirements for household service workers4.
Phase 1 involves securing a POEA Clearance. Phase 2 is the process in which your OEC will be issued.
Since you are uploading your documents online, you must prepare a clear scanned copy of your original documents.
In Phase 2, POEA will require you to visit the POEA office that is nearest to you. You must bring the original copy of your documents, but you might want to have two photocopies ready, just in case.
Phase 1: POEA Clearance Requirements for the Direct Hiring Ban Exemption
All documents listed below must be submitted in duplicate 5.
1. Valid Passport
Ensure your passport is valid for at least one year before departure. You should renew the passport if it's about to expire. To renew, you must set an appointment first via the DFA online portal. 
2. Valid Work Visa or Entry/Work Permit
If the employer issues visa assurance or guarantee, the same should be noted/acknowledged by the Government or Immigration Office on the job site.
Tip: Make sure to talk with your employer regarding your visa processing. They might guide you on the procedures and requirements necessary to get your visa. He/she might also shoulder the cost of visa processing.
If your employer's country has no embassy in the Philippines, inform them about it. They might assist you in sending your documents to the nearest country with an embassy in your destination country. 
3. Verified Employment Contract or Offer of Employment
Your job contract must satisfy three requirements:
a. The Contract Meets or Exceeds POEA's Minimum Employment Standards
Employment terms and conditions mandated by the POEA should be covered in your contract. To speed up the process, request your employer to use the POEA sample employment contract as a template for your contract. 
But if the company has its standard contract, ensure all the POEA's required provisions are included before you sign the document. Also, you and the employer must sign each page of the contract.
b. Your Employment Contract Is Verified by the Philippine Overseas Labor Office (POLO)
If your host country has no POLO, your contract must be authenticated by the Philippine Embassy or Consulate with jurisdiction over your job site. Check the POLO directory to know if there's a POLO in your host country.
Your employer (or the company's authorized representative) should be the one to bring your contract to the POLO, Embassy, or Consulate for verification/authentication. Your employer will ask you to send your documents, such as a copy of your passport, resume, and college diploma. Some employers are unaware that POLO verification is required, so inform them as soon as possible since it might take weeks to process the documents.
Check the website of the POLO/Embassy/Consulate on your job site for the requirements and procedure for employment contract verification/authentication.
If you work in any of these locations, you can find the information on document verification/authentication through these links:
Note that verifying your contract by a POLO office may take one to two weeks.
c. Your POLO-Verified or Embassy/Consulate-Authenticated Contract Is Apostillized
Update (September 2021): One of our readers who recently obtained his OEC said there's no need to get your employment contract apostilled, as DFA will only reject your request. A verified employment contract or offer of employment should suffice.
According to POEA Memorandum Circular No. 8 of 20196, employment documents of direct hire OFWs must be either verified by POLO or acknowledged by the Philippine embassy or consulate that has jurisdiction over the area of the job site.
Employment contract verifications are done only by POLO, not embassies/consulates. The one that the embassies and consulates are servicing is employment contract authentication.
Secure an Apostille from the Department of Foreign Affairs (DFA) once you receive your employer's verified/authenticated employment contract.
Related: How to Authenticate Documents in DFA: An Ultimate Guide to Apostille Certificate
4. POLO Endorsement Letter
Your employer should also secure an endorsement letter from the POLO requesting an exemption from the direct hiring ban. The letter must be addressed to the POEA Administrator.
This legal document is an affidavit you can quickly get through a notary public. Here's how:
Download an affidavit template (again, you can get a copy from the notary public if you don't have time to draft it on your own).
Fill out the affidavit with the necessary information. In the body of the affidavit, state how you secured your overseas employment (e.g., through referral, LinkedIn, etc.). 
Print your accomplished affidavit and bring it to the nearest notary public to be notarized.
Attach a photocopy of your employer's passport or ID and a printout of his/her contact information. The POEA requires this attachment to the notarized statement.
You must also submit an Affidavit of Authenticity of documents submitted such as a diploma, Transcript of Records (TOR), and Certificate of Employment (COE). The affidavit must indicate that all documentary requirements you've submitted contain accurate and truthful information.
6. Additional Country-Specific Requirements
You must submit additional supporting documents if you are deployed to any of the following countries.
Canada – Labor Market Opinion (LMO) or Labor Market Impact Assessment (LMIA)
Note: Canadian Letter and Employer's Certificate of Registration from ECON (Province of Saskatchewan Executive Council) or Saskatchewan Immigration Nominee Program (SINP) are required from workers to Saskatchewan instead of the LMO.
Related: How to Get a Job in Canada: A Filipino's Ultimate Job-Hunting Guide
United States – Labor Condition Application and Notice of Action
Middle East and Africa – Contingency plan issued by the employer
7. Employers ID/Passport and Contract Details
You can request this from your employer. Make sure to ask for a clear scanned copy so there are no delays in your application.
8. For Professionals and Skilled Workers: Employer's Company Profile and Business License/Commercial Registration
Ask your employer to send you a copy of these required business documents and your verified contract.
9. For Professionals and Skilled Workers: Additional Documents To Support Job Application and Notarized Statement of Authenticity
Gather the following supporting documents that prove your qualifications for the overseas job:
Certificate of employment from your previous employers or OFW Info Sheet/business permit if you were self-employed
Diploma and/or Transcript of Records/Form 137
NC II Certificate/PRC License
Curriculum Vitae/Resume
Except for your CV/resume, you must prepare Certified True Copies of the above documents. Then, you must submit a notarized statement of their authenticity as part of the Phase 1 requirements.
10. For Domestic Workers: TESDA National Certificate II (NC-II) for Domestic Workers
Phase 2: Requirements for OEC Application of Direct Hires
1. E-Registration Account
You need to create an e-Registration account through the POEA e-Services Portal. After that, you must complete your profile and upload a profile picture and a photo of your passport's bio page.
2. Valid Medical Certificate
For OFWs to get a fit-to-work medical certificate, undergo a medical examination at any DOH-accredited clinic. Once your POEA clearance is approved and released, you may get a medical certificate.
However, if you've already done so as a requirement for processing your work visa or work permit, there is no need to have another medical exam. Simply submit your medical certificate when you apply for an OEC at the POEA office.
You may schedule your medical exam before your Phase 1 application at the POEA. But make sure not to do it too early so that the medical certificate (with a three-month validity) is still valid when you submit it during Phase 2.
Note, if you are employed in an African country, you must prepare a Yellow Fever Vaccination Card from the Bureau of Quarantine.
3. Pre-Employment Orientation Seminar (PEOS) Certificate
PEOS is an online seminar that covers everything OFWs should know about working abroad, the different POEA services, and how to avoid illegal recruiters.
Attend the PEOS Online at home using your laptop or smartphone. Log in at the PEOS website using your e-Registration Number, last name, and first name. After completing the seminar, print a copy of your PEOS Certificate.
PEOS consists of 8 modules that you may accomplish at your own pace. You must complete a five-item quiz at the end of every module.
4. Pre-Departure Orientation Seminar (PDOS) Certificate
PDOS is available as an online or in-person seminar that aspiring OFWs must attend before working abroad. Conducted by the Overseas Workers Welfare Administration (OWWA), PDOS tackles government services for OFWs, employment contracts, travel procedures, and tips, among other topics.
Attending PDOS is free of charge. As of April 2022, online PDOS seminars are available for people working in Canada and the United States. You can access these through the CFO (Commission on Filipinos Overseas) website. After completing the online seminar, register through the Overseas Filipinos CFO Online Registration System (OF-CORS) to get your PDOS OF-CORS certificate from Monday to Thursday, 7 am to 5 pm.
You can then upload the certificate later when you start Phase 2. Note that you can only attend PDOS once you've accomplished Phase 1.
If online is not an option, you must attend an in-person seminar. Wear appropriate attire because sleeveless tops, shorts, and slippers are prohibited.
Also, no appointment is required for PDOS attendees. OWWA holds the seminar at the POEA head office from Mondays to Thursdays. PDOS for OFWs who will work in Europe and US territories, Asia and the Pacific, is scheduled from 9 a.m. to 11 a.m. Meanwhile, OFWs departing for the Middle East and Africa are scheduled for the seminar from 1:30 p.m. to 3:30 p.m.
If you are not going to the POEA head office for your application, contact OWWA or CFO regarding how you can get your PDOS certificate. Once you receive your certificate, you can submit it as part of your Phase 2 requirements or upload it to the POEA Online Services website.
5. For Domestic Workers: Comprehensive Pre-Departure Education Program (CPDEP) Certificate
CPDEP is a mandatory four- to six-day orientation seminar for departing household service workers. The seminar by OWWA covers language training, culture familiarization, and stress management to help domestic workers prepare for a new work environment abroad. 
To inquire about the CPDEP seminar, contact the OWWA regional office in your area.
6. POEA Clearance
The POEA will issue the clearance after it approves your online Phase 1 application for the direct hiring ban exemption. You must submit the POEA Clearance and other Phase 2 requirements when applying for an OEC at the POEA office.
7. Certificate of Insurance Coverage
All Filipinos who will work overseas, including direct hires, must be insured against sickness, death, and other untoward events in the country of employment.
You must buy OFW insurance from an authorized life insurance company7. Ensure that your policy covers all the requirements and benefits under Section 37-A of RA 8042 as amended8.
There are a lot of technical terms in Section 37-A of RA 8042, but what you need to know is that there are two kinds of OFW insurance:
a. Agency-Hired OFW Insurance, as its name suggests, is for OFWs who were hired under a POEA-accredited agency. This is not the one you need as a direct-hire OFW.
b. Direct-Hired OFW Insurance is the one you should get. It's a more comprehensive plan that covers everything outlined in Section 37-A of RA 8042. It includes coverage for:
Life & Accident:
$10,000 natural death 
$15,000 accidental death 
$7,500 permanent total disablement and disability
The actual cost of repatriation of mortal remains
Medical:
The actual cost of medical evacuation
The actual cost of medical repatriation
The actual cost of a compassionate visit
Loss of Employment:
The actual cost of repatriation
$100/mo for up to 6 months as subsistence allowance
Money claims, equivalent to at least three months for every year of the OFW employment contract, are awarded to the migrant worker upon favorable settlement by the NLRC of the illegal termination of the migrant worker.
For Drivers Only:
Vehicle insurance from the employer
Phase 1: How To Apply for POEA Clearance
As soon as your Phase 1 documents are complete, you can start your application for POEA Clearance which will exempt you from the direct hiring ban.
1. Create an E-Registration Account
If you haven't done so, create an e-Registration account through the POEA e-Services Portal. If you already have an account, please proceed to the next step.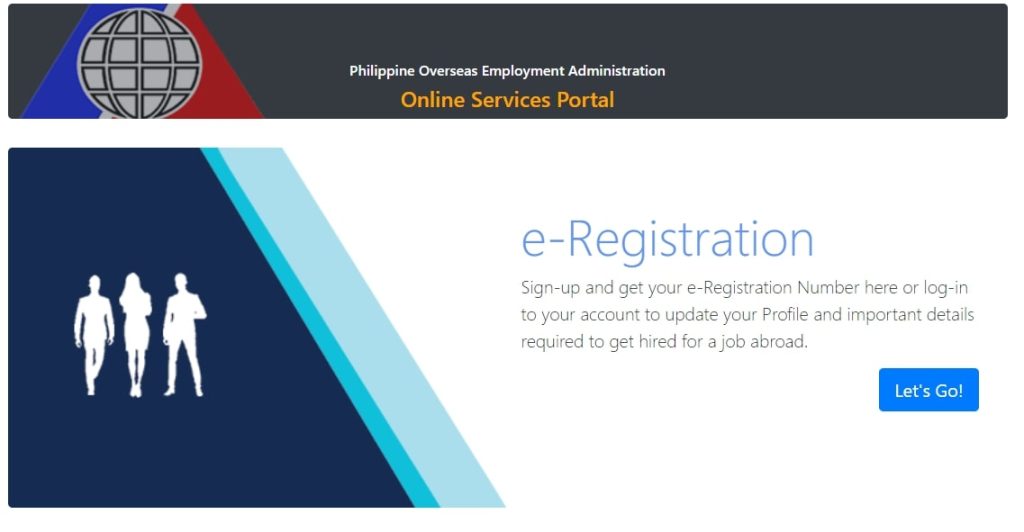 Once you're on the page above, click the Let's Go button. And then click on the Register button.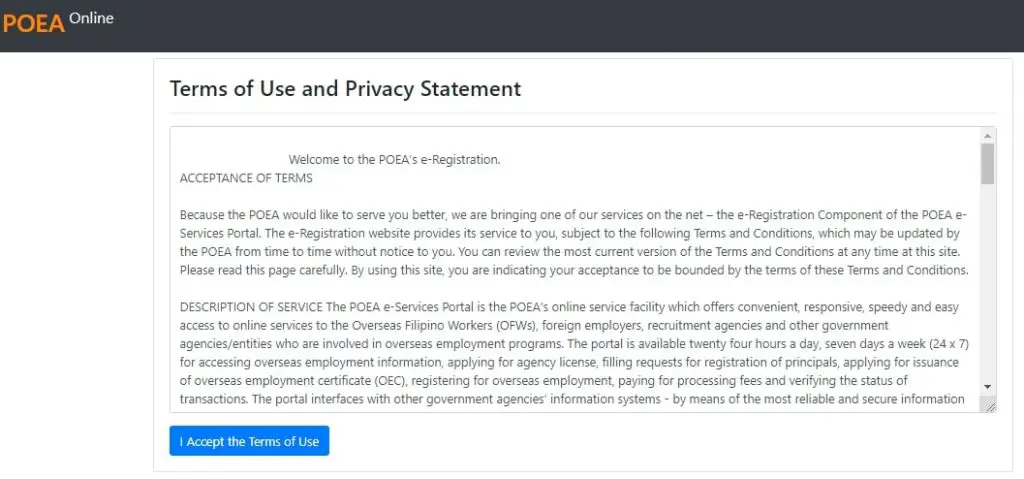 You will then be taken to the 'Terms of Use and Privacy Statement' page. Read through the information and click the I Accept the Terms of Use button once you are done.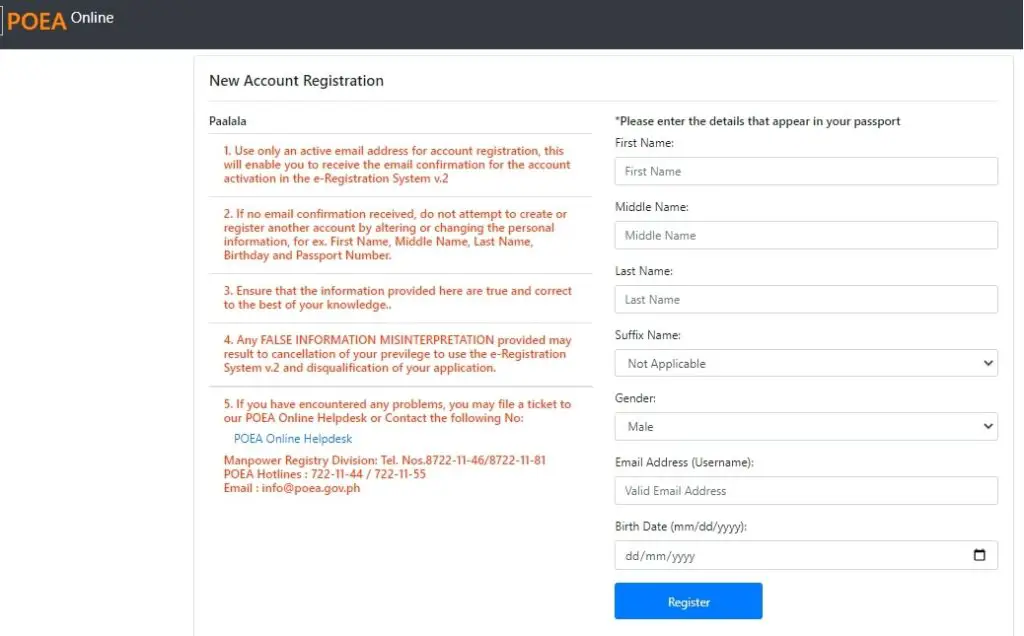 Read the 'Paalala' section before filling up your personal information on this page. Also, you should use the same information shown on your passport. Click on the Register button once you are done.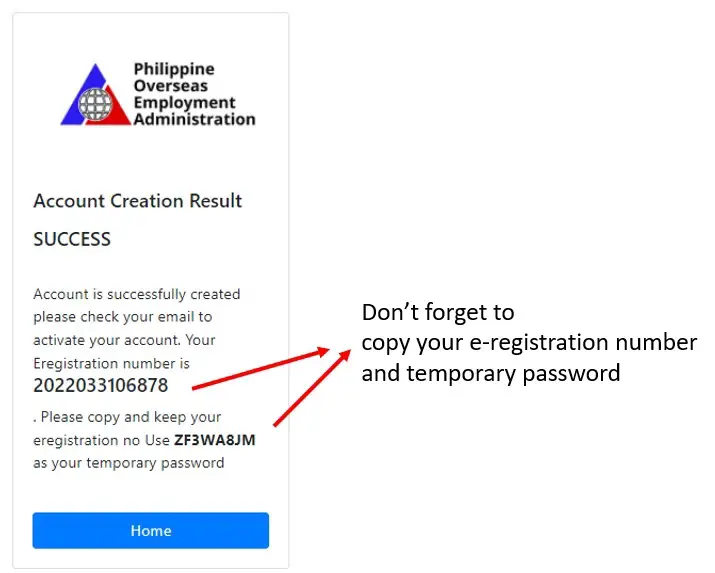 If you see the above page, it means your registration is done. Don't forget to copy the e-registration number and temporary password. This will also be sent to your email. Click on Home after you are done copying them.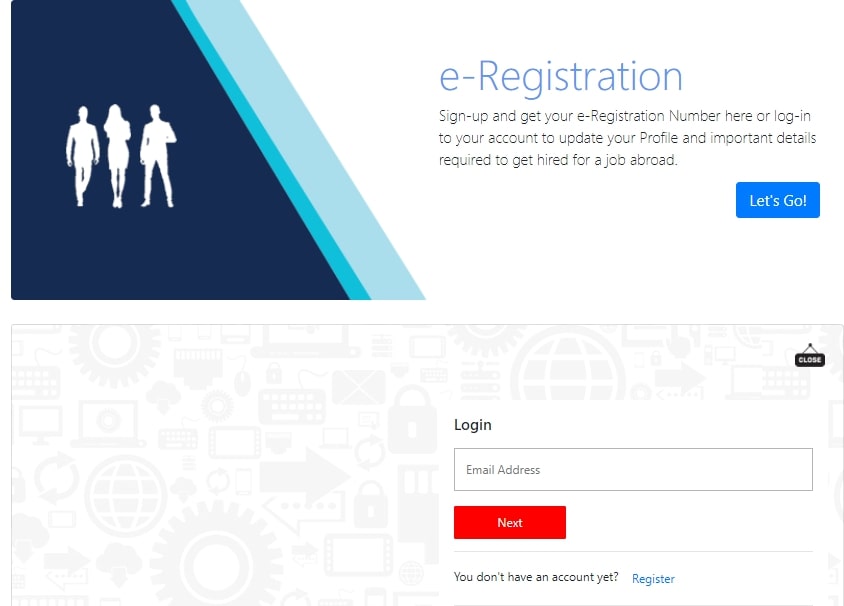 You can now log in to the system using your email and temporary password. After entering them, you will be asked to change your password.
After that, your registration is done, and you can now use the POEA online system.
2. Update Your E-Registration Profile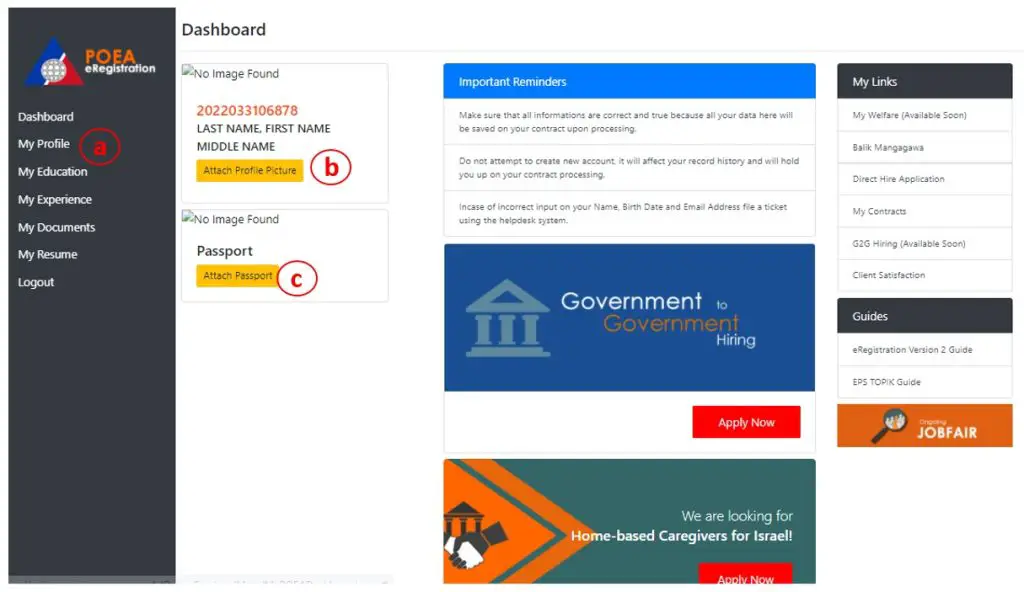 After logging in to your account, you will be taken to the page pictured above. Before going to POPS-Direct, you need to complete your profile first.
Go to the 'My Profile' tab and complete your details, address, identification, and family details.
Click on the Attach Profile Picture button to upload your photo. Make sure your photo looks professional and transparent. You can upload .jpg files up to a maximum of 2MB.
Click the Attach Passport button to upload a clear scanned copy of your passport's bio page.
You can also fill in the 'My Experience' and 'My Education' sections.
3. Upload Your Documents to POPS-Direct
After completing your profile, you can go to the POPS-Direct dashboard by clicking on the Direct Hire Application link on the right side of the page.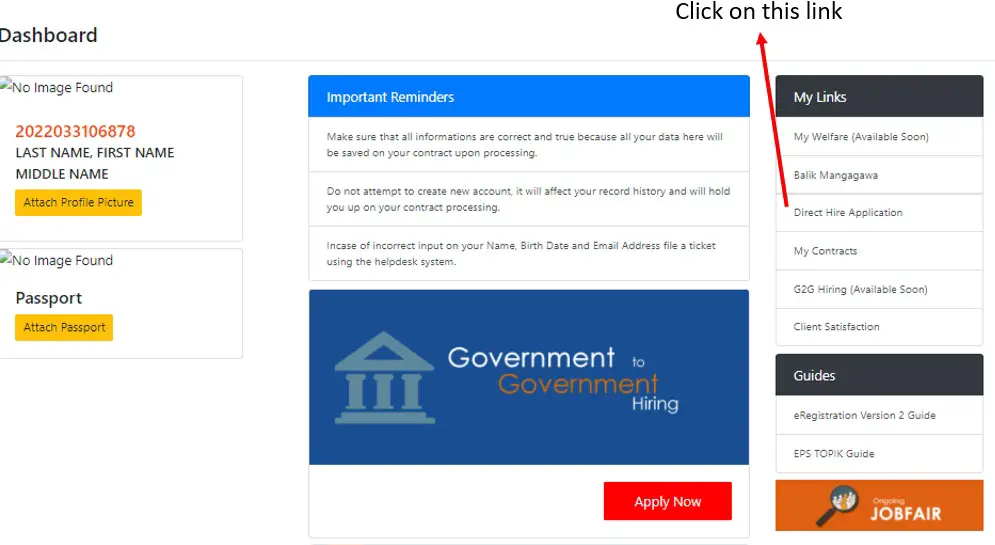 You will be taken to the page pictured below. Read the reminders before proceeding. The direct hire application is open from Monday to Friday, 8 AM to 5 PM.

You can also review the application guide and requirements checklist if you want. The Direct Hire Declaration template is also available on this page.
Click on the My Application link to proceed.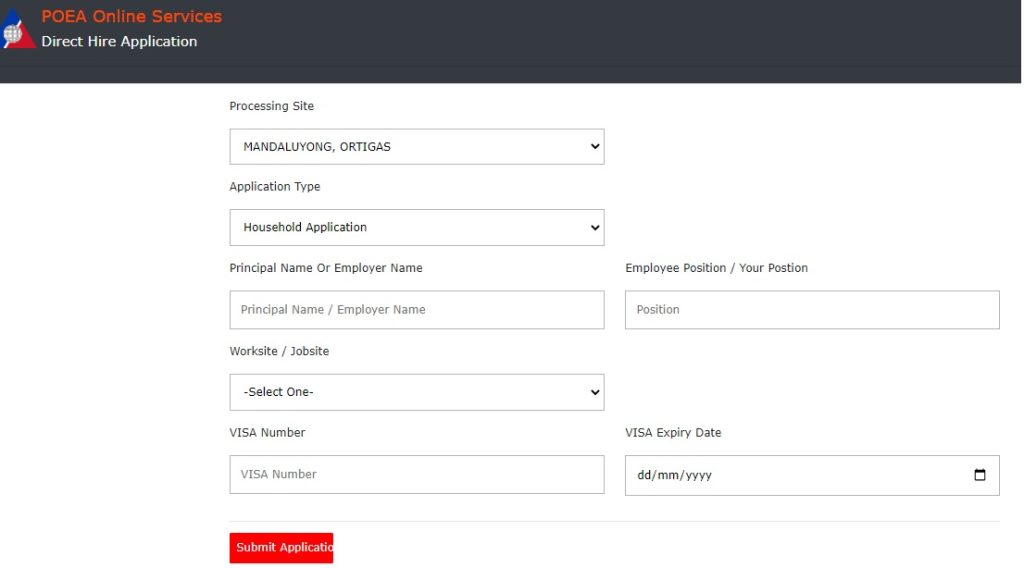 Here, you need to input the correct information in the fields provided. You will be asked to visit a POEA office in Phase 2, so choose the 'Processing Site' that is most convenient for you.
For 'Application Type,' if you are a household service worker, choose 'Household Application.' Otherwise, choose 'Professional Application' instead.
Once you are done, click on Submit Application.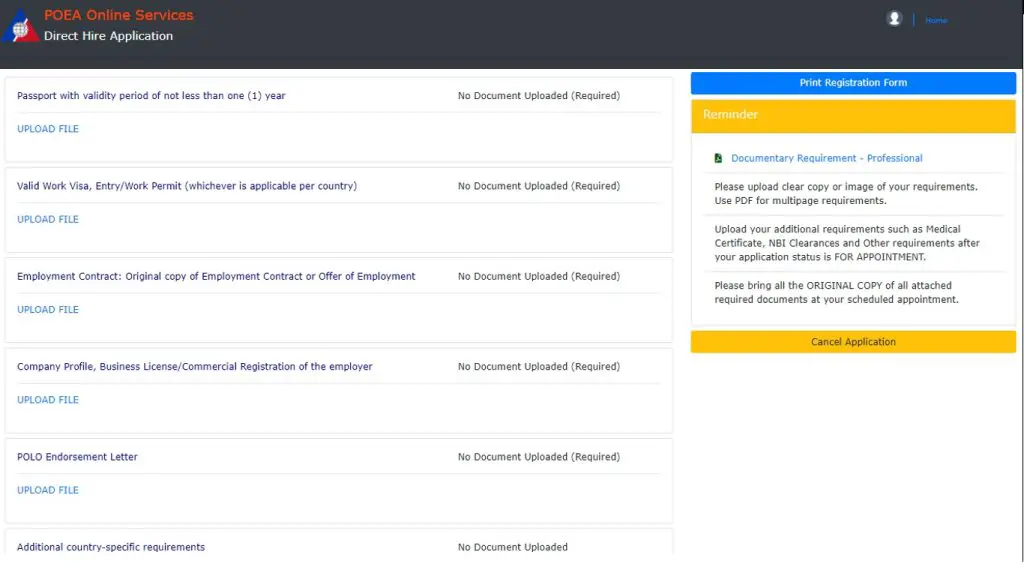 Next, you'll be asked to upload the Phase 1 requirements. Upload .jpg files for one-page documents and upload .pdf files for multi-page documents.
Tip: Label your files correctly so you won't incorrectly upload your documents.

After uploading all of your files, double-check that they are correct. Click on the Submit Document button once you are done.
4. Wait for POEA To Evaluate Your Phase 1 Documents
It will take a bit of time but gone are the days when POEA could only process 30 applicants daily. In the new system, direct-hire processing has become decentralized. So regional centers, extension units, and satellite offices can also process your application.
You can always check the status of your application by going to your Direct Hire Application Dashboard.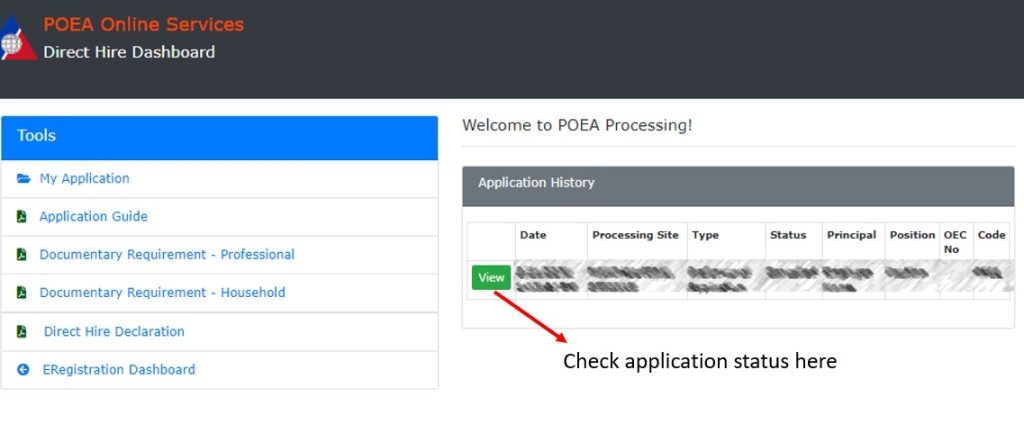 In the 'Application History' section, you can click on the View button to see details on the status of your application.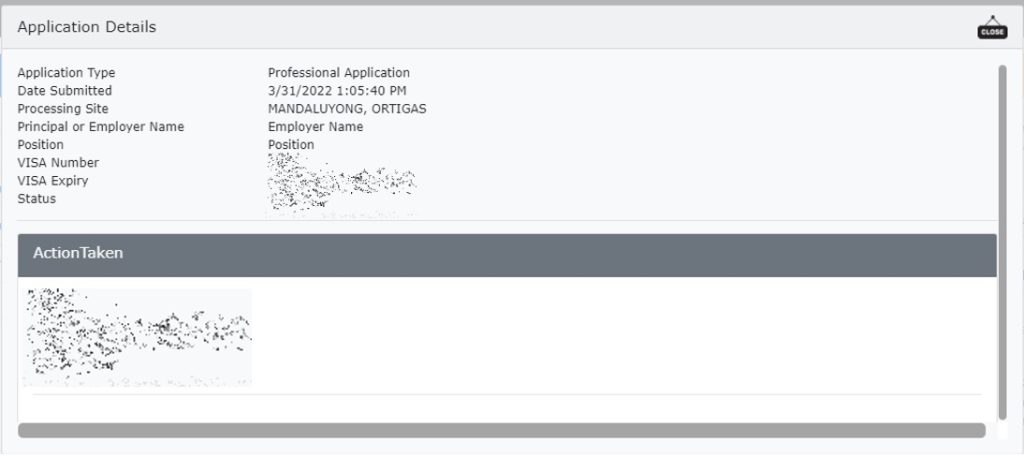 You can see the progress of your application through the 'Action Taken' section. Your evaluator will get in touch with you soon for the next steps.
Note:
For the exempted category, you will receive online approval from the evaluator, and you can now proceed to upload your Phase 2 documents.
For the non-exempted category, you will receive an online notification that you need to wait for the approval of your request for POEA clearance. The documents you upload will be made available for approving authorities to review. According to POEA, clearance approval is within a week of receiving complete documents. While waiting, you can prepare your Phase 2 documents.
Once you have received clearance, you may find your name on the list of Direct Hire OFWs with Approved POEA Clearance on their website. The evaluator will also advise you to start uploading your Phase 2 documents.
Phase 2: How To Apply for an OEC
Once approved for the POEA Clearance, you can proceed to Phase 2, getting your OEC.
1. Upload Your Phase 2 Documents
Log in to your e-Registration account. In the 'My Documents' section, upload your Phase 2 documents. 

You need to upload the following:
Compliance Form (Print from POPS-Direct if necessary)
A valid medical certificate. For African countries, the Yellow Fever Vaccination Card by the Bureau of Quarantine is also required
Pre-Employment Orientation Seminar (PEOS) Certificate
Pre-Departure Orientation Seminar (PDOS) Certificate (If you already received it through an online seminar)
POEA Clearance
Proof of Certificate of Insurance Coverage
For domestic workers, the Comprehensive Pre-Departure Education Program (CPDEP) Certificate
After uploading your Phase 2 documents, click the My Resume section to print your Worker's Information Sheet, which contains all the information you provided and your e-Registration number.
Keep the printed copy of your Worker's Information Sheet, as you'll submit it to the POEA as proof of your e-Registration account.
2. Print a Copy of Your Appointment Details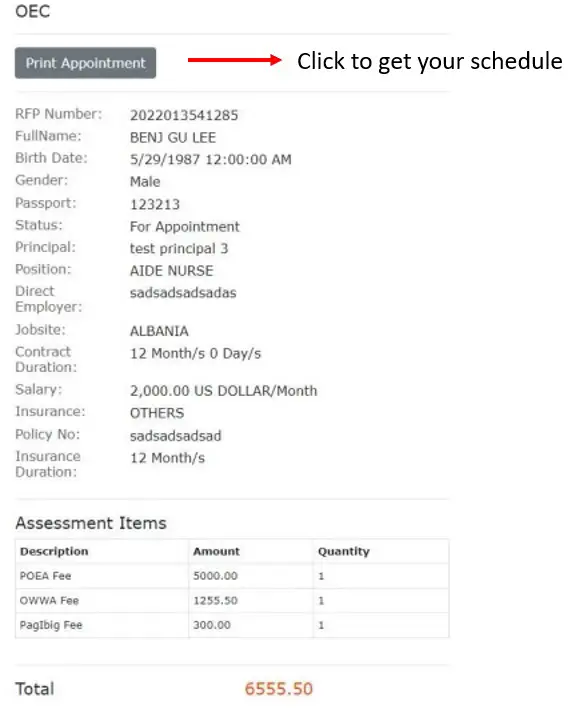 The POPS-Direct system should have also given you an assessment of fees for your OEC processing. Bring enough cash to pay for your fees on the day of the appointment. Click on the Print Appointment button to proceed.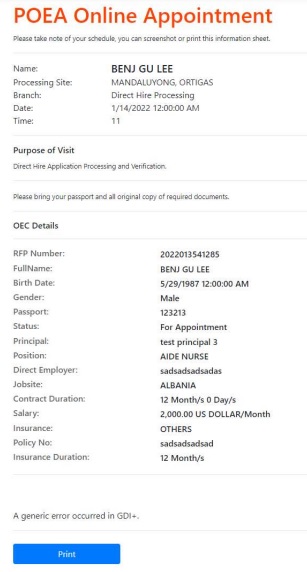 This page will include information about your schedule. Make sure to print a copy as proof of your schedule. You'll also use the RFP number later when paying the cashier.
3. Plan How You Are Getting Your PDOS Certificate
As of April 2022, the PDOS certificate is only available online for people planning to work in the United States or Canada. You need to attend an in-person seminar if online is not an option.
It would help if you planned to complete the seminar before your appointment. The in-person seminars at the POEA head office have a fixed schedule. If you are not going to the POEA head office, you need to ask OWWA, CFO, or your chosen POEA regional processing office how you can get a PDOS certificate in your area.
Depending on your scheduled appointment for OEC processing, you may need to secure and upload your PDOS certificate beforehand.
4. Go to the POEA Office on Your Appointment Schedule
Bring a copy of your schedule, Worker's Information Sheet, your passport, and an original copy of your documents on your appointment date. Keep them in a safe place where they can be protected from damage.
Make plans to arrive earlier than the appointed time. You don't want to be late for this significant schedule. And don't forget to bring enough money to pay the fees.
If your appointment is at the POEA head office, secure your PDOS certificate first. Proceed to the OWWA satellite office at the POEA head office. Present the POEA Registration, which can be downloaded from POPS-Direct, to secure your PDOS certificate.
You can skip this if you already received your PDOS certificate in another way.
5. Submit the OEC Application Requirements
Ask the guards to point you toward the office which processes OECs for direct hires. At the POEA head office, this is known as the DHAD (Direct Hire Assistance Division). However, this will be different depending on the POEA branch.
Once in the direct hire processing office, ask them about the queuing process. You may be asked to take a number and wait. Once called, submit all the Phase 2 requirements to the POEA staff.
Once processing is done, you'll be asked to proceed to the cashier.
6. Pay for the OEC Fees
Ask the POEA staff or guards to direct you to the cashier. Queue properly and wait for your name to be called. The cashier will ask for your RFP number. You can find it on the printout of your schedule.

Here's the breakdown of OEC fees:
POEA processing fee: ₱ equivalent of $100
OWWA membership fee: ₱ equivalent of $25 
Pag-IBIG contribution: ₱100 per month
PhilHealth contribution (one-year coverage): ₱2,400 (Note: PhilHealth premium payment for OFWs is voluntary
Wait for the receipt to be given to you.
7. Print Your OEC
After paying for the OEC, you can print a copy of your OEC through the POEA online services portal. Log in to your eRegistration account and go to the POPS-Direct dashboard again.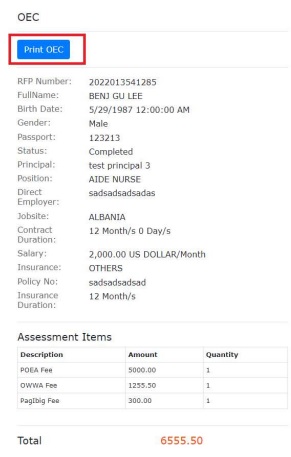 You can print your OEC by clicking on the button pictured above.
Present the OEC to Immigration at the airport during your departure to your country of employment.
When you return home after working abroad, you don't have to go through the process of first-time direct-hire registration again. Since you're a returning OFW with a record in the POEA database and a previously issued OEC, you can use the POEA online services portal to get an OEC.
Related: How to Get OEC Exemption Online: An Ultimate Guide for OFWs
Tips and Warnings
Before processing your requirements for Phases 1 & 2, check if your employer's country is under the POEA deployment ban list. You can quickly check this by searching in Google for "POEA [Country] deployment ban." If it's included in the banned list, your application will be rejected, and you will be wasting your time.
Book your flight only after securing your POEA clearance. The OEC you receive from Phase 2 is only valid for 60 days from the date it was issued and only for a single exit. Thus, you should schedule your flight within 60 days of the validity of your OEC.
Frequently Asked Questions
1. Do I need to go through Phases 1 & 2 if I'm being hired through a recruitment agency?
No. Phases 1 & 2 are for direct-hire OFWs, meaning workers not hired through a recruitment agency. POEA has already evaluated jobs from POEA-accredited recruitment agencies, so they need significantly fewer requirements from the OFW.
2. I'm in a rush and can't wait for POEA to set my appointment. Can I walk in?
As of January 2022, all direct-hire applications must go through the POPS-Direct system. You must upload your documents, get your clearance, and wait for your schedule.
However, unlike before, when POEA could only process 30 Phase 1 and 25 Phase 2 applicants per day, they can now accommodate many more OFWs by offering direct-hire processing in their regional offices.
3. I was approved as a direct-hire OFW before. I'm returning to the same employer. Do I need to go through Phases 1 & 2 again?
There is no need to go through Phases 1 and 2 again. Those are only for first-time direct-hire applications. Since you are returning to the same employer with a record with POEA and a previously issued OEC, you can apply for a new OEC online.
4. I am a direct-hire OFW with a previous record under the POEA of a prior employer. I'm going back to the same country but with a different employer. Do I need to go through Phases 1 & 2 again?
If you are being hired directly again, then yes. POEA evaluates your employers to ensure that the job you are offered falls under the minimum employment standards. You must go through the same process again when changing employers.
5. Do I need to attend the PDOS physically or online?
OWWA and CFO are constantly updating their online PDOS service to cater to more countries of employment. You can check the CFO website for updates or contact them at [email protected] or [email protected] from Mondays to Thursdays, 7 AM to 7 PM. You can also contact them through the CFO Facebook Page from Mondays to Fridays, 7 AM to 7 PM, and Saturdays, 10 AM to 4 PM.
If you are eligible to get your PDOS OF-CORS Certificate online, you can watch their official video guide here: https://www.youtube.com/watch?v=1jfTfsQ_Djc
6. How long does the direct-hire OFW approval process take?
There are a lot of requirements that you need to prepare before even proceeding to Phase 1 of the direct-hire process. These include getting a valid passport, work visa, and OFW insurance. The POLO-verified work contract alone already takes 1 to 2 weeks. That's why you must start early and go through the process of getting your Phases 1 & 2 requirements simultaneously.
Meanwhile, submitting your Phase 1 requirements online takes about an hour or two. Approving your POEA clearance takes about 3 to 7 working days (if complete). Note that it's faster for the exempted category than the non-exempted category. 
After Phase 1 approval, you will need to wait for your schedule. And then, Phase 2 will take another day to complete.
7. Do I need to go through POEA processing under a self-employed visa?
Self-employed visas are outside the coverage of POEA. By entering a country with a self-employed visa, you declare to the government that you are starting your own business or conducting your practice there. However, if you choose to be employed instead, you must take on all the associated risks.
Since you are effectively foregoing POEA's evaluation of the employer, you are at risk for terrible working conditions, illegal recruitment, and other scams. Not to mention that you may be penalized by the country you're going to since you are not using the visa for its intended purposes.
8. How long is the OEC validity for direct-hire OFWs?
It is valid 60 days after issuance and can only be used for a single exit from the Philippines.
References