PRC online application has changed the way new graduates apply for their licensure exams.
In the old, sluggish system, applicants wasted a lot of time just to get, accomplish, and submit their application forms at the PRC office.
By contrast, PRC's newly developed LERIS (Licensure Examination and Registration Information System) has enabled examinees to remotely accomplish their application forms and secure an appointment with the PRC.
Now fully implemented in the PRC central and regional offices, LERIS has dramatically cut processing time so you can complete the entire application process relatively faster.
In this definitive guide, I'll walk you through all the steps required for PRC online application–from the initial online transaction to the final procedures at the PRC office.
Already passed the exam? Read this instead: How to Register and Get PRC ID After Passing the Licensure Exam
Table of Contents
Are There PRC Licensure Exams Scheduled in 2021?
Yes. In fact, the Professional Regulatory Commission (PRC) will conduct 101 licensure exams1 this year to make up for all the exams canceled in 2020 due to the pandemic.
While they're prioritizing exams for professions that play a vital role in the pandemic like sanitary engineering and medical technology, PRC assures that no profession will be left behind.
However, there are professional boards that have canceled their examinations this year "for various reasons". Therefore, it will be up to your respective professional regulatory board whether or not you can take a licensure exam this year.
Due to the ongoing health crisis, all examinees, as well as the exam personnel, will undergo mandatory quarantine and swab testing before the scheduled examinations. Fewer examinees will also be designated in each testing room to observe social distancing measures.
However, the intricate process of in-person examinations during the pandemic cost the PRC three times their usual expenditure. To cut costs without sacrificing the safety of the examinees, PRC is planning to conduct online licensure examinations this year2.
The pilot exam will be held during the last quarter of 2021. It will involve "small-scale" board exams with 1,000 or fewer examinees and with exam content that can easily be translated online.
Some of the examinees that may take the online board exams include those who took naval architecture and metallurgy engineering.
PRC Online Application Requirements
Even though you can now file your application and set an appointment online via the PRC LERIS system, applicants are still required to submit documentary requirements on the day of their scheduled appointment.
Although the set of documentary requirements vary depending on the Professional Board that administers your licensure examination, the following are the most common ones required from all applicants regardless of their course:
Duly-accomplished and printed PRC examination application form (more on this later);
Original and photocopies of your Transcript of Records (TOR) with Special Order, the seal of the school, date of graduation, and scanned picture and remarks "For Board Examination Purposes Only";
Original and photocopies of your NSO or PSA Birth Certificate;
Original and photocopies of your NSO or PSA Marriage Contract (for married female applicants only);
Valid NBI Clearance (required for some first-timers and repeaters who will take specific licensure examinations).
Please go to this page to see the full list of documentary requirements arranged according to the course. You may also view the PDF version here.
PRC Online Application for Licensure Exam: Step-by-Step Guide
1. Register with the PRC online portal (LERIS)
In order to complete the exam application online, you first need to create an account with LERIS.
Before you proceed, make sure you have the following:
An Internet connection and a web browser (preferably Mozilla Firefox).
A valid e-mail address (with password).
Mobile number.
Your personal data (including date of graduation).
A valid ID card (e.g., NBI clearance, Police clearance, Philippine passport, Philippine Postal ID, etc.).
2 x 2 ID picture in .jpg format saved on your device (desktop computer, laptop, phone, or tablet). If you'll have your photo taken at a studio, request an e-file or soft copy to get your ID picture in .jpg format. For photo specifications, please jump to step 4 of this guide.
Go to the PRC Online Services (LERIS) website and register. If you already have a LERIS account, skip this step and jump to the next.
****Take note that the LERIS system becomes inaccessible sometimes. If the aforementioned link doesn't work, you may also try to access mirror sites in this link or this link. In case all links can't be accessed, it's most likely that the LERIS system is under maintenance so you should try again some other time. Also, if you previously used the old PRC website (www.prc-online.com), please be aware that all the saved information about you can no longer be used, hence the need to create a new account with LERIS.****
After reading the terms of services, click the green "I Agree" button.
Then, complete the registration process by filling out the form with the requested information.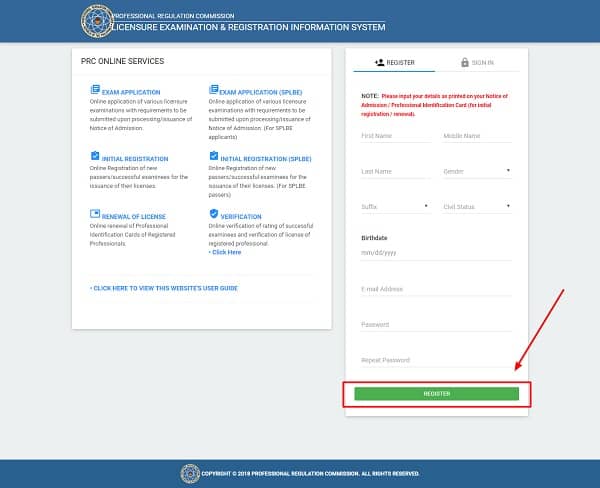 Here's the list of personal information you need to provide.
First, middle, and last name.
Name suffix like Jr. or III (leave blank if you have none).
Gender.
Civil status (Single/Married/Divorced).
Birthdate.
Your e-mail address and a password (must be at least 6 characters composed of numbers, letters, and special characters).
When you're done, click "Register."
2. Sign in to your account and complete your online profile
Log in using the same username (i.e., your e-mail address) and password you created during registration.
Complete your profile by filling in the requested information in the spaces provided.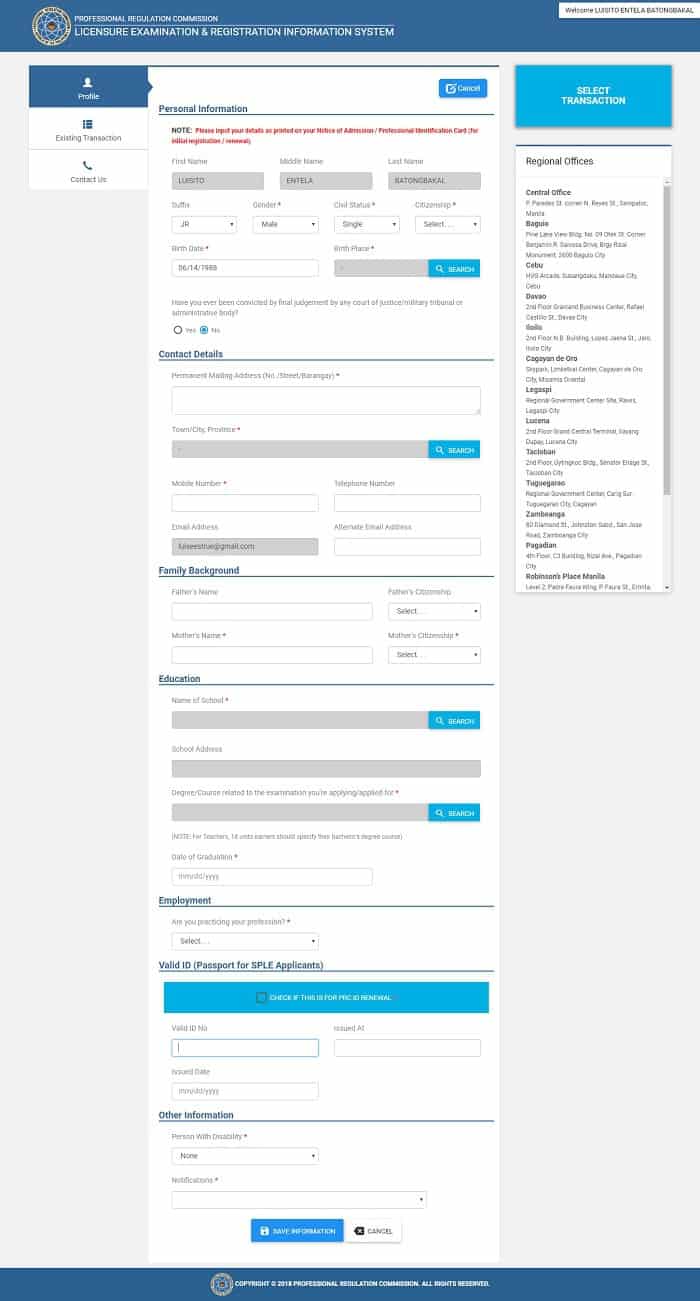 To accomplish this form, you will need to provide the following personal information:
Citizenship.
Birthplace.
Permanent mailing address (No./Street, Barangay, Town or City, Province).
Mobile Number (required).
Telephone/Landline number (optional).
Alternate e-mail address (if you have any).
Your father's name and citizenship.
Your mother's name and citizenship.
The name of your school, its address, the course you took in that school, and the date of your graduation.
Valid ID number as well as place and date it was issued.
Below the "Valid ID" section, there's a box that says "Check if this is for PRC ID Renewal." Since you're applying for the licensure examination, leave this box unchecked.
Double-check the information you've provided and correct any spelling or syntax errors.
Once you're done, click "Save Information" to proceed to the next step.
A small box will then appear asking you to verify if the name you've provided is complete and accurate.
Click "YES" to confirm.
Related: How to Check Board Exam Rating or Verify PRC License Online
3. Upload your photo
You will be taken to a page containing a small grey box with a camera icon on its bottom left corner.
Click this camera icon to show the photo requirements you need to adhere to.

To prevent any delay or disapproval, make sure that the 2 x 2 ID picture you'll be uploading follows the guidelines below:
2 x 2 size in a plain white background.
Must be recent and should resemble the applicant.
Taken not more than 6 months prior to uploading.
The applicant must wear decent attire with a collar.
Must show the applicant's ears.
Must not show any shadow.
The applicant must not wear eyeglasses.
If you're ready to upload the picture, click "Proceed."
Click "Choose file" and select the image stored in your device.
Finally, click the "Upload Image" button to proceed to the next step.
4. Select the licensure examination you're applying for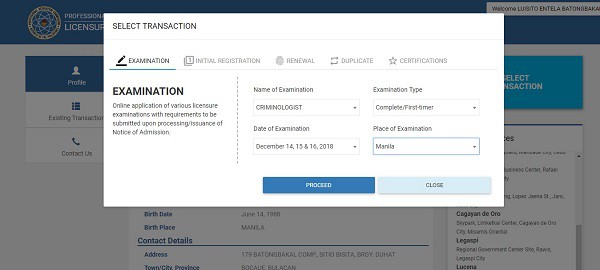 Click "Select Transaction" on the upper right corner of your profile page.
Choose the first tab (i.e., "Examination").
Next, select the name of your examination, examination type (Complete/First-timer, Repeater, or Removal/Conditioned), date of examination, and place of examination.
For example, if you're an elementary education graduate who is applying for LET (licensure examination for teachers) for the first time, you need to input the following information:
Name of the Examination: PROFESSIONAL TEACHER.
Examination Type: Complete/First timer.
LET Level: Elementary.
Once you're done, hit "Proceed" to confirm the selection.
5. Schedule an appointment with the PRC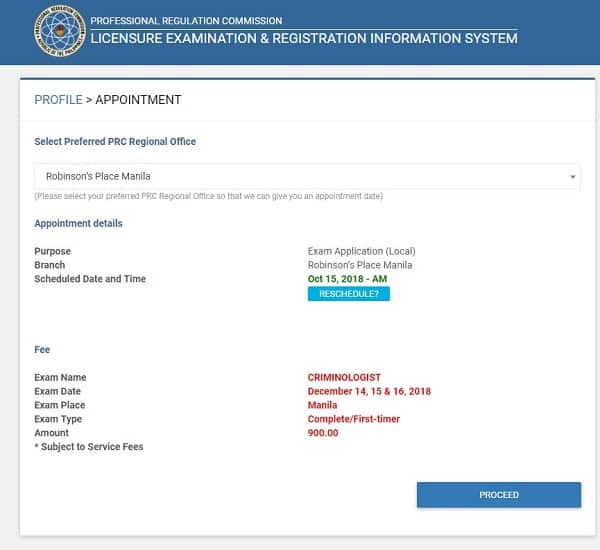 Choose your preferred PRC Regional Office where you'll file your application.
Here's a list of PRC Regional Offices you can choose from.
To accommodate more applicants, PRC has also opened different service centers in select malls and establishments.
After choosing a PRC Regional Office from the drop-down list provided, the system will automatically provide you with an appointment date and time. This is when you'll personally submit the application form along with other requirements (see step 1) to the PRC.
Take note that PRC has a "no same-day appointment" policy which means you can't have an appointment with the PRC on the same day of your online transaction. All appointments are scheduled in advance.
Also, remember that appointment slots are free and very easy to get as long as you have an Internet connection.
PRC warns applicants against fixers who may ask for your personal information, e-mail address, and password and promise quick transactions with the PRC in exchange for a fee.
If you're sure about your appointment, click "Proceed."
6. Choose your preferred payment method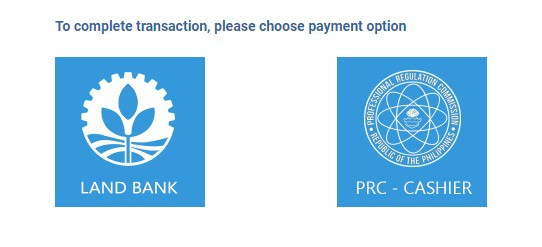 Although the modes of payment will be expanded in the future, LERIS only offers five payment options as of this writing.
To pay the application fee, you can choose from these three options:
PRC – CASHIER (over the counter)
LANDBANK (online payment)
UCPB (over the counter)
PayMaya
Option 1: PRC – CASHIER (over the counter)
Select PRC – CASHIER if you prefer to make the payment personally at the PRC office or service center on the day of your appointment. As of this writing, the application for licensure examination costs Php 900.
A summary of your transaction will be displayed.
Click "Submit" to proceed to the next step.
Option 2: LANDBANK (online payment)
Meanwhile, if you prefer to pay via LANDBANK, you will be redirected to the LBP ePayment Portal.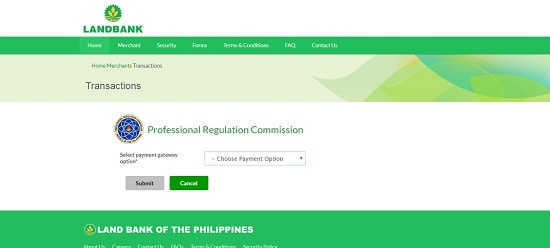 To make online payment through this portal, you can choose from three different payment options:
LANDBANK (if you have an ATM account with Land Bank).
BancNet (for banks other than Land Bank. For your convenience, here's a list of BancNet participating banks).
GCash (an online payment service that turns your Globe mobile number into a virtual wallet).
For Land Bank ATM Card

Enter the following details to complete the transaction:
10-digit Land Bank ATM account number.
Joint Account Indicator (JAI), if applicable.
Personal Identification Number (PIN).
Click "Submit" to confirm payment.
A summary of the transaction will then be displayed. You can click "Print" to get a copy of this payment confirmation (recommended) or "Ok" to proceed to the next step.
For Land Bank-related payment concerns, you can call 405-7000 or email at [email protected].
For BancNet ATM Card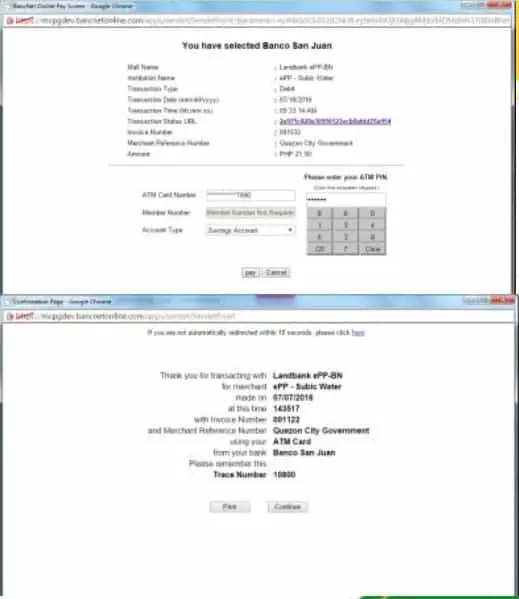 Upon choosing "BancNet" as a payment option, you will be redirected to a BancNet window or page.
In case it doesn't appear, ensure that the pop-up blocker in your browser is disabled or turned off before trying another transaction.
BancNet will request the following information:
Bank Name.
Your 16-digit ATM Card Number.
Account type.
Personal Identification Number (PIN).
Click "Pay" to submit payment.
You will then be given a copy of the payment confirmation. Click either "Print" to save a copy of it or "Continue" to return to the payment portal.
For G-Cash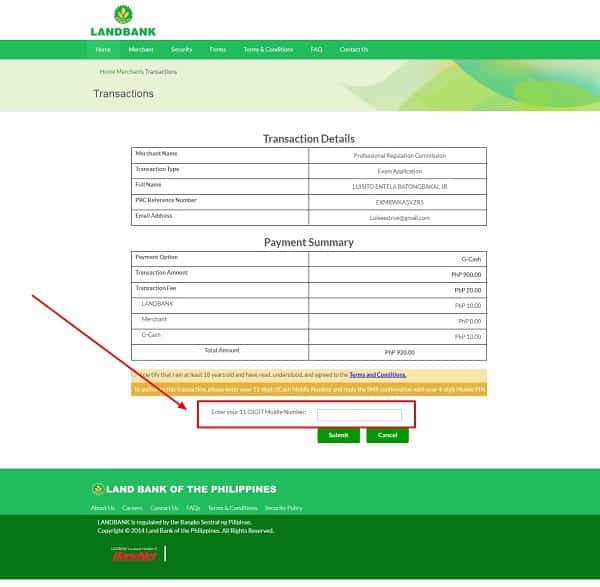 If you choose to pay via G-Cash, you will be asked to enter your 11-digit mobile number.
For successful payment, make sure your G-Cash account is loaded with the required amount (Php 900 + Php 20 transaction fee).
To authorize the payment, reply with your 4-digit mobile PIN to the SMS confirmation that will be sent to you.
Option 3: UCPB (over the counter)
In December 2018, UCPB or United Coconut Planter's Bank started accepting payments for different transactions with PRC like exam application, PRC ID renewal, and initial registration.
The payment can be made over the counter at any UCPB branch.
Since you don't necessarily need to have an account with UCPB to make the transaction, this payment option is ideal for those who can't use Option 2 to pay the fee online.
Should you choose UCPB, a reference number will be displayed on your screen. Record or take a screenshot of this reference number and provide it when making the payment personally at any UCPB branch.
Option 4: Credit or Debit Card
Powered by PayMaya – VISA, this convenient payment option automatically deducts from your account the total amount of the PRC application fee plus 1.25% convenience fee.
Option 5: PayMaya
If you have a PayMaya wallet, you can choose it to quickly pay the PRC application fee plus a small convenience fee of Php 8.00
7. Print your PRC examination application form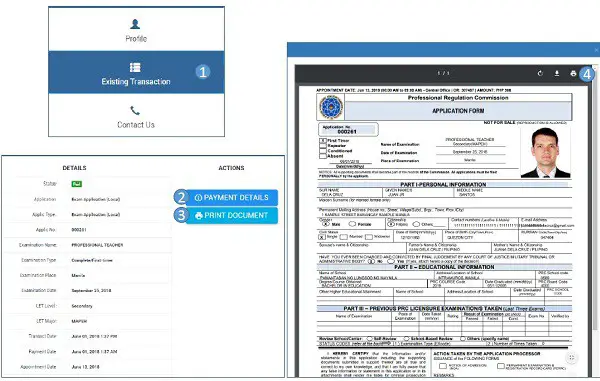 Go back to your profile page and choose "Existing Transaction" from the main menu.
Click the "Payment Details" to double-check if your online payment has pushed through.
Select "Print Document" to view the printable copy of your duly accomplished PRC examination application form.
Click the printer icon on the upper right-hand corner of the document to start printing.
On the day of your appointment, bring the printed application form to the PRC along with other documentary requirements and the application fee in case you've selected the PRC – CASHIER payment option.
In case you encounter technical problems while completing the online application, you can email PRC's technical team at [email protected].
8. Proceed to the PRC on the date and time of your appointment
Although the procedures may vary depending on your chosen PRC office, expect to complete the following activities on the day of your appointment:
a. Upon arrival, go to the PRC Customer Service center and pay for the documentary stamp (Php 21 per piece).
b. Next, proceed to the Processing Counter to submit all the requirements which include your printed application form and other course-specific documents.
The Processing Officer will ask for your signature, thumb mark, and the documentary stamp. After checking and evaluating the requirements you've submitted, you will then be issued the Permanent Examination & Registration Record Card (PERRC) which you should accomplish immediately.
c. Go back to the PRC Customer Service center to buy a metered mailing envelope (Php 30 per piece).
d. Submit the metered mailing envelope with the processed application form and the rest of the requirements at the Issuance Counter. Wait for your name to be called.
After evaluating all the documents you've submitted, the issuing officer will print, sign, and issue you the Notice of Admission (NOA) with the attached Program of Examination and metered mailing envelope.
And there you have it: Your PRC online application is now complete. To know your room assignment, don't forget to check the PRC website 2 to 3 days before your scheduled examination.
Already passed the exam? Read this instead: PRC Online Registration for Board Passers
Frequently Asked Questions (FAQs)
References
Galvez, D. (2021). PRC schedules 101 licensure exams in 2021. Retrieved 9 February 2021, from https://newsinfo.inquirer.net/1392000/prc-schedules-101-licensure-exams-in-2021
Medenilla, S. (2021). PRC pursues online licensure exams. Retrieved 19 February 2021, from https://businessmirror.com.ph/2021/02/05/prc-pursues-online-licensure-exams/