Nobody is immune to sickness.
Therefore, you need health insurance to pay for your hospital expenses when the unexpected happens.
But what if you're still a young, unemployed student? Should you just let your parents carry the financial burden of your hospitalization?
Fortunately, you don't have to. PhilHealth is the government's health insurance provider that gives everyone access to affordable health care.
If you're a student who wants to know how you can be a PhilHealth member and avail of its benefits, this article is for you.
Related: How to Compute PhilHealth Contribution: A Complete Guide to Contribution Table and Payment
Table of Contents
At a Glance: Recent Updates Related to PhilHealth Membership for Students
College students are now required to become PhilHealth members or to acquire private medical insurance before they can participate in their face-to-face classes1. PhilHealth has guaranteed that students who will be hospitalized due to COVID-19 will get a financial benefit of up to PHP 43,000 for mild cases and up to PHP 786,000 for critical and severe cases.
Can Students Apply for PhilHealth?
Yes. PhilHealth benefits are accessible to everyone, including students. How they'll pay their contributions depends on their age and employment status.
Students below 21 years old don't have to pay contributions provided they're added as one of their parents' dependents.
Once they reach their 21st birthday, students can already register either as formally employed or voluntary members and start paying the minimum monthly premium.
If the students are already 21 years old but still can't afford the monthly PhilHealth contribution, they can apply as indigent members so they can still avail of the benefits until they're able to land a job.
For a more detailed discussion, please read the subsequent sections.
For Students Below 21 Years Old
Students below 21 years old can become a PhilHealth member and enjoy its benefits without additional premiums. However, they shall be classified as dependent members2.
Dependent members are individuals whose contributions are being paid for by eligible/principal members (e.g. all Filipinos 21 years old and above with the capacity to pay3) and are declared as such by the principal member in their updated Member's Data Record (MDR).
The dependents shall receive separate coverage for up to 45 days per calendar year but the allowance shall be shared among them.
PhilHealth requirements for students below 21 years old
To register, the principal member must go to the PhilHealth office and submit his/her PhilHealth Member Registration Form (PMRF) along with the following requirements to declare the student as one of the dependents:
Table 1. Summary of supporting requirements4 (These are to be attached with PMRF) 
DECLARATION OF DEPENDENTS
REQUIREMENTS
Students (legitimate or illegitimate) below 21 years old.
Any of the following:
> Birth certificate; OR
> Any valid IDs/ documents in Table 2 (1.2 and 2)
    Students below 21 years old who are adopted
Court Decree/ resolution of adoption; AND
Any of the following:
>  Birth Certificate of the adopted child; OR
> Any two (2) valid IDs/documents in Table 2:        
a. One from 1.2 AND        
b. One from 2
     Students below 21 years old who are stepchildren
Marriage Certificate between natural parent and stepmother/stepfather; AND 
Any of the following:
> Birth Certificate of the adopted child; OR
> Any two (2) valid IDs/ documents in    Table 2:
a. One from 1.2 AND
b. One from 2
Table 2. List of other Valid Identification Cards and Documents Acknowledged by PhilHealth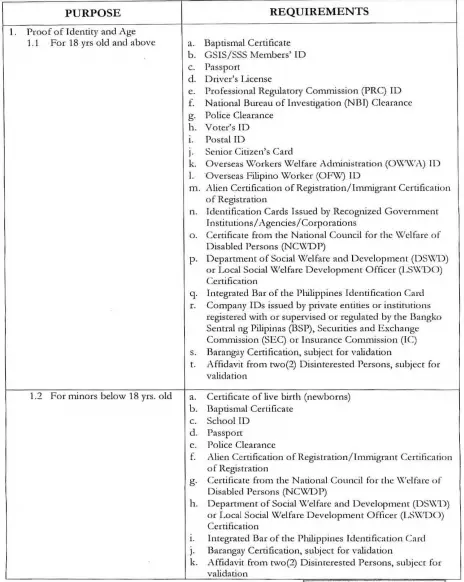 For Students 21 Years Old and Above
Students who are 21 years old and above are no longer qualified to be their parents' dependents.
Therefore, they are already required to register either as an employee/formal economy member (if already employed) or voluntary/informal economy member (if unemployed but can afford to pay the monthly contributions).
To register with PhilHealth, follow the instructions in this article. If you want to know how much PhilHealth contributions you need to pay every month as a new member, please refer to this guide.
Are you at least 21 years old, jobless, and don't have the means to pay even the minimum monthly contribution?
No problem. You can still avail of PhilHealth benefits as an indigent member5.
To qualify, you must submit the following requirements to the nearest PhilHealth office:
Certification from the Municipal Social Welfare and Development Office (MSWDO) or the medical social worker in the hospital. This certification will attest that you belong to the poorest of the poor under the National Household Targeting System (NHTS).
Barangay clearance
Marriage certificate (if married)
Students will stay under this indigent category until they are able to get a job and be able to afford the monthly PhilHealth premium.
References