Last Updated on
Interested individuals are expected to prepare the following requirements before applying for the civil service exam:
a. Fully accomplished civil service exam application form or the latest version of the CS Form No. 100 (September 2016). Reminder: Leave the spaces for "Signature over Printed Name of Applicant" and "Right Thumbmark" blank. You can only accomplish them in the presence of a CSC processor.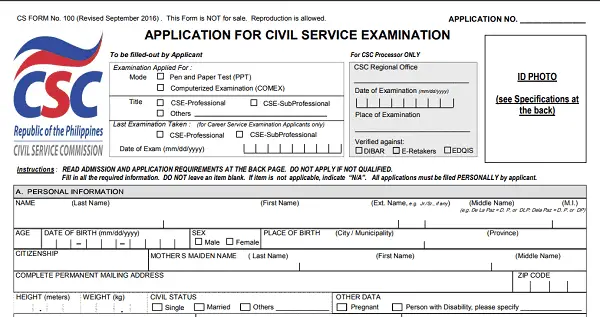 b. Four (4) pieces of identical ID pictures with the following specifications:
Passport size (1.8 inches x 1.4 inches or 4.5 cm x 3.5 cm).

Colored.

In white background.

Taken within three months before the filing of the application.

Printed on high-quality photo paper.

Close-up shot with head and face occupying 80% of the picture and with the name tag placed approximately 1 inch below the chin.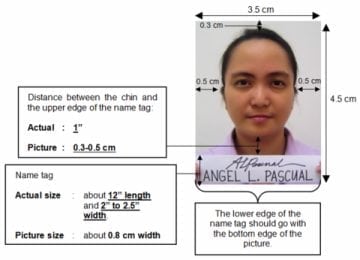 Name tag must be handwritten and legibly showing the applicant's signature over the printed full name following this format: First Name, Middle Initial, Last Name, and Extension Name (if any).

Facial features should not be computer enhanced.

Eyeglasses, contact lenses, and other accessories that may cover facial features aren't allowed.

Left and right ears must be visible.

Full-face view with the applicant directly facing the camera.

Both eyes should be open.

Neutral facial expression.
c. Original and photocopy of any valid (not expired) I.D. card.
It should show the applicant's complete name, date of birth, clear picture, signature, as well as the signature of the issuing agency 's head or representative.
Here's a list of acceptable I.D. cards:
Driver's license.

BIR I.D. (either the ATM type or the TIN card with picture).

SSS I.D./GSIS I.D./UMID.

Voter's I.D.

Philhealth I.D.

Current Company I.D. (for employees) or school I.D. (for students).

Barangay I.D.
Any other I.D. card not included on the above list shall not be accepted.
d. If you don't have a valid I.D. that shows your date of birth, you are also required to present an original and photocopy of your Birth Certificate printed on Security Paper (SecPa) and issued either by the Philippine Statistics Authority (formerly NSO) or the Local Civil Registry (LCR). READ: How to Get Birth Certificate in the Philippines.
e. For those with dual citizenship (under R.A. 9225), you are required to prove your eligibility to take the exam by showing the original and photocopy of your Certification of Retention/Reacquisition of Philippine Citizenship issued by the Bureau of Immigration.
f. Examination fee: Php 500 (Paper and Pencil Test); Php 680 (Computerized Examination).
g. For applicants taking the Computerized Exam or COMEX, the copy of the appointment letter sent to your email.
Go back to the main article: The Ultimate Civil Service Exam Guide for Filipinos: Tips, Procedures, and Requirements