Last Updated on
As mentioned in our ultimate civil service exam guide, there are two levels of the exam that you can choose from: sub-professional and professional.
If you take and pass the sub-professional civil service exam, you'll be qualified for first-level government positions (think clerical jobs).
Meanwhile, if you choose to take the professional civil service exam (as most of us do), you'll be qualified for both first-level and second-level positions that require a bachelor's degree.
Apparently, the professional-level exam is relatively more difficult than the sub-professional. The former also has more items and longer time allotment than the latter.
The table below shows the scope of each type of civil service exam: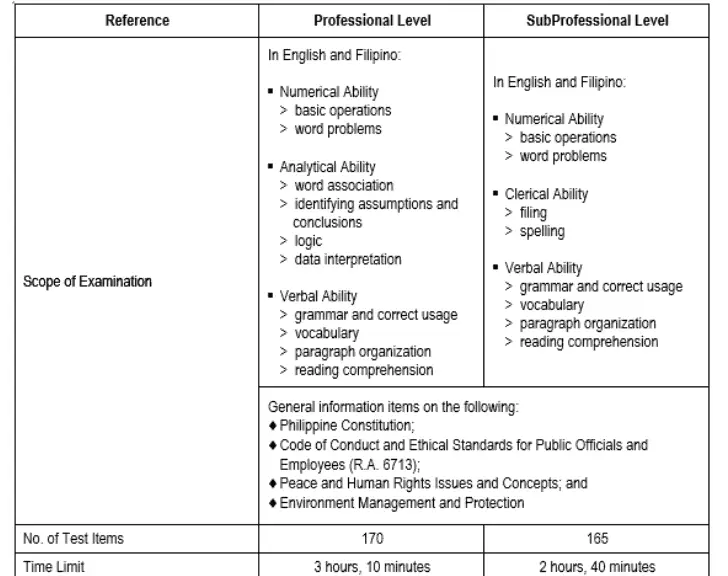 As you can see, both exams have questions about Verbal Ability, Numerical Ability, and General Information written in either English or Filipino.
The main difference is that the Sub-professional exam has questions on Clerical Ability (30-40 items) which test the examinee's knowledge about basic tasks like filing, alphabetizing, etc.
The professional civil service exam, on the other hand, has items that test one's Analytical Ability. These are questions (30-40 items) about logic, data interpretation, word association, single- or double-word analogy, etc.
In addition to these, both exams also include 20 Personal Information Questions which are usually asked at the beginning.
Go back to the main article: The Ultimate Civil Service Exam Guide for Filipinos: Tips, Procedures, and Requirements