Last Updated on
A. Paper and pencil test (CSC-PPT) or ballpen-based exam.
Step 1: Find out where you've been assigned to take the exam.
CSC usually administers the civil service exam either in its various offices or in public elementary and high schools throughout the country.
To know your exam venue, access the Online Notice of School Assignment (ONSA).

Fill in all the requested information in the corresponding fields. Once your Notice of School Assignment is displayed, print it out (no need to download) and bring it on the day of your examination.
If you experience an error, make sure that you've entered all the requested data in the right format.
For instance, a common mistake made by applicants is typing their full middle names instead of just their middle initials in the third box.
Alternatively, wait for a text message from CSC informing you about the exam venue.
If you can't access the ONSA or if you fail to receive SMS a week before your scheduled exam, call the CSC Regional or Field Office where you filed your application (see CSC Office Directory for a complete list of their contact details).
Step 2: Visit your examination venue a day or two before the exam.
Familiarize yourself with the location and estimated travel time. This will help you make necessary adjustments that ensure you'll get there on time.
Step 3: Wake up early and go to the test venue on the day of the exam.
The gates of the venue are usually open from 6 A.M. to 7:30 A.M. Those who will arrive later than 7:30 A.M. won't be allowed to enter the venue and take the exam.
Follow the dress code. Individuals who wear short pants, sleeveless shirt/blouse and slippers may be denied entry to the venue.
What to bring:
a. Application Receipt with CSC Official Receipt (if available).
b. A printed copy of your Notice of School Assignment. Note that this is only applicable if you're able to access and print the notice via ONSA. Otherwise, you can still take the exam without it as long as you provide all the other requirements listed here.
c. Black ballpen/s.
d. Water or your preferred beverage (except alcohol) placed in clear bottle or container. You can also bring something to eat like biscuits or candies. Every food item you'll bring shall be subject to inspection by the proctor or room examiner.
e. Original and photocopy of your I.D. card, ideally the same one you presented during filing of your application. If you provide the same I.D. card, it will be accepted regardless if it has already expired or not.
If you lost or forgot the I.D. card you originally presented, you can choose from the list of I.D. cards below, but this time only valid and not expired cards can be accepted:
Voter's I.D.

GSIS I.D. (UMID).

Driver's License.

BIR I.D. (ATM type or TIN card type with picture).

Barangay I.D.

Company or Office I.D.

Student I.D. (validated for current school year/semester/trimester).

Philhealth I.D. (showing your Philhealth number, clear picture, full name, and signature).
Never forget your I.D. card because CSC strictly follows its NO I.D., NO EXAMINATION policy.
f. As with before, if none of your I.D. cards show your date of birth, you also need to bring an original copy of your Birth Certificate printed on Security Paper and issued by Philippine Statistics Authority (formerly NSO).
What NOT to bring inside the testing room:
Printed materials and gadgets that may aid in answering the exam. These include mobile phones, calculators, books, dictionaries, smart watches, and tablets, just to name a few.
All of these things must be kept in your bag which shall then be surrendered to the room examiner before the start of the exam. You may retrieve them later on upon leaving the room.
Step 4: Answer the exam.
You'll be given three documents to accomplish:
Picture-seat plan.

Examinee attendance.

Answer sheet.
Instructions on accomplishing these forms will be provided by your room examiner or proctor.
The answer sheet is for the exam itself.
Only use black ballpen in shading the circles that correspond to your answers.
Avoid using sign pen, fountain pen, friction pen, or pens with colors other than black.
Shade the circles neatly and completely. You're allowed to change answer only once for every test item. When changing answer, simply put an "X" mark over the initial answer and shade the new and final answer.
Don't use pen eraser, correction tape, correction pen, or correction fluid.

Avoid making stray or unnecessary marks on the test papers.
Finally, don't stand to submit your test papers when you're done. The proctor or room examiner will simultaneously collect all the answer sheets and test booklets from all examinees after the allotted time.
Once done, the proctor will then inform you when it's time to leave the room.
B. Computerized examination (COMEX).
Step 1: Show up at the testing venue on the date and time of your examination. Get a queue number from the guard on duty.
Step 2: Submit required documents to the processing area for verification. Present original and photocopy of any valid IDs accepted by CSC:
Passport.

Voter's I.D.

GSIS I.D. (UMID).

Driver's License.

PRC License.

SSS I.D.

BIR I.D. (ATM type or TIN card type with picture).

NBI Clearance.

Police Clearance or Police Certificate.

Postal I.D.

Barangay I.D.

Company or Office I.D.

Student I.D. (validated for current school year/semester/trimester).

Philhealth I.D. (showing your Philhealth number, clear picture, full name, and signature).
As with the paper-and-pencil test, COMEX examinees who don't have I.D. cards that show their date of birth are also required to bring original and photocopy of Birth Certificate issued either by the Local Civil Registry or the Philippine Statistics Authority.
Step 3: Proceed to the cashier to pay the exam fee. As of this writing, COMEX costs Php 680.
Step 4: Present the official receipt to the CSC processor or action officer.
Step 5: Get your CSID and proceed to the waiting room.
Step 6: After listening to the orientation/briefing by the proctor/room examiner, sign the picture-seat plan and the examinee attendance sheet.
Step 7: Take the exam.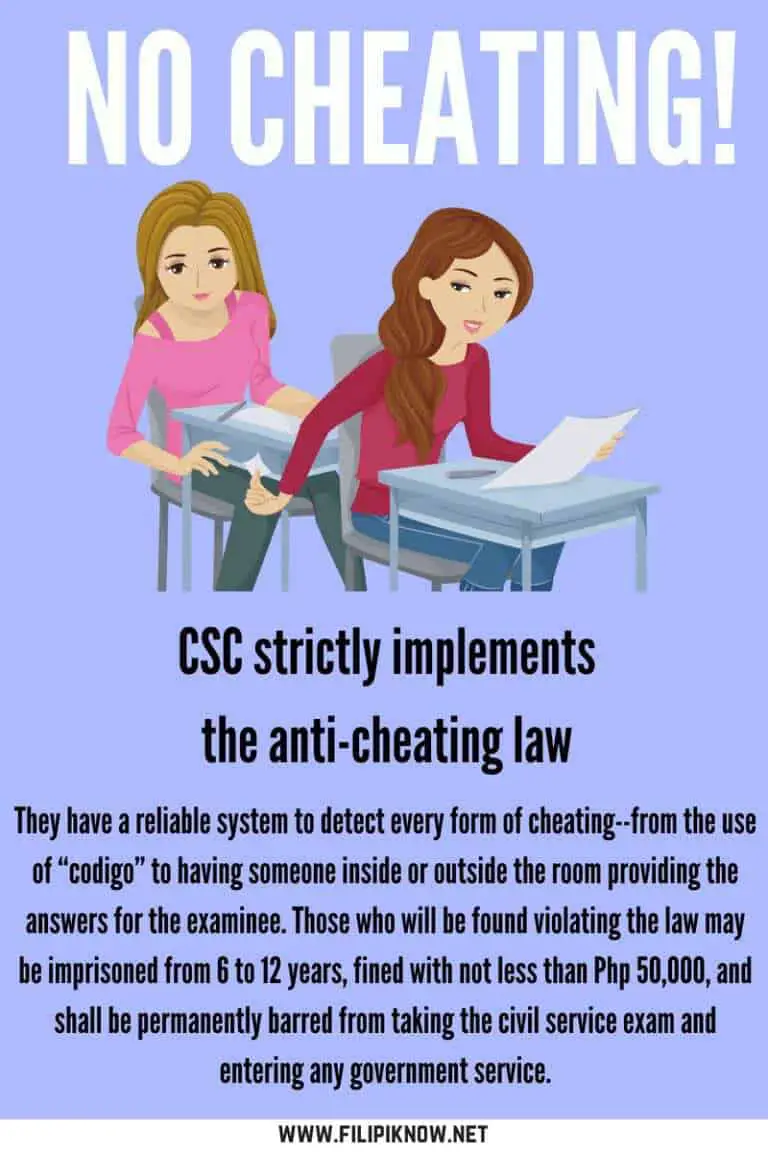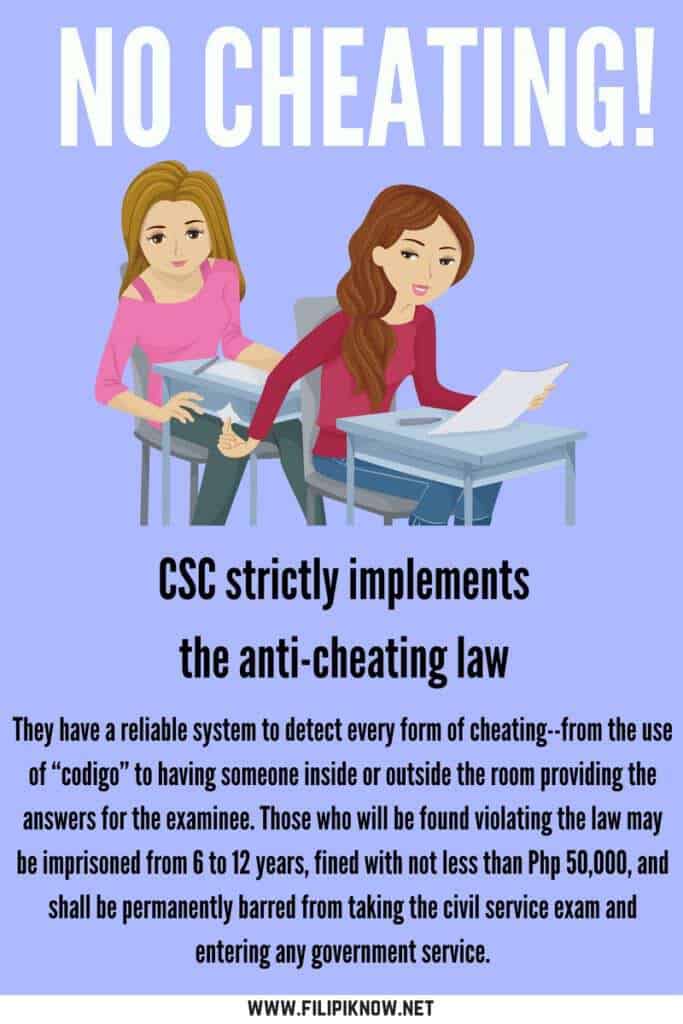 Go back to the main article: The Ultimate Civil Service Exam Guide for Filipinos: Tips, Procedures, and Requirements