If you have an expired NBI clearance, you're probably wondering if you're supposed to go through the same process all over again.
The hassles of making an appointment online and going to the NBI clearance center just to renew a government-issued document are too much, especially for someone with a very busy schedule.
Fortunately, through the NBI Clearance Quick Renewal, you can now renew your clearance online and get it delivered to your doorsteps in a matter of days.
In this guide, we'll introduce you to this wonderful feature and provide answers to all the queries related to NBI clearance renewal.
First-time applicant? Read this guide instead: How to Get NBI Clearance Online in the Philippines
Table of Contents
NBI Clearance Renewal Requirements
1. Copy of old/expired NBI clearance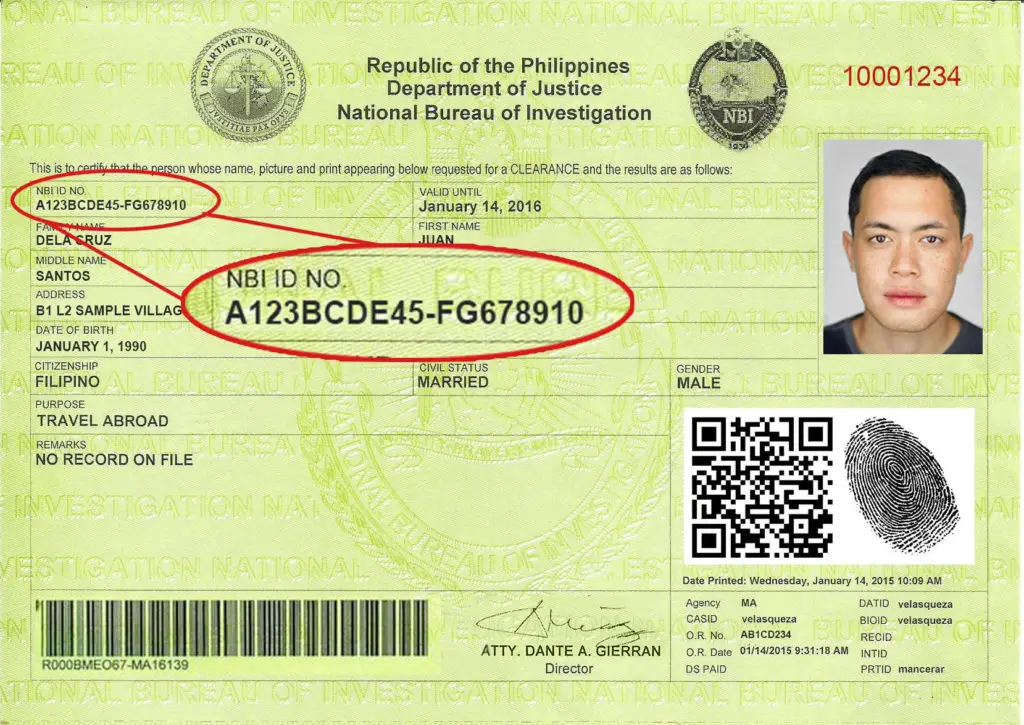 Whether you're renewing your NBI clearance via the Quick Renewal System or through the standard procedure, you need the NBI ID number from your old/expired NBI clearance in order for the transaction to push through.
Otherwise, you need to apply for a new NBI clearance like you would for the first time.
2. One (1) valid government-issued ID
If you're renewing your NBI clearance via Quick Renewal System, you need a valid ID for verification purposes when receiving it from the courier.
As for those renewing through the standard/regular process, you only need to provide one valid ID when securing an online appointment. However, it's best to bring 2 valid IDs on the day of your appointment in case the NBI personnel requires additional verification.
Here's a list of acceptable valid IDs for the NBI clearance application:
Voter's ID or Certificate of Registration

Pag-IBIG ID (not the Loyalty Card)
Police Clearance issued by the police station with jurisdiction over the applicant's place of residence
Certification from the Local Civil Registrar
Certification from Malacanang in connection with indigenous groups, tribal membership, foundling
Solo Parent ID
Seaman's Book and SIRV
MARINA ID
Security License ID (for security guards)
Take note that company IDs, student IDs, barangay clearances, and IDs that weren't issued by the government are NOT accepted.
Also, the IDs you'll present will be checked for their validity and authenticity. Therefore, ensure yours are issued by the government, original and not photocopied, and with legible texts as well as your recent, recognizable photo.
What Are the Ways To Renew NBI Clearance in the Philippines?
If you're in a hurry and don't have any personal information that needs updating, you can choose the NBI Clearance Quick Renewal. This method allows you to renew your clearance online and receive it after a few days.
No online appointment is necessary so you no longer need to visit an NBI Clearance Center to claim your new NBI clearance.
Alternatively, you can do the standard way of NBI clearance renewal which requires an online appointment and personal appearance at the NBI Clearance office for your biometrics. This option is ideal for those who are unable to use the Quick Renewal due to system maintenance or those who need to update/change/correct/edit their personal information (even if it only involves one letter or character).
We'll discuss these two methods in great detail.
How Much Does It Cost To Renew NBI Clearance?
As of this writing, the cost of NBI clearance for both new applications and renewal is Php 130. An additional Php 25 will be charged for the use of the e-payment service, for a total of Php 155. On the other hand, getting an NBI clearance through the online renewal will cost you up to Php 362 (inclusive of the NBI clearance fee and the delivery fee).
How To Renew NBI Clearance via Online Quick Renewal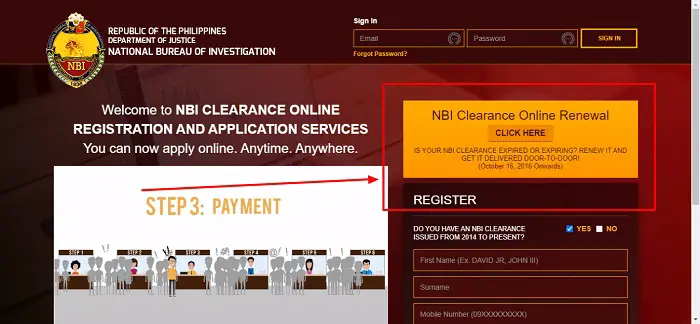 Do you want to renew your NBI clearance and have it delivered to your doorstep? With NBI Clearance Online Renewal, this is now possible.
Previously, door-to-door delivery was only available to Metro Manila residents. However, the pandemic prompted the NBI to work double-time to ensure a convenient renewal process is accessible to all Filipinos nationwide.
On June 17, 2021, the good news finally arrived. NBI announced that the door-to-door delivery will soon be available nationwide1. Provided your application doesn't get a HIT, your new NBI clearance can be delivered to your address in 3 to 7 working days (for Metro Manila and Luzon residents) or 7 to 10 working days (for Visayas and Mindanao residents).
There is still an option to pick up your new NBI clearance from the NBI office. You can also ask a representative to pick it up on your behalf in case you will not be available to do so.
Take note, however, that the online quick NBI clearance renewal only works for applicants whose clearances were issued from October 16, 2016 onwards.
To learn how to renew your NBI clearance online and avail of door-to-door delivery, follow these steps: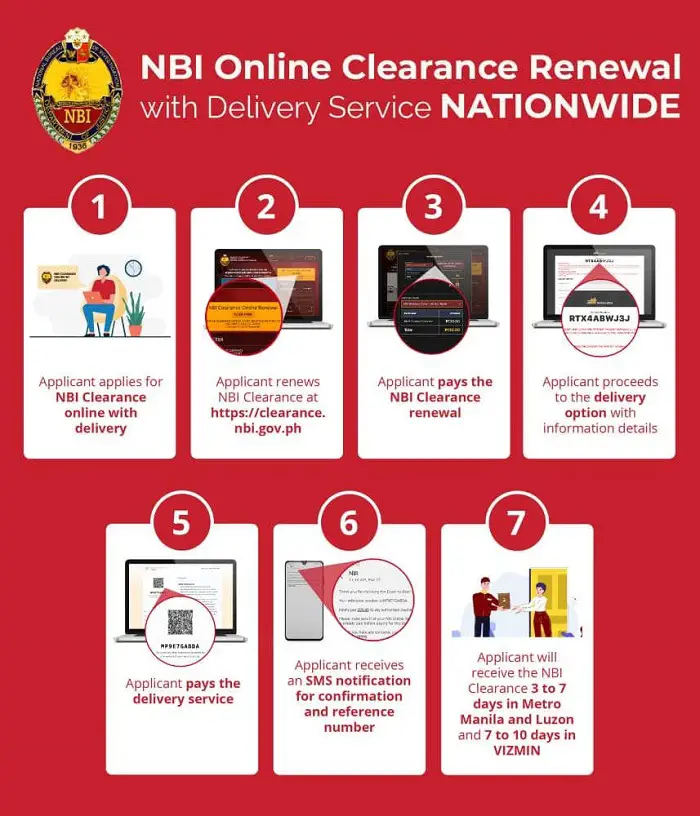 Access the NBI Clearance Online Services website
Click the yellow box that says NBI Clearance Online Renewal
Input your old NBI ID number, mobile number, complete name, and birthdate in the pop-up box that will appear. Take note that only expired NBI clearances issued from October 16, 2016 onwards are qualified for the online renewal
Click Verify to proceed to the next step
Fill out the NBI clearance delivery form. Ensure that the address given is complete and accurate to avoid delays in delivery
Click Proceed to Payment to pay the NBI clearance fee of Php 155.
Write down or take a screenshot of the reference number that will appear on your screen. You will need this reference number when making the payment at any Bayad Center facilities.
Choose your preferred way of getting the new NBI clearance. Select PICK-UP if you want to personally receive it at the NBI branch on a scheduled date. You can also choose PICK-UP BY COURIER if you want Lalamove or Grab to pick up the NBI clearance for you albeit with additional service fee charge2. Otherwise, select DOOR-TO-DOOR DELIVERY. If you choose the delivery option, you will be directed to a page showing your information details.
Pay the delivery service fee amounting to Php 207.
Wait for an SMS notification containing a reference number and a confirmation that your application has been received.
Receive your new NBI clearance. If you chose personal pick-up, you need to present your NBI Official Receipt or the receipt issued by the electronic payment channel you used and where your reference number is indicated. If you chose the door-to-door delivery option, expect the NBI clearance to be delivered to your doorsteps by the courier approximately 3 to 7 days if you're in Metro Manila or Luzon, or 7 to 10 days if you live in Visayas or Mindanao. However, according to one of our readers who availed of the door-to-door delivery option, she had to wait for 2 weeks and didn't receive a single email or SMS regarding the status of her NBI clearance throughout the said period. To avoid this kind of delay, it is encouraged that as soon as payment is made, all renewal applicants must send an email message with attached proof of payment and reference number to [email protected]. Wait for an email confirming that your renewal application has been received and is already being processed. You should then receive your renewed NBI clearance within the time period stated earlier.
Applicants who opted for the door-to-door delivery can check the status of their NBI clearance through the following options:
Call the NBI Clearance Hotline at 8523-8231 local 5509.
Send a text message to 09150656899 (Globe) or 09478648747 (SMART). Simply type your Reference Number<space>NBI (e.g., MNSBNJH NBI).
How To Renew NBI Clearance Through the Regular Procedure: 11 Steps
This section provides the traditional way of renewing your NBI clearance online.
Unlike Quick Renewal, this option requires the applicant to register online, secure an appointment with the NBI, and personally claim the new clearance at the NBI clearance center. 
It's ideal for those whose previous/old/expired NBI clearance has a piece of information they want to correct/change/update like name, civil status (from single to married), and other personal details.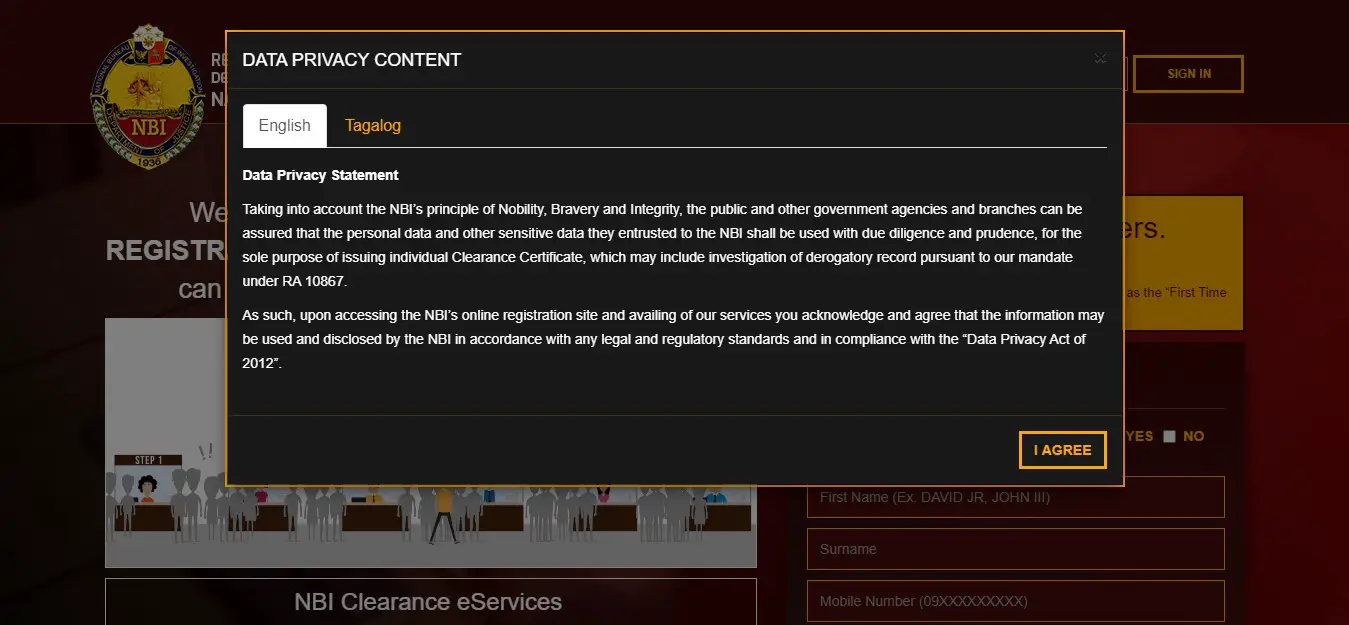 Read the Data Privacy Content in either English or Tagalog. Click I Agree.
Read the additional reminders and then click Close.
2. Register to create an account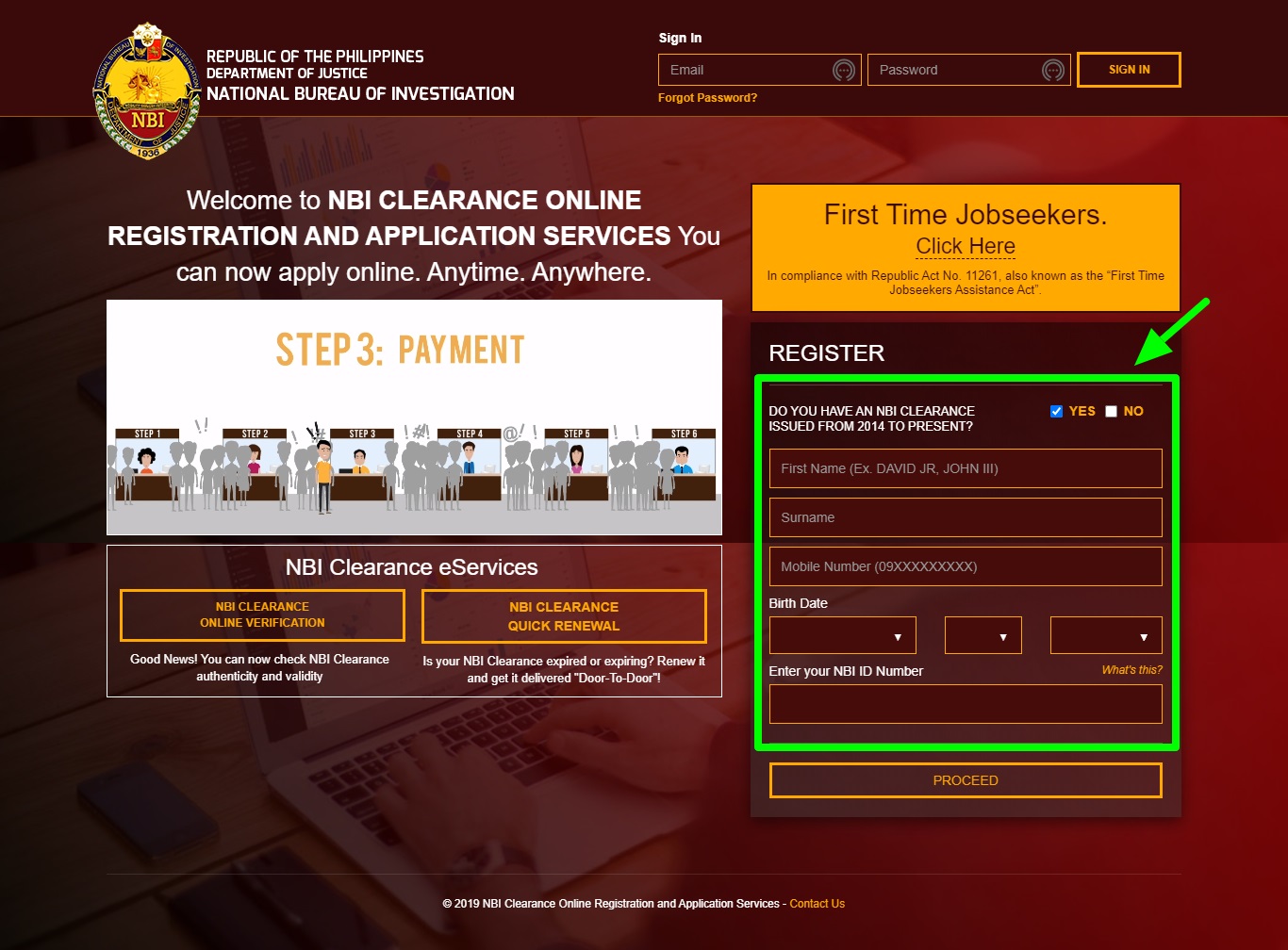 Try to sign in using the old email address and password you used during the first time you registered. Ideally, this should work. If it does, jump to step 5.
However, based on my experience and the comments from past applicants, NBI won't accept the old email address and password for some reason.
If this is the case, simply create a new account.
To do this, mark the checkbox that corresponds to "YES" next to the question "DO YOU HAVE AN NBI CLEARANCE ISSUED FROM 2014 TO PRESENT?" (Apparently, only NBI clearances issued from 2014 to present can be renewed. If your NBI clearance was issued prior to 2014, please check the other box and proceed to the regular application).
Enter your name, mobile number, birth date, and the NBI ID number printed on your old/expired NBI clearance. Click Proceed.
Now, if you've lost your old NBI clearance or you no longer have a copy of it, you obviously need to mark the checkbox that corresponds to "NO" next to the question "DO YOU HAVE AN NBI CLEARANCE ISSUED FROM 2014 TO PRESENT?"
Then, fill out the registration form like you would the first time you applied and then click SIGN UP.
3. Enter the One-time Password sent by NBI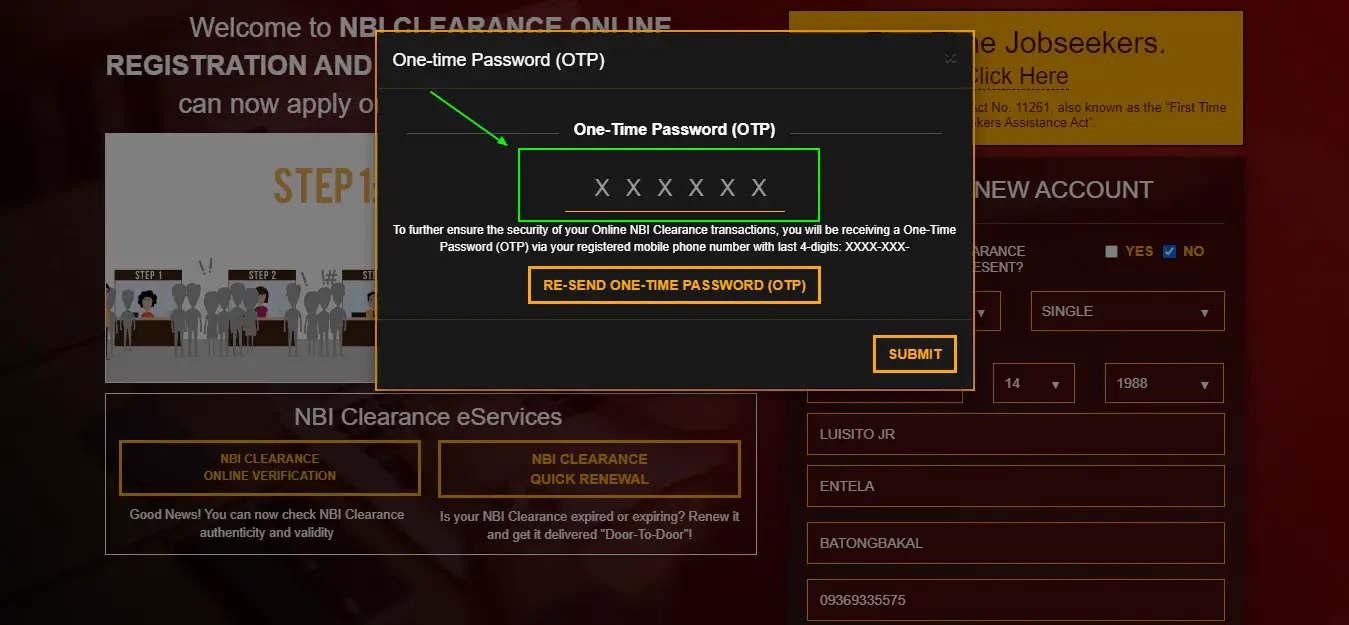 The OTP is an additional layer of security that will protect your data whenever transacting with NBI online. All new registrants will receive it either through SMS or email message.
Enter the numbers and then click Submit.
4. Log in to your account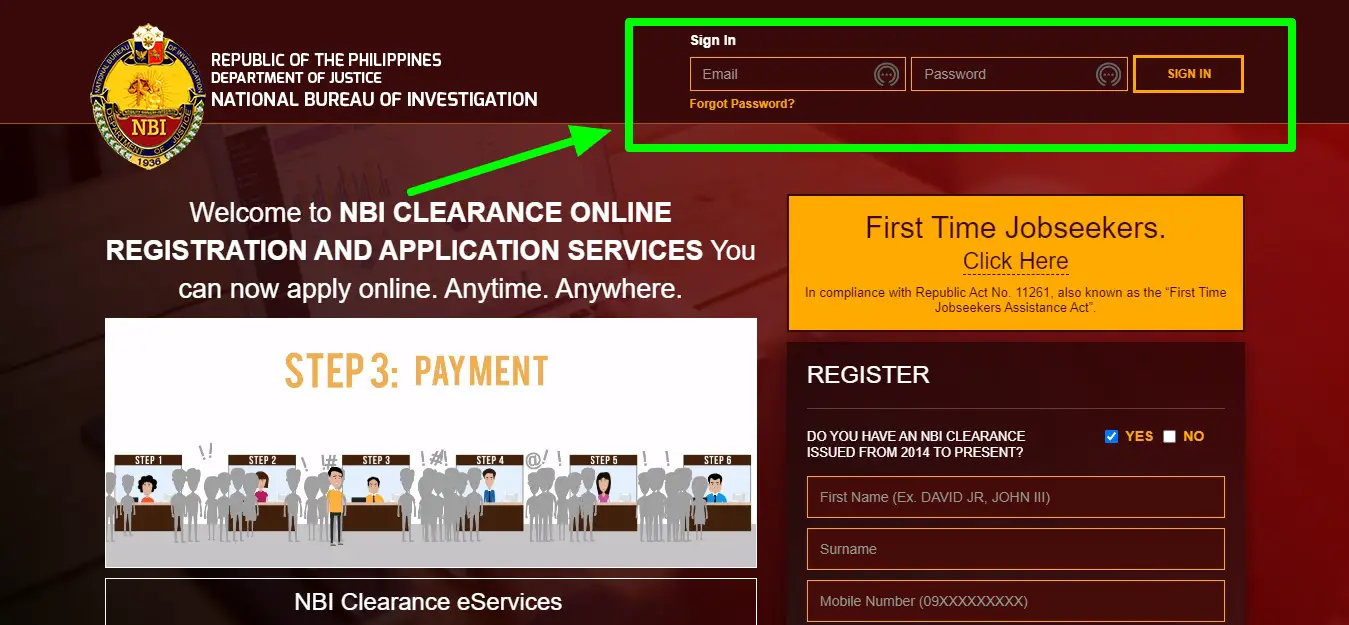 Sign in using your registered email address and password.
5. Edit or fill out the Applicant Information Form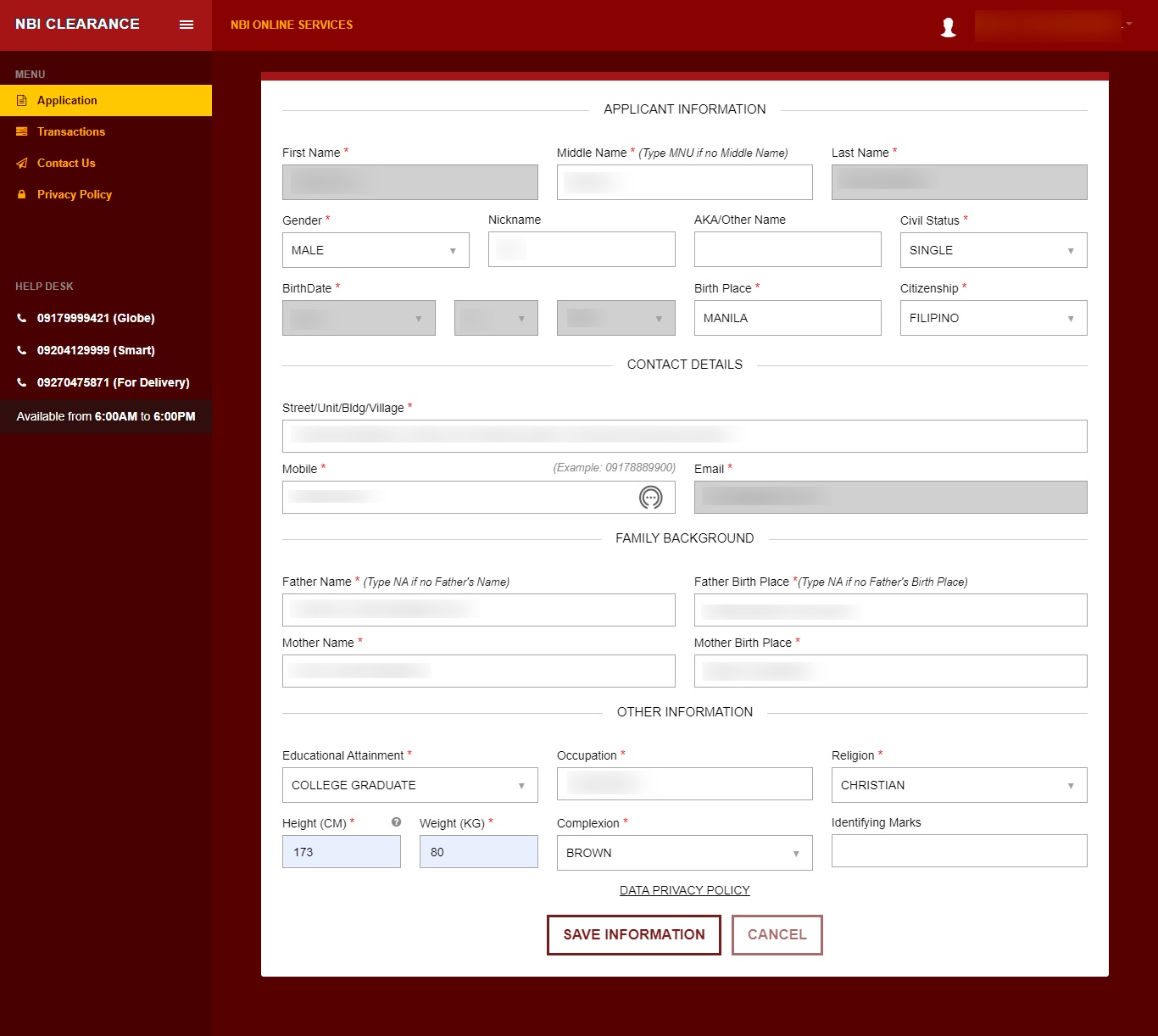 Once logged in, your account information will show up. Review the applicant information and ensure that the application type has been updated to "RENEW" (if it isn't showing "RENEW", it only means your NBI clearance isn't expired yet but you can still proceed with the renewal process).
If you need to make changes, simply click Edit Information in the upper right corner of the page. For example, if you're newly married, you can change your civil status from "Single" to "Married" and change your surname to that of your husband.
If you registered without your old NBI clearance number, the partially filled out Application Information form will be displayed upon signing in. If this is the case, simply complete the form, making sure you only use letters and spaces when typing your answers.
When you're done, click Save Information at the bottom of the page.
6. Select "Apply for Clearance"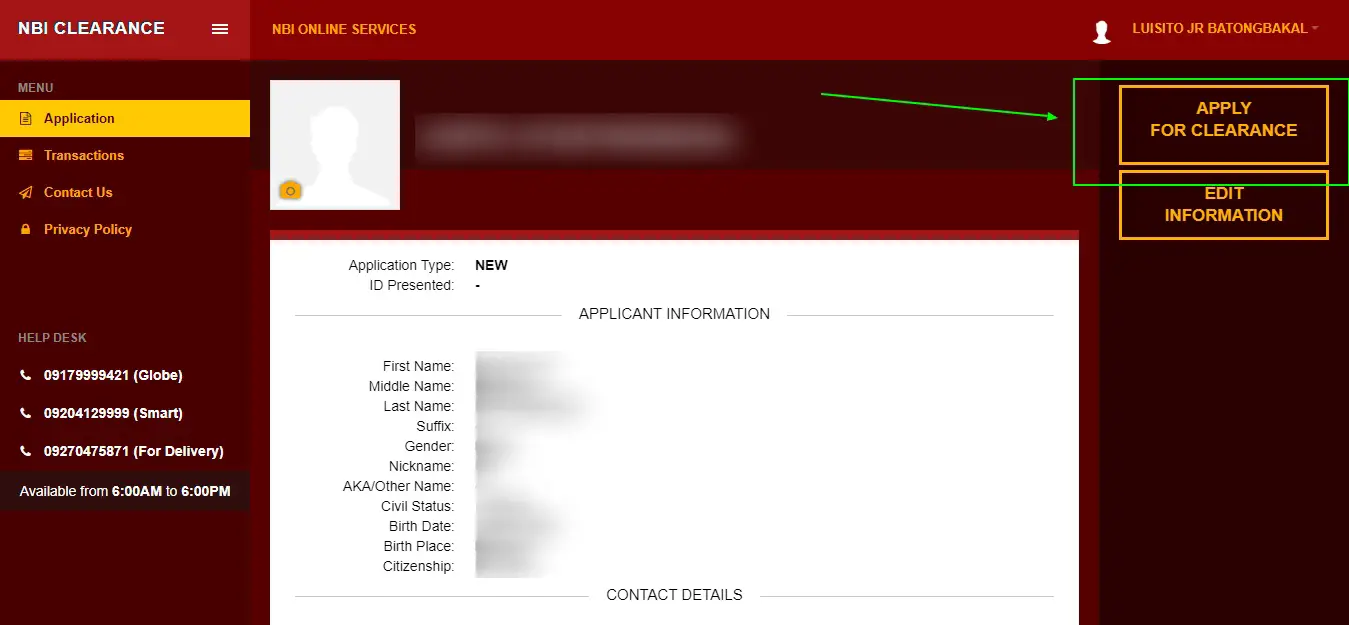 Once you've updated your profile, click Apply for Clearance to proceed with the renewal.
7. Provide the details of the valid ID you'll bring on the day of your appointment for confirmation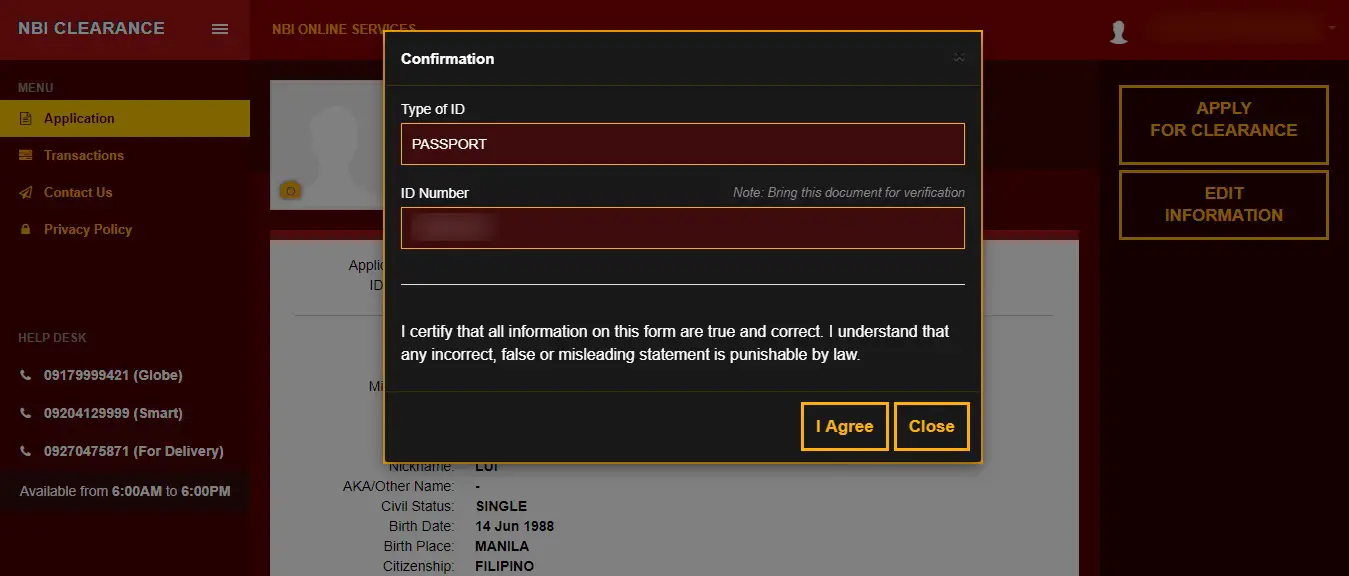 A smaller window will appear asking you to provide the valid ID you'll present on the day of the appointment. Choose one from the list of valid government-issued IDs (see "NBI Clearance Renewal Requirements" above).
Aside from a government ID, renewal applicants are also required to bring a copy of their previous NBI clearance on the day of the appointment. Otherwise, just bring another valid ID.
Enter the name of the ID and the ID number on the designated boxes and click I Agree to continue.
8. Choose your preferred appointment venue and schedule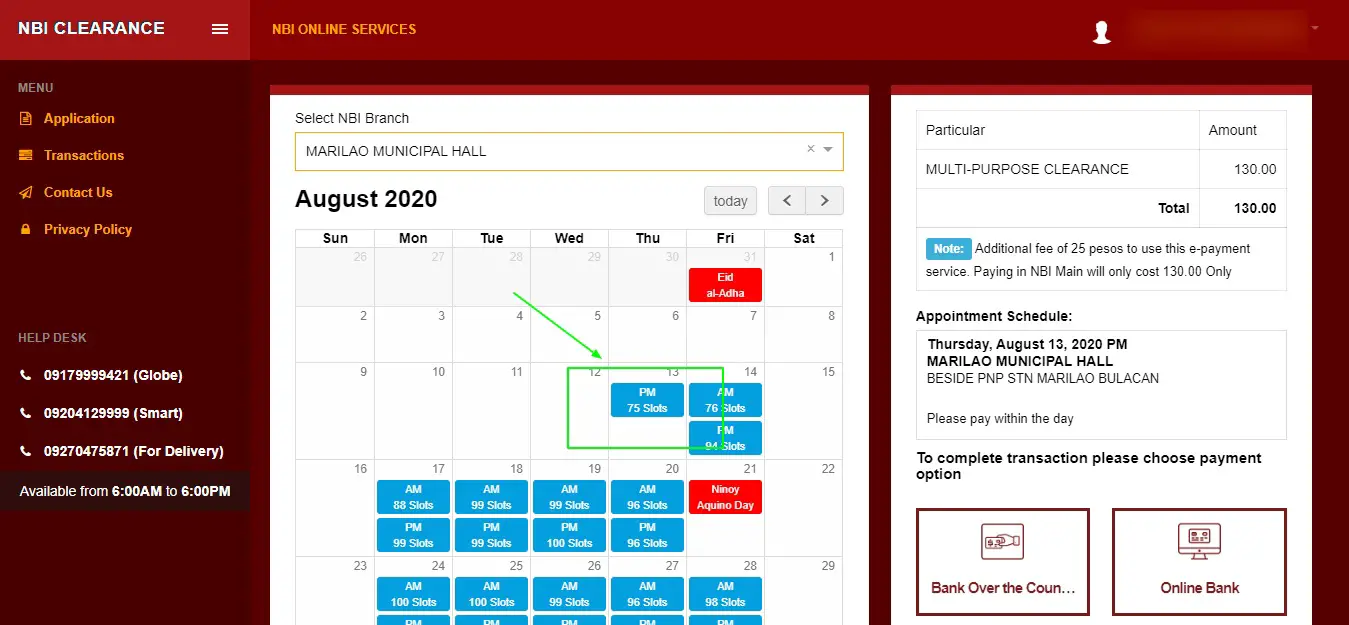 Select your preferred appointment venue, date, and time. A drop-down box containing a list of NBI branches that process applications and renewals are provided. When choosing the application date and time, take note that blue indicates available slots.
9. Pay the NBI clearance renewal fee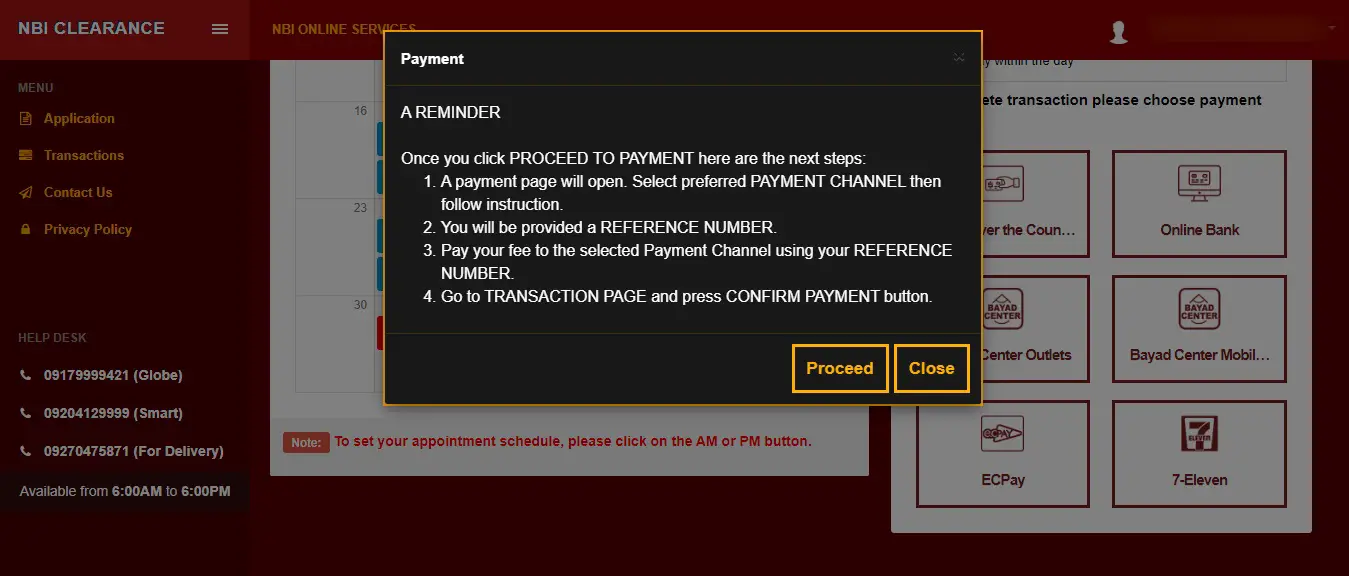 After setting an appointment, proceed to the lower right corner of the same page and select your preferred payment channel.
Current options are the following:
Bank Over The Counter
Online Bank
Bayad Center Outlets
Bayad Center Mobile
ECPay
7-Eleven
Visa/Mastercard
Upon clicking your chosen payment method, a small window will appear containing instructions on how to make the payment. Click Proceed.
Get the reference number and pay the fee using your card (for online banking) or proceed to the bank or outlet where you'll make the payment over the counter.
To check whether or not the payment has been successful, go back to the NBI clearance website and select Transactions from the main menu.
If you've already made the payment, click the Confirm Payment button to print your application form.
10. Proceed to your chosen NBI Clearance Renewal Center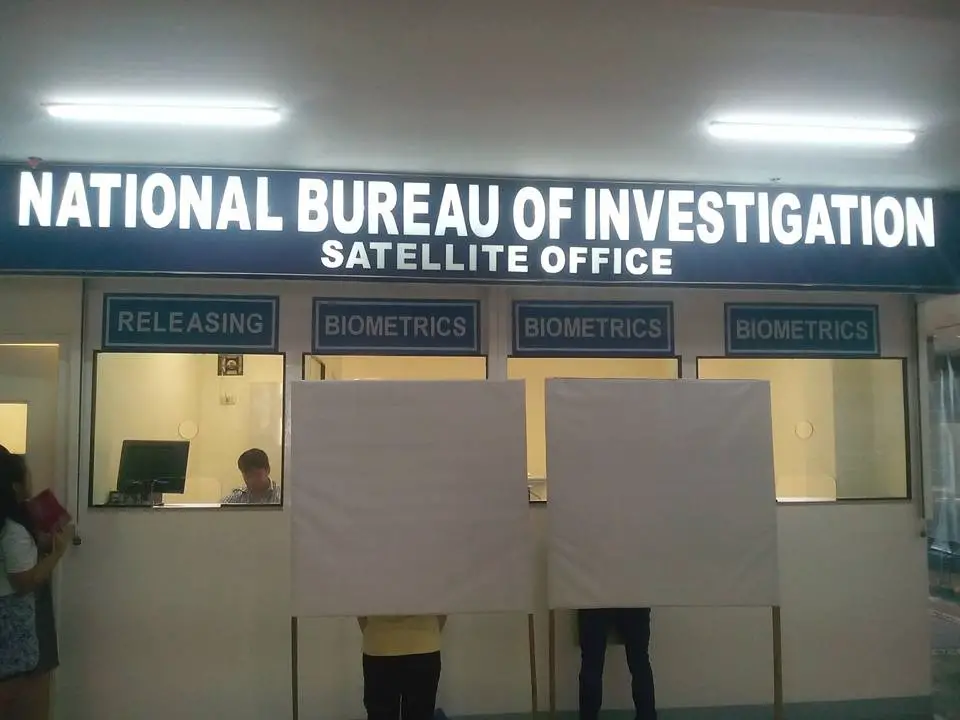 Bring your application form/reference number and at least 2 valid IDs.
Tell the security guard or any NBI personnel that your NBI clearance is for renewal.
Since you've already filled out your application form online and paid the fees, you can proceed to the designated "biometrics" section to have your photo and fingerprints taken.
11. Claim your new NBI clearance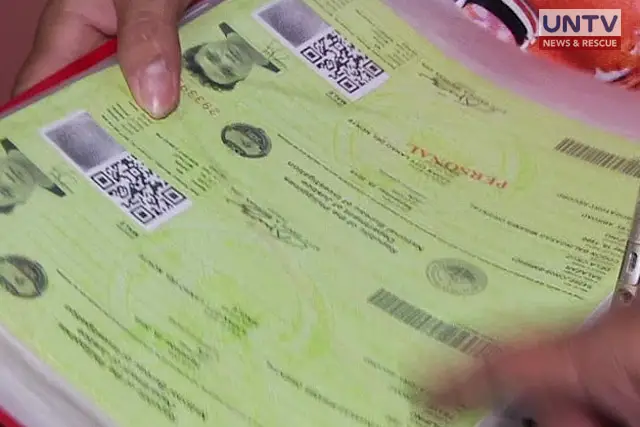 If everything goes well and you have no hits, your NBI clearance will be printed and issued to you within a few minutes.
Tips and Warnings
1. You can renew your NBI clearance even if it's not expired yet
According to the NBI Clearance Help Desk, there's no need to wait for your NBI clearance to expire before you can renew it. As long as you have a copy of your NBI clearance and it's about to expire a few weeks or months from now, you can have it renewed through the NBI Clearance Online Services website.
2. No need to provide a photo when renewing via NBI Clearance Quick Renewal
The reason why it's "quick" is because it automatically retrieves your information–including your photo–from the NBI clearance database.
If you're unable to access the NBI Clearance Quick Renewal, it means you're either not qualified to use this feature (e.g. your NBI clearance was issued prior to 2016) or the system is undergoing maintenance.
3. The online renewal system is only applicable to NBI clearances issued from October 16, 2016 onwards
If your NBI clearance was released prior to this date, it is considered invalid and you must go through the same process intended for new applicants.
Frequently Asked Questions
References
NBI Clearance Renewal is now online!. (2021). Retrieved 19 June 2021, from https://mb.com.ph/2021/06/17/nbi-clearance-renewal-is-now-online/
Luna, E. (2021). Seven easy steps to renew your NBI Clearance online. Retrieved 12 August 2021, from https://mb.com.ph/2021/08/11/seven-easy-steps-to-renew-your-nbi-clearance-online/