Last Updated on 03/12/2019 by FilipiKnow
You can deposit cash or check over the counter in any BPI branch.
Simply follow these steps:
Claim a queue number from the BPI Express Assist kiosk at the bank's entrance. To start, tap the screen and choose "Deposit" as your transaction. Enter your account number and the amount you'll deposit. Then get your printed queue number.

Wait for the teller to call your queue number. You'll also see your number flashed on an LCD screen when it's your turn.

Give the teller your queue number and the cash or check you'll deposit.

Wait for the teller to issue your deposit slip that confirms your successful transaction.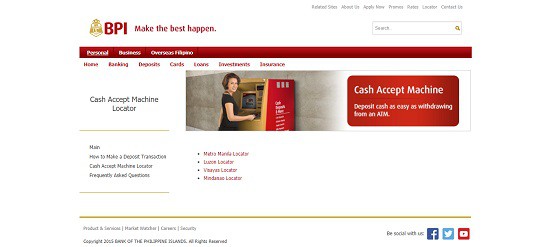 A quicker way to deposit cash to your savings account is to use cash accept machine located in select BPI branches. It's like an ATM that accepts cash deposits and credits them in real time.
Here's how to make a deposit through a BPI cash accept machine:
Insert your ATM card into the card slot.

Choose "Deposit."

Enter your PIN.

When the bin opens, put your bills in it.

Tap or press the button next to "Add Deposit" to confirm your deposit.

Get your transaction receipt from the machine.
You may also deposit cash without your ATM card. The procedure is the same, except that instead of PIN, you'll have to enter your savings account number.
Go back to the main article: How to Open a BPI Savings Account: An Ultimate Guide