The UMID ID or UMID card is one of the valid IDs in the Philippines that are easiest to get.
While that may be hard to believe, securing this ID is simple (The only hard part is waiting for it). You just have to know how to do it right.
This is exactly what this guide is for—providing all the information you need for a successful, hassle-free UMID card application.
READ: How to Compute and Check Your SSS Contribution Online: An Ultimate Guide
Table of Contents
At a Glance: Latest UMID News and Updates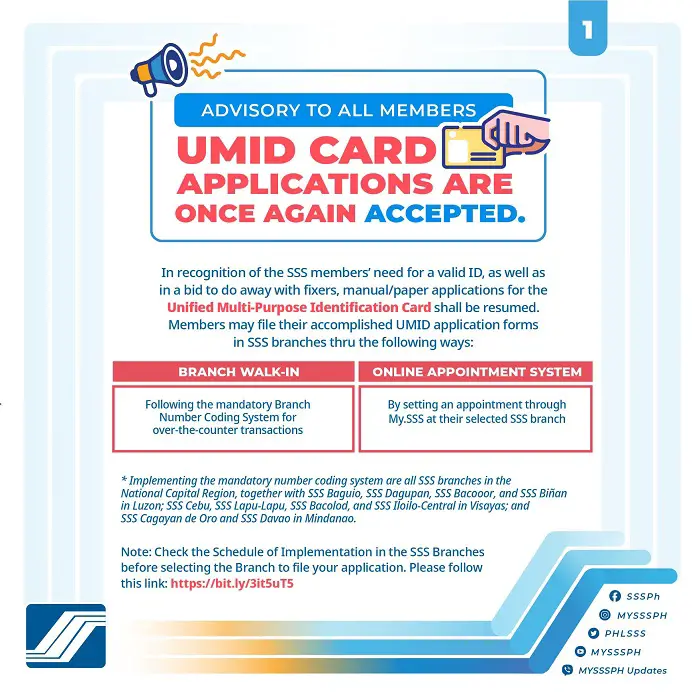 What Is UMID?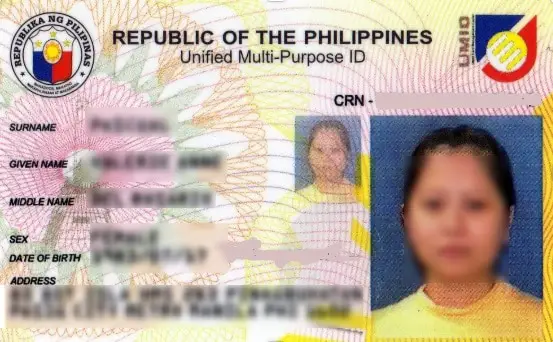 UMID stands for Unified Multi-Purpose ID, the single identification card for all members of the Social Security System (SSS), Government Service Insurance System (GSIS), Home Development Mutual Fund (HDMF or Pag-IBIG Fund), and Philippine Health Insurance Corporation (PhilHealth).
It proves your lifetime membership and facilitates transactions with these government agencies.
The UMID card uses contactless smart chip technology that stores the cardholder's biometric data (facial image, signature, and fingerprints). It also has security features that prevent the card from being reproduced and used for fraud.
READ: Is UMID and SSS ID The Same?
What Is UMID Card Used For?
The UMID card is accepted as a valid ID by government offices, banks, and other entities in the Philippines. It's intended to streamline the identification systems of SSS, GSIS, PhilHealth, and HDMF (Pag-IBIG) so you can have a 4-in-1 valid ID instead of going to the trouble of applying for multiple valid IDs from different government agencies.
More than a proof of identity, this ID card is also used to withdraw GSIS or SSS benefits and loans from ATMs. Since 2015, SSS has been releasing loan proceeds and benefit payments directly to the member's or beneficiary's bank account where the UMID card as an ATM card is enrolled.
SSS members can use their UMID to view contributions, loan status and balance, and other SSS information at any SSS kiosk.
What Does the New UMID Card Look Like?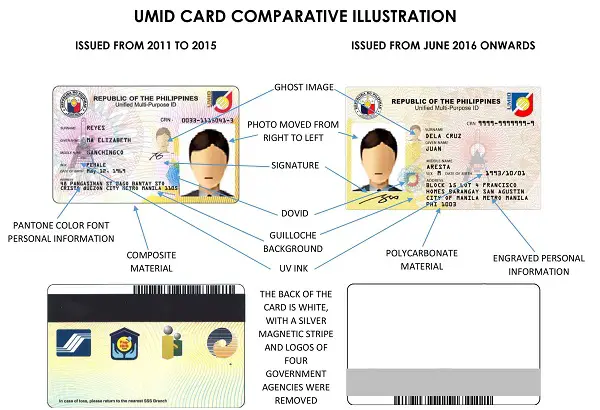 Members who applied for the UMID from November 9, 2015, onwards will receive a new version of the UMID card featuring the following design upgrades5:
The card is now made of polycarbonate to improve card durability.
Personal information, which includes the member's name, birth date, sex, address, and Common Reference Number (CRN), is now engraved to prevent unauthorized card reproduction.
The background now comes with an enhanced color pattern and is now embedded with international security features.
The photo is moved from right to left to comply with the international standards for travel documents.
The design of the back of the card is simplified. It now only contains white space with a silver magnetic stripe at the bottom. The logos of the four government agencies have also been removed to allow space for bank information once the member starts receiving loan and benefit proceeds through the card.
Take note that if you already have the old version of the UMID card, you don't have to apply for a new one, as cards issued before the aforementioned design upgrades are still accepted at SSS branches and self-service terminals.
Who Can Apply for UMID Card?
1. SSS Members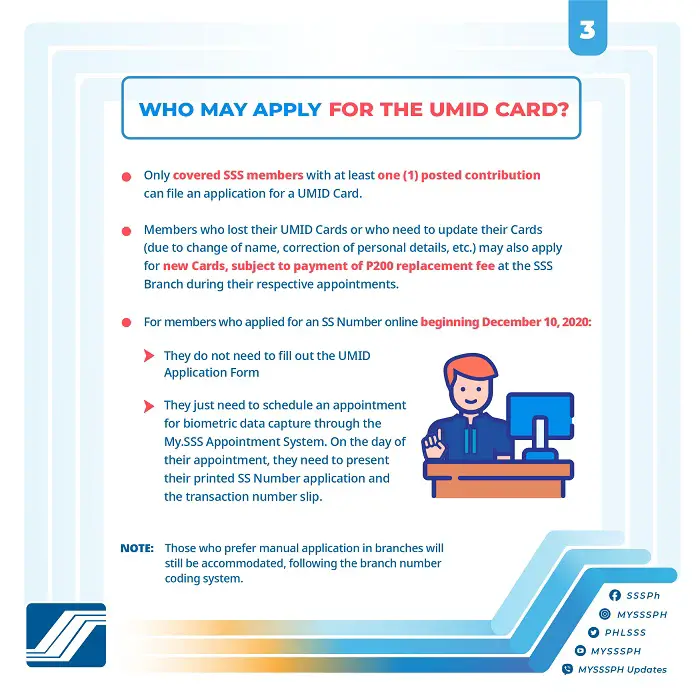 As of October 2021, you can apply for a UMID card for SSS members if you're one of the following6:
SSS members with at least one (1) posted contribution. Take note that if you're one of the members who applied for an SS number from December 10, 2020, onwards, you no longer have to fill out and submit the UMID application form. All you need to do is schedule an appointment online via My.SSS for the biometric data capture, and then present your printed SS number application and transaction number slip on the day of your appointment.
SSS members who either have lost their UMID cards or who need to update their cards due to a change or correction of one or more of their personal details. However, since you're applying for a replacement of an already issued UMID card, you will have to pay a replacement fee of PHP 200 at the nearest SSS branch, where you'll secure an appointment.
The recommended method of applying for a UMID card is through the use of the My.SSS Appointment System (more on this later). However, the manual method of application is still accepted to accommodate those who aren't computer-literate and don't have a My.SSS account yet. If you prefer the manual or walk-in application process, make sure that you'll follow the branch number coding system (more on this later).
2. GSIS Members
All active members, as well as new old-age or survivorship pensioners of GSIS, are required to secure a UMID-compliant eCard from any GSIS office to avail of their benefits.
The eCart Plus or UMID card of pensioners serves as their official GSIS identification card that will enable them to transact with GSIS and get the benefits of a savings account. Specifically, the GSIS UMID card will allow pensioners to accomplish the following7:
Withdraw the proceeds of either their pension or pension loan.
Save money in a personal ATM savings account that doesn't require a maintaining balance.
Withdraw money over the counter in any Union Bank or Land Bank branches anywhere in the country.
Use the card as a debit card to pay purchases, so long as the eCard/UMID card has sufficient funds.
What Are the Requirements for the UMID Card Application?
1. For SSS Members
a. Accomplished UMID Card Application Form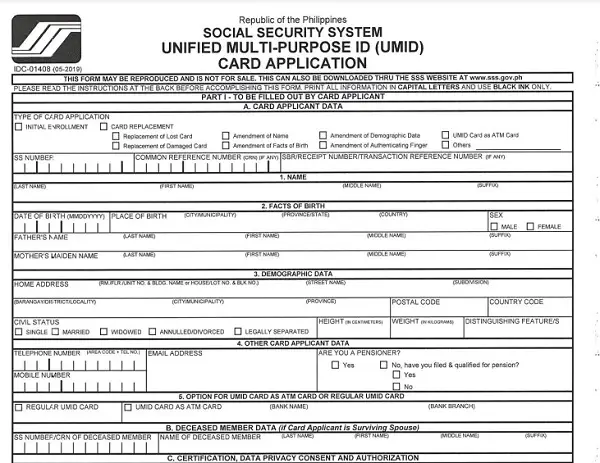 As part of the current health protocol, members are encouraged to shorten the time spent inside the SSS branch by downloading and accomplishing the UMID Application Form beforehand.
To get the latest application form, you can go to the official website of the Social Security System (SSS), then scroll down to the bottom of the page to click the Forms icon. Finally, select and download the Unified Multi-Purpose ID (UMID) Card Application Form. Here's a quick link to the latest application form to help you save time.
When filling out the form, make sure you comply with the following guidelines:
Use CAPITAL LETTERS and black or blue ink.

Avoid erasures and corrections.

Put a checkmark on any applicable box.

Put "N/A" or "Not Applicable" if the required information is not applicable.

The SSS number, name, date of birth, and sex on the application form must match the member's information in the SSS database.

Leave the Common Reference Number field blank if this is your first time applying for UMID.

Provide at least one contact detail (email address, landline number, or mobile number) that the SSS will use to notify you of your UMID card application status.
b. Valid IDs
Present the original or certified true copy of any of the following primary IDs8:
If you don't have any primary ID, present two secondary IDs bearing your correct name, with at least one showing your correct birthdate. Here is the list of secondary ID cards/documents accepted by SSS:
Alien Certificate of Registration
ATM card (with cardholder's name)
Bank Account Passbook
Company ID card
Certificate of Confirmation issued by National Commission on Indigenous People
Certificate of Licensure/Qualification Documents from MARINA
Certificate of Naturalization
Court Order granting the petition for change of name or date of birth
Driver's License
Firearm License card issued by Philippine National Police (PNP)
Fishworker's License issued by BFAR
GSIS card/Member's Record/Certificate of Membership
Health or Medical card
ID card issued by LGUs (e.g. Barangay/Municipality/City)
ID card issued by a professional association recognized by PRC
Life Insurance Policy of member
OWWA card
Pag-IBIG Transaction Card/Member's Data Form
Phil Health ID card/Member's Data Record
School ID card
Seafarer's Registration Certificate issued by POEA
Transcript of Records
Voter's Identification Card or Voter's Affidavit / Certificate of Registration
2. For GSIS Members
a. Accomplished GSIS UMID-eCard Enrollment Form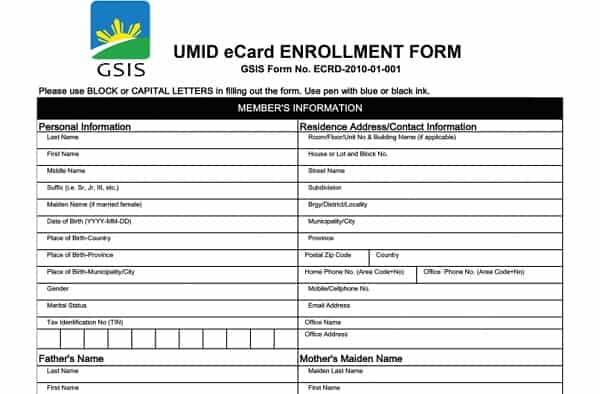 You can download the eCard/UMID enrollment form here. When accomplishing the form, take note of the following:
Use CAPITAL LETTERS and black or blue ink.

Indicate your preferred bank (either UnionBank or Land Bank) for withdrawing your GSIS benefits and loans.
b. Valid Government-issued IDs
To apply for the GSIS eCard/UMID card, you will need to bring two (2) valid government-issued IDs. The following are the valid IDs currently accepted by GSIS9:
Employee's ID/Office ID
SSS ID
COMELEC/Voters ID/COMELEC Registration Form
Integrated Bar of the Philippines (IBP) ID
Firearms License
AFPSLAI ID
PVAO ID
AFP Beneficiary ID
Pag-ibig ID
Solo Parent ID
Pantawid Pamilya Pilipino Program (4Ps) ID
Barangay ID
School ID
How To Apply for UMID if You're an SSS Member: 5 Steps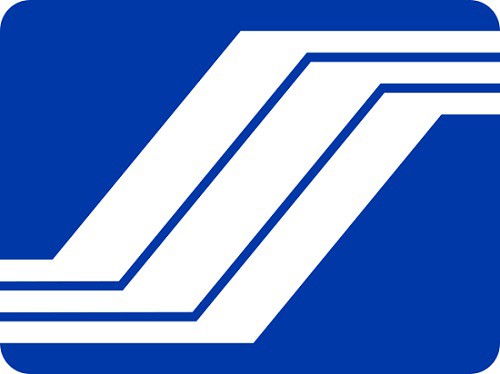 1. Go to an SSS Branch With a UMID Enrollment Facility
Not all SSS branches accommodate UMID applications. So before you apply, check first the list of branches10 that can process UMID enrollment (Use the Ctrl+F command to find the branch nearest you).
Once you get to the SSS office, you'll either fall in line or get a queue number. Wait for your turn or your number to be flashed on the screen display.
Update: As of October 2021, you can apply for a UMID card at the SSS branch in two ways. We'll discuss these two methods one by one.
a. Online Appointment System (Online Application)
If you already have a My.SSS account, you can schedule an appointment with your preferred or the nearest SSS branch. This way, you can easily get a queue number and choose a date or time that is most convenient for you. To secure an appointment with the SSS, follow these steps:
Step 1: Go to the official SSS website and select the Member portal.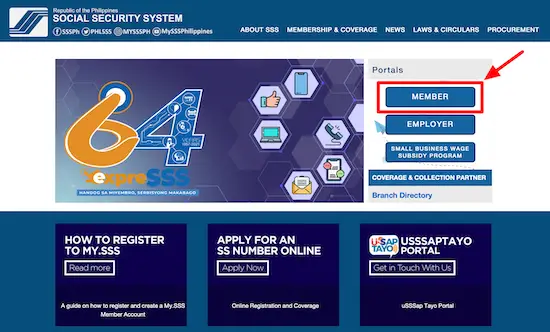 Step 2: Log in using your User ID and password.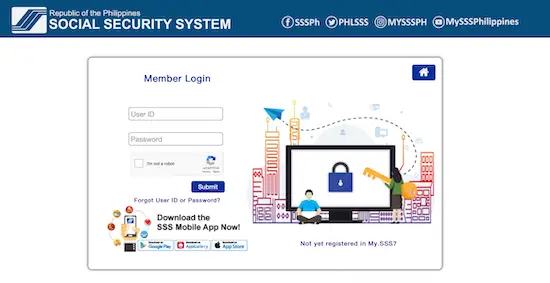 Step 3: Hover over Member Info on the main menu and click Appointment System.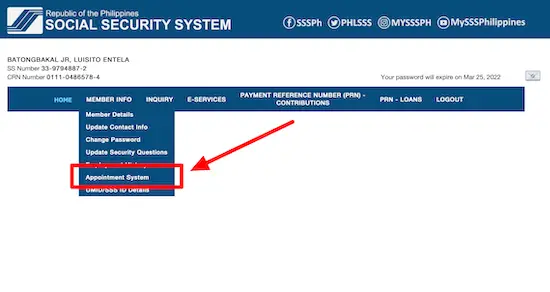 Step 4: Select the purpose of your appointment (i.e., UMID Card Application).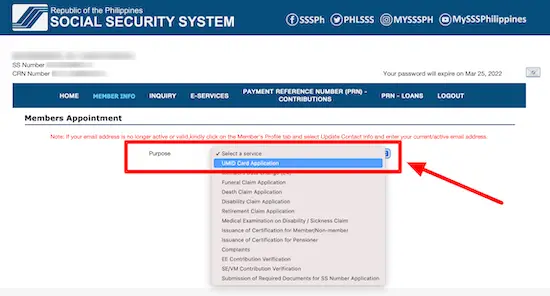 Step 5: Select your region, preferred SSS servicing branch, and date of appointment (Note that dates marked red are unavailable while those marked green still have remaining slots left).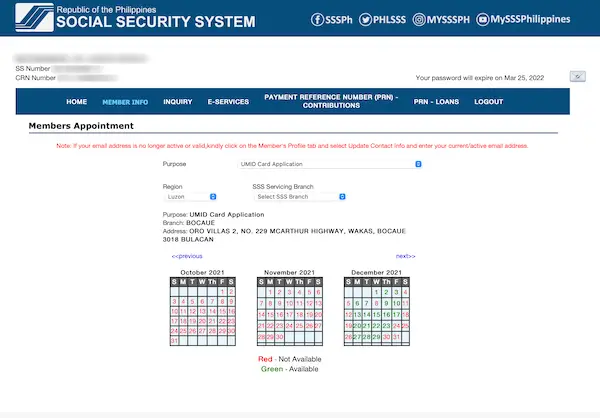 Step 6: Select your preferred time schedule and the available counter number that will process your application. Also, enter your specific concern/s in the box provided (e.g., New UMID application, Replacement of lost UMID card, etc.).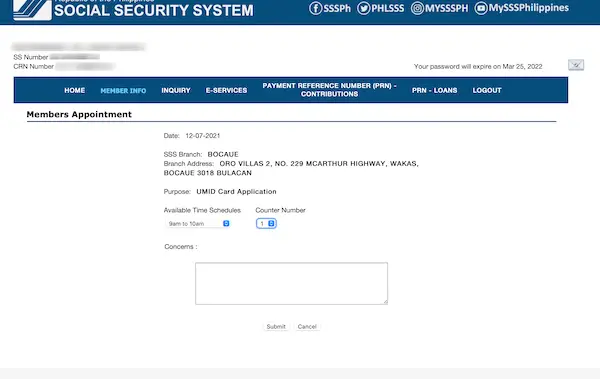 Step 7: Print or take a screenshot of your transaction details as shown on the screen. You will also receive an email notification containing the same transaction details.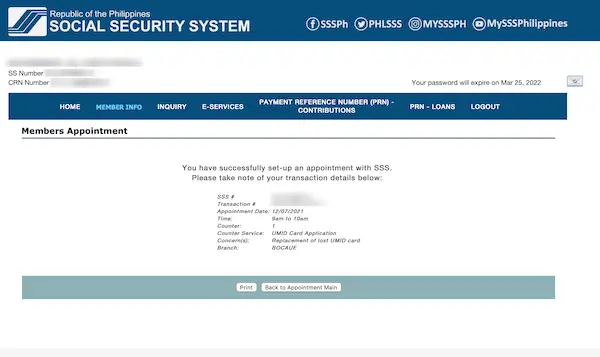 b. Branch Walk-in (Manual Application)
Members who aren't internet-savvy and haven't created a My.SSS accounts yet can also walk into the nearest SSS branch and file their UMID card applications even without an online appointment. However, keep in mind that you can't just go to the SSS branch any time of the week as SSS branches now implement the Branch Number Coding System11.
Based on this system, the 10th digit of your SS or Employer (ER) ID number determines your prescribed transaction day. The prescribed transaction day assigned to each number are as follows:
| | |
| --- | --- |
| 10th Digit of SS or Employer (ER) ID Number | Prescribed Transaction Day |
| 1 and 2 | Monday |
| 3 and 4 | Tuesday |
| 5 and 6 | Wednesday |
| 7 and 8 | Thursday |
| 9 and 0 | Friday |
Based on the table above, if your SS number is 33-xxxxxxx-2, you can only go to the nearest SSS branch that implements the number coding system on a Monday as the last or 10th digit of your SS number is 2.
SSS branches that currently implement the mandatory number coding system are those in the National Capital Region (NCR), as well as SSS Baguio, SSS Bacoor, SSS Dagupan, and SSS Biñan in Luzon; SSS Lapu-Lapu, SSS Iloilo-Central, SSS Bacolod, and SSS Cebu in Visayas; and SSS Davao and SSS Cagayan de Oro in Mindanao.
Before going to the nearest SSS branch, make sure to verify first if the branch already accepts and processes UMID card applications by checking this list.
2. Submit the UMID requirements
Proceed to the SSS branch on the date of your appointment or on the prescribed day of the transaction. Don't forget to observe the health and safety protocols set by SSS.
Get the queue number and wait for your turn. Once your number is called, submit the duly accomplished UMID card application form and copies of your valid ID/s. The SSS staff will verify your documents and validate your information with the SSS database.
3. Have Your Biometrics Taken
Go to the ID and Biometric capture booth, where your photo, fingerprints, and digital signature will be taken.
The personnel will let you view on a computer screen what your actual UMID looks like. Double-check your personal details, especially your name, birth date, and address. Tell the staff if you spot an error to have it corrected immediately.
After you've confirmed that your info is correct, you'll be issued an acknowledgment stub and advised about the estimated delivery time of your UMID card.
4. Wait for Notification From SSS On When You Can Pick Up Your UMID Card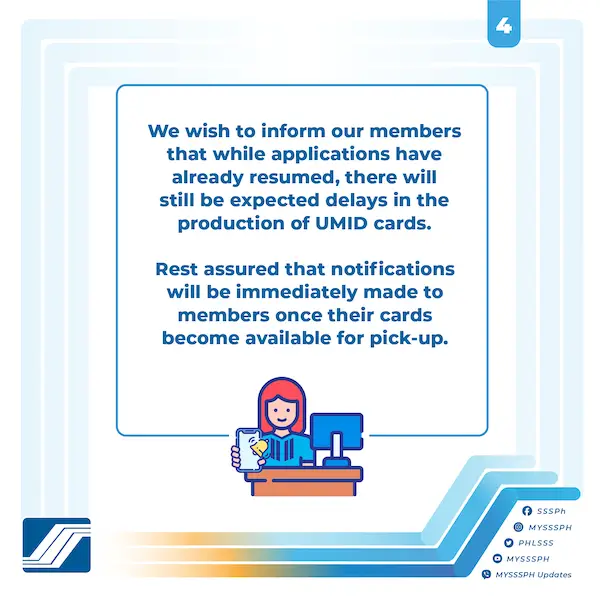 Even though UMID card applications have resumed as of October 15, 2021, SSS informs all members to still expect delays in the production of UMID cards as they're dealing with a lot of backlogs brought about by the pandemic. Priority will be given to UMID card applications filed in 2020 (and earlier) before the temporary suspension was implemented. Rest assured, though, that members will receive notifications once their cards become available for pick-up.
5. Activate Your UMID Card
As soon as you receive your UMID card, activate it using the SSS kiosk at the nearest SSS branch. Please read this guide for more information on activating your new UMID card.
After activation, members can easily withdraw their benefit and loan proceeds from any Bancnet ATM nationwide or Visa-branded ATMs for international transactions.
How To Apply for UMID if You're a GSIS Member: 6 Steps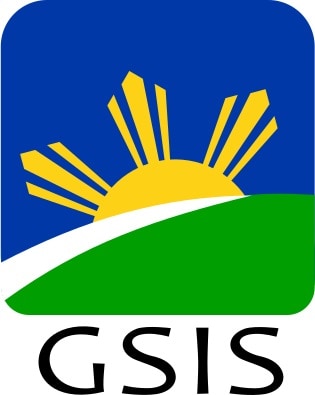 1. Go to Any GSIS Branch
GSIS offices are open Mondays to Fridays, from 8 A.M. to 5 P.M. You can come during your lunch break, as GSIS has a No Noon Break policy.
When you get to the GSIS branch, get a queue number at the eServices Unit or Information Center.
2. Submit the UMID Requirements
When your number is called, submit your accomplished UMID form and photocopies of your valid IDs to the enrollment officer for verification.
3. Undergo ID Photo and Biometrics Capture
The enrollment officer will take your photo, fingerprints, and digital signature.
Review your encoded data in the UMID enrollment system, making sure that everything is complete and correct.
A UMID eCard Release Form will be given to you. Keep this form for claiming your UMID card.
4. Wait for a Text or Email Confirmation of Your UMID Card Release
GSIS will notify you via text message when your card is available for pickup.
5. Claim Your UMID eCard
Go to the GSIS office where you filed your UMID application. Get a queue number at the eServices Unit / Information Center.
When your number is called, submit the following documents to the card releasing officer:
UMID eCard Release Form

Accomplished Bank Customer Information Record (available at the GSIS branch)

Original and photocopy of GSIS eCard, passport, or two valid government-issued IDs
Receive your UMID card and check if its information is correct and if the PIN mailer on the card is readable.
6. Activate Your New Card
To fully enjoy the benefits of your UMID, activate the card once you receive it. Here's how to activate your eCard/UMID card:
Go to the nearest GSIS branch, provincial capitol, city hall, municipal hall, government office, or Robinsons Mall. Look for the GSIS Wireless Activated Processing System ([email protected]) kiosk.

Place your UMID card on the e-card reader.

Choose any of the pre-registered fingers by touching the screen.

Place your chosen finger very lightly on the fingerprint scanner.

Wait for the confirmation message.
If the pensioner is currently based abroad, he/she can request a schedule (Manila date and time) by sending an email to [email protected]12. On the day of the confirmed schedule, log on to Skype with the account username and ensure that the computer is in a well-lit area and the scanned or photo of the eCard Plus/UMID card and/or 2 valid IDs are ready for identification purposes. Wait for the call from GSIS. A brief interview will be conducted to determine the pensioner's identity and active status.
Tips and Warnings
1. Don't fall for fixers who offer rush UMID applications for a fee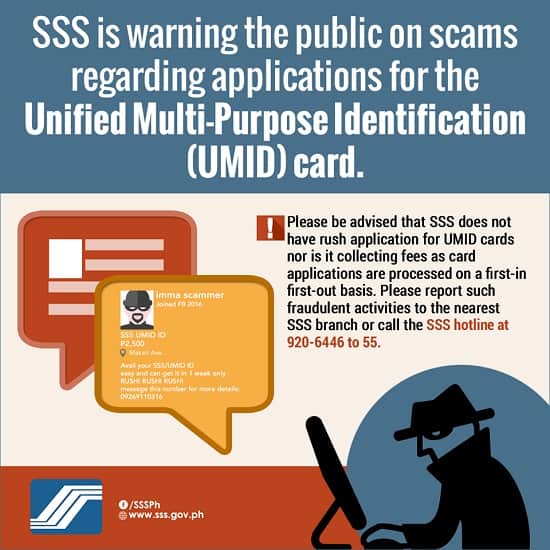 The SSS has no express or rush UMID processing.
Ignore and report any text message you receive that offers help in speeding up your UMID card release in exchange for Php 100 or any amount. This is a scam that preys on people who desperately need to get their ID faster.
2. Wear appropriate clothing
Sando, spaghetti tops, and other sleeveless shirts are not allowed at the ID photo booth. If you're wearing eyeglasses, colored contact lenses, or dangling earrings, these should be removed before the photoshoot.
3. Provide your complete and correct address in your UMID application form
Usually, UMID cards don't get to the intended recipients because the address can't be located.
Make it easy for the postman to find your place by indicating your complete and correct address. To find your zip code, visit the Zip Code Search page on the PHLPost website and select your province or city.
Your home address should also be formatted properly, as shown in this screenshot:

If you live in NCR, write "METRO MANILA" under "Province/State."
4. Ensure someone is available to receive your UMID
Postmen need to get the recipient's signature as proof of UMID delivery. If no one is home when the postman arrives, your UMID will be sent back to the post office.
So while waiting for your UMID delivery, assign someone at home to receive your ID while you're away. Leave an authorization letter and photocopy of your valid ID that your authorized representative will present to the postman.
5. Your old SSS ID is still valid, but it depends on when it was issued
If your old SSS ID was issued from 1998 to 2010, it's still valid and accepted at SSS branches and self-service terminals.
You can still use the card if it's in good condition. No need to apply for a new UMID card.
However, if you got your SSS ID before 1998 (the one made of yellow cardboard), it doesn't have the security features that the newer ID cards have. In that case, get a UMID card.
6. You can obtain your UMID card PIN code when you activate it in the SSS Information Terminal at an SSS branch
This PIN code is usually requested when you register your SSS account online. To get this PIN code, you must go to the SSS Information Terminal at select SSS branches and activate your card.
UMID card activation is required, especially in the case of UMID-ATM cards that will allow you to withdraw your SSS benefits quickly instead of receiving them in the form of a check.
Related: How to Get UMID Card PIN Code: An Ultimate Guide
Frequently Asked Questions
References