When the Philippine Statistics Authority or PSA (formerly NSO) is unable to retrieve your birth certificate from their database, your request will return a "negative intact" result and you'll be issued a corresponding "Negative Results Certification" or NRC.
There's no need to panic though because having no record of birth in PSA could mean any of the following:
Your birth records/certificate exist but the local civil registrar (LCR) where your birth was registered hasn't forwarded or transmitted the said files to the PSA yet. To obtain a copy of your birth certificate, you must first request an Endorsement.
The hospital attendant or midwife (if you're born at home) failed to register your birth with the local civil registrar within 30 days from the time of birth. As a result, no record of your birth can be retrieved either from the PSA or the local civil registrar. If this is the case, you must file a Late Registration of Birth.
Your birth records exist in the local civil registrar but for some reason (e.g., due to fire, mishandling, etc.), they got lost. Through a process called Reconstruction, the LCR can help recreate your birth certificate and forward it to PSA for encoding.
Among the three mentioned above, the first one is the most common reason why PSA can't issue your birth certificate.
Since your birth records are still intact but haven't been forwarded to PSA yet, you can personally visit the local civil registrar where your birth was registered and do a follow-up.
File a request for endorsement of your birth certificate with the civil registrar's office who will then verify if such record exists.
If upon checking the database they're able to prove your birth is registered with them, you'll be asked to pay an endorsement fee. On the other hand, if none of your records are found either at the PSA or the local civil registrar, it means you should file for a Late Registration of Birth.
After paying the endorsement fee, the civil registrar will then prepare and sign the endorsement letter with an attached copy of your birth certificate retrieved from their database.
You may get a copy of this endorsement letter along with the tracking/dispatch number, reference number, and date of delivery so you can follow up on the request with the PSA office.
After receiving the files from the civil registrar a few weeks later, the PSA will then encode your birth certificate. As soon as you're informed that your PSA birth certificate is available, you can now request a copy either through a walk-in application or by ordering online.
If you don't have time to personally process the endorsement, you can use the online endorsement instead.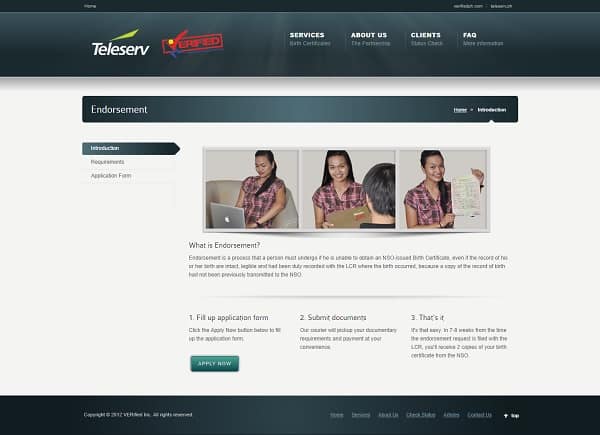 Simply fill out the online application form and wait for the courier to pick up your payment and the documentary requirements which include:
Printed and duly accomplished application form.
2 original copies of the Notarized Special Power of Attorney.
Original copy of the "Negative Intact" or "Negative Results Certification" from the PSA.
Photocopy of any of your valid government-issued IDs.
Original copy of the Service Agreement with your signature.
Original or photocopy of your birth certificate from the LCR or previously issued by NSO/PSA.
About 7-8 weeks after the endorsement is filed with the local civil registrar, you'll receive 2 copies of your PSA birth certificate.
Go back to the main article: How to Get PSA Birth Certificate: An Ultimate Guide