The monthly average daily balance (MADB) is the amount of money you need to maintain in your savings account to avoid incurring a penalty fee.
To understand it clearly, emphasis should be given to "average."
Therefore, if the MADB of a savings account is Php 2,000 (as in the case of BDO ATM Savings), it doesn't mean that you should maintain a balance of Php 2,000 in your account every single day of the month.
Again, we're talking about average.
In this case, MADB can be computed by adding the remaining balance in your account for each day in the month and then dividing the total by the number of days in the said month.
For example, from November 1 to 15, your ATM Savings had a Php 2,000 balance that was left untouched throughout that time frame.
Then, come November 16, you withdrew Php 300 from your account and failed to make any deposit throughout the remainder of the month (i.e., 15 days–from November 16 to November 30).
At the end of November, your monthly average daily balance would be:
(Php 2,000 x 15) + (Php 1,700 x 15) = 55,000
55,000/ 30 = Php 1,850
As the table below suggests, you fall short of the required minimum average daily balance (i.e., Php 2,000) for ATM Savings.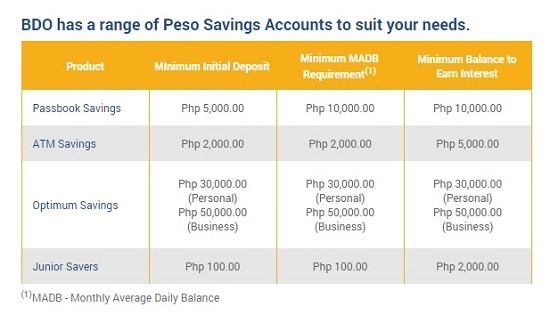 However, failing to meet the MADB once is not enough for you to incur fees.
Only if you don't meet the required MADB for two consecutive months will you be charged with Php 300, also known as "Falling Below Minimum Balance Fee."
In the case of BDO Passbook Savings where the MADB is twice the minimum initial deposit (see table above), account holders are required to deposit an additional Php 5,000 within the month of opening the account to meet the required MADB of Php 10,000.
Go to the main article: How to Open a BDO Savings Account in the Philippines